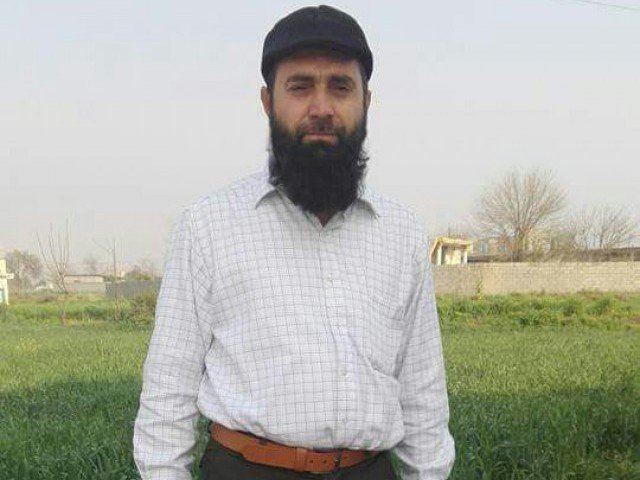 As the casket of Haroon Khan, a journalist of Swabi district, was lowered into the grave in his native cemetery, amidst cries of 'Allah ho Akbar,' one could sense the feeling of fear among his teary-eyed colleagues present at the funeral. They knew that it was only a matter of time before another member of their fraternity would be killed in an attack.
Initial reports suggested that Haroon Khan was gunned down over a land dispute with his stepbrothers in his native village, but later the story took on a new twist, when the IS and Taliban claimed responsibility for his killing and alleged that he worked for one of the government's security agencies.
Pakistan ranks fifth on the list of deadliest countries in the world for journalists; 60 have been murdered in Pakistan since 1992 — alarmingly high, particularly for a democracy — according to a report of the Committee to Protect Journalists (CPJ).
Journalists in Khyber Pakhtunkhawa (KP) and FATA in particular, work in an extremely hostile environment. Recently, two journalists, Shanawaz Tarakzai and Islam Afridi, were abducted and later released after a huge outcry from the press community. But shockingly, after Afridi's release, his father was whisked away by gunmen to an undisclosed location later that night.
As for Tarakzai, the recently recovered correspondent of Mashal Radio, the future looks increasingly uncertain. He continues to receive threatening phone calls from unknown persons. Tarakzai told Newsline that hostility towards journalists had reached uncontrollable proportions, as they are being murdered in broad daylight for exposing criminal and corrupt elements.
Tarakzai is under immense pressure from his family to quit his job, as they fear he may get killed in the line of duty. But he is not one to give up so easily; he loves his job and is optimistic that better days lie ahead.
Shamim Shahid, ex-president of the Peshawar Press Club, and a senior correspondent associated with an international news organisation, told Newsline that the disintegration of working journalists' unions and the absence of laws that bind media groups to give decent wages, service protection and insurance, are the main reasons why reporters, commentators and editors face such risks.
According to Shahid, the subcontinent's history reveals that the media has had a rough deal from the very beginning. Journalism may have been declared the fourth pillar of the state in the Constitution of Pakistan, but it is still struggling to find its true identity.
Journalists are like the foot soldiers in the barrack of generals, explains Shahid, and they are fighting a war against an unknown enemy.
Abuzar Afridi, a FATA-based reporter, points out that members of his community in KP and particularly the FATA tribal belt are facing multiple challenges. They are, at times, hunted down by the black law of the Frontier Constabulary Act (FCR), which has been imposed on the ill-fated tribal people for the past 110 years.
Afridi explains that writing the truth has become extremely difficult in the tribal belt. A majority of mainstream journalists defend the status quo and reap numerous benefits of sorts. No one wants to rock the boat and put their lives in danger from unidentified multiple enemies. The mainstream media almost completely toes official narratives.
Afridi laments the fact that the militants and the political administration in FATA are always ready to denounce the tribal media. He maintains that draconian laws such as the Frontier Constabulary Regulations Act, impose a major constraint on press freedom in the tribal areas. Consequently, journalists in FATA continued to work in a climate of fear and tension, where control is exerted by government agencies.
"Tribal journalists are exposed to growing violence, as well as frequent verbal and physical attacks, either from various unknown enemies, or from the political administration itself," says Afridi. Fifteen reporters have lost their lives so far. Those in FATA, he explains, are caught between the militants and state, where correspondents working in insurgency-prone areas are regularly threatened by both, the security forces and the militants, for not toeing their particular line.
Some extremist groups distribute leaflets claiming retribution for those who do not disseminate their point of view. At the same time, journalists face similar pressures from the state for doing so. Reporting from areas of long-running conflict puts one's own life and that of one's family, in danger.
According to Afridi, the killing, threatening and intimidation of journalists in FATA resulted in scores of them fleeing their ancestral homes. Some fled abroad, others switched professions and still others decided to change their narrative and go with the official flow. Journalists disappearing, or being brutally beaten up and dumped all over the country, is becoming a routine matter. The people of FATA do not have the wherewithal or the contracts to address their problems.
Mureeb Mohmand, a senior tribal correspondent from Mohmand agency associated with The Express Tribune, is resigned to the fact that being attacked and harassed by extremists and state authorities is part of his job description. Despite the prevalent barbaric conditions, he says journalists continue to work and take risks to support their families.
"Journalism has been viewed as an instrument to provide public information, education and entertainment," explains Sher Alam Shinwari, a Peshawar-based journalist. Since the electronic media has been gyrating to the tune of the status quo, the only other choice is to switch over to the print media to provide an honest and truthful presentation of news and views.
"Instead of being encouraged, reputed reporters and correspondents are maltreated," continues Shinwari. "The government is reluctant to provide them financial support in the shape of advertisements, grants, wage board awards and retirement schemes."
According to Ihtisham Khan, who is also based in Peshawar, the main obstacle a journalist faces is getting access to accurate information for reporting. One example is KP's Right to Information Act (RTI), whereby a government department is bound to give access to information within 30 working days. Such a time frame delays the process of investigating a story.
Haroon Khan has left behind a widow and two children to face the hardships of life in one of the harshest environments in the world.
Standing at his grave, Haroon's close relatives, who request not to be named, have one last wish: they want the killers of their beloved to be brought to justice. They wonder whether the officials will find them or whether the murder will remain a mystery like so many before it.
Next