An auditorium jam-packed with an appreciative crowd of Karachi's upper crust got the rare opportunity to listen to the now world famous Sachal Orchestra at a fund-raiser for  Developments in Literacy (DIL).
The Sachal Orchestra is the brainchild of Izzat Majeed, a Pakistani-born philanthropist from London, with a passion for traditional music. In an attempt to revive traditional music, Majeed established a recording studio, the Sachal Studio, in 2007. The studio introduced traditional music from Pakistan to the world stage, and provided a much-needed means of livelihood to talented Master musicians who were wasting away in poverty with the decline of the film industry.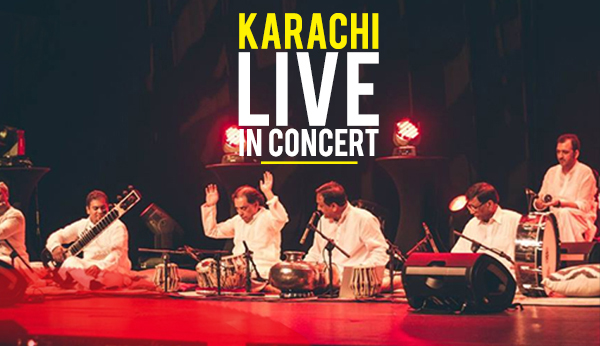 At their Karachi concert, the Masters played a mix of local traditional tunes like 'Nehar wala pull', 'Tere Ishq Nachaya,' as well as famous internationals like 'Take Five,' 'Pink Panther,' 'Some Enchanted Evening.' The last three performances, 'Lahore Jazz,' composed by Izzat Majeed, 'Taxali Gate' by Nijat Ali and Brubeck's 'Take Five' got enthusiastically applauded by Karachi's elite audience. The great maestros on stage included Ballu Khan on the tabla, Nafees Ahmed Khan on sitar, Baqar Abbas on flute, and a host of accomplished musicians playing the violin, cello, keyboard, guitar and sarangi — beautifully conducted by Nijat Ali.  These great musicians were an integral part of the film industry during the Lollywood era.
Majeed started experimenting with Jazz Fusion in 2009 and teamed up with music producer Mushtaq Soofi. His ensemble's performance of Dave Brubeck's famous 'Take Five,' blended with sitar, tabla and other instruments, went viral online and hit the top Jazz Charts …and so was born the Sachal Studio Orchestra.   
The Sachal Orchestra have since held many international concerts, in Japan, Canada and the United States, including the UN, for Pakistan's 70-year celebration. The response has always been joyous and enthusiastic. It was after receiving rave reviews worldwide that Sachal began concerts in Pakistan.
The evening was enthralling, the musicians inspiring, the audience appreciative — and all for a good cause. The stage could have done with better lighting though and keeping the local audience in mind, some memorable Lollywood favorites could have been added to the music fusion.
Next