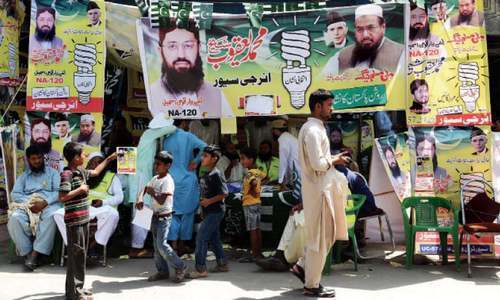 Dr Shafique Ameeni of the Tehrik-e-Labbaik Pakistan (TLP) won 9,935 votes in Peshawar's NA-4 by-election on October 26. TLP, the party that had been given its symbol by the Election Commission of Pakistan (ECP) earlier in October, finished fifth in the by-poll.
TLP has evolved from Tehrik Labbaik Ya Rasool Allah (TLY), a pressure group that was formed to prevent Mumtaz Qadri from being sentenced to the gallows for the murder of Salmaan Taseer. Following Qadri's execution on February 29, 2016, the TLY presented a list of demands to the government, amidst protests in the capital. These included executing Asia Bibi, the Christian woman on the death row, for alleged blasphemy, in addition to strict implementation of the death penalty for everyone 'found blaspheming,' which is a 'requirement of Sharia law' that they want implemented to the tee.
Candidates affiliated with TLP and Milli Muslim League (MML), another Islamist party that has evolved from the proscribed Jamaat-ud-Dawa (JuD) and Lashkar-e-Taiba (LeT), between them secured over 11 per cent of the vote in September's NA-120 by-poll in Lahore. Senior Pakistan Muslim League-Nawaz (PML-N) leaders, including Rana Sanaullah and Zaeem Qadri, stated that the votes garnered by these two parties in NA-120 cut into the PML-N vote bank, and further implied that the military establishment had supported them for this very purpose.
"Taking part in politics is the right of every Pakistani," the Inter-Services Public Relations (ISPR) Director General (DG), Major General Asif Ghafoor, said in a press conference after the NA-120 by-poll, declining to comment on the army's role in mainstreaming radical militant groups.
"No one can stop religious parties from participating in the elections. But banned outfits should not be allowed to contest elections, and the ECP should have ensured that those backed by banned groups did not participate," Zaeem Qadri said in an interview with Newsline last month.
An Interior Ministry official confirms that the issue has been taken up with security agencies. "We have said that any parties affiliated with proscribed groups should not be allowed to harm the gains of the National Action Plan, and hence the registration of the MML must not be supported."
A letter sent to the Interior Ministry by the ECP reads as follows:
"There is evidence to substantiate that Lashkar-e-Taiba, Jamaat-ud-Dawa and Falah-i-lnsaniyat are affiliates, and are ideologically of the same hue. Lashkar-e-Taiba has been proscribed… whereas Jamaat-ud-Dawa and Falah-i-lnsaniyat Foundation are placed under restrictions… under Anti-Terrorism Act, 1997. They have also attracted sanctions under the United Nations Security Council Resolution No 1267 and have been dealt accordingly."
ECP registers political parties in accordance with the checklist compiled under the Political Parties Order 2002, spokesperson Haroon Khan confirms, adding that only clarification regarding specific parties is sought by the Commission, of which the MML was one. The applications of the parties are referred to the Interior Ministry under Article 17(2) of the Constitution, if affiliation with banned organisations is suspected.
Even so, while the ECP has rejected MML's registration, TLP has been granted an election symbol. ECP officials confirmed that no issue has been raised regarding TLP by any government body.
MML's entry into politics, "is following a blueprint that Sharif rejected when the military proposed it last year," retired Lieutenant General Amjad Shuaib told Reuters, and added that peaceful elements need to be separated from those who are picking up weapons.
"Fazlur Rehman Khalil was very positive. Hafiz Saeed was very positive," Lt Gen (R) Amjad Shuaib said. "My conversation with them was just to confirm the mainstreaming plan what I had been told by the ISI and other people."
A senior PML-N leader says the government has not taken up TLP's case, even though the party continues to glorify and associate itself with a convicted terrorist, Mumtaz Qadri, because it does not want to "open too many fronts."
"The disagreement over the fate of Hafiz Saeed was a part of many national security meetings, and mainstreaming of his group not only serves that particular purpose, it also targets the political clout of our party," he says.
However, following the house arrest of Hafiz Saeed in January, the DG ISPR said that the move was a "policy decision that the state took in the national interest. Lots of institutions will have to do their jobs," said Maj Gen Ghafoor in a press conference.
Security analyst Muhammad Amir Rana, author of The Militant: Development of a Jihadi Character in Pakistan, maintains that the PML-N government cannot blame anyone else for the rebranding of militant groups till it clarifies its stance in Parliament.
"Any mainstreaming of the militants needs a proper deradicalisation process, and only then should they be allowed into the political structure," he says. "However, that needs a clearly defined policy that should strictly implement the ban on glorification of terrorism or terrorists."
The problem area would be those militants who have once been state assets, Rana believes.
Michael Kugelman, the Asia Programme Deputy Director and Senior Associate for South Asia at the Woodrow Wilson Center, says that by sending these militants into politics and legitimising their beliefs, Pakistan risks creating a society where extremism is viewed as being totally acceptable.
"Putting these extremists in Parliament would only curb militant activities if there weren't so many other militants uninterested in being mainstreamed," he says.
Kugelman however doubts the military establishment is using this policy to shave votes away from the major parties. "I imagine the ongoing Panama Papers investigations could be more damaging to the PML-N's political prospects than vote-hungry jihadists," he says.
Next