Karachi Women's Table Talks
Tehreek-e-Niswan held their third annual Karachi Women's Peace Table, at the Karachi National Museum in October 2017. The aim of the seminar was to enhance women's participation in peace processes. Panel discussions, performances and poetry highlighted issues that are currently impacting women. Tehrik-e-Niswan has been part of the 'Peace Women Across the Globe' that has been holding Women's Peace Tables around the world since 2015, as part of the 'Women Seriously' international campaign. The panel discussions on women covered issues of the missing persons, minorities' rights, health, education, violence and peace.
The theatrical performances that punctuated the sessions included a touching tribute to the missing persons and those killed in the name of blasphemy; satirical skits such as `Mullah Shirwani,' a misogynistic mullah, and 'Prof,' a womanising professor, that had the audience in stitches.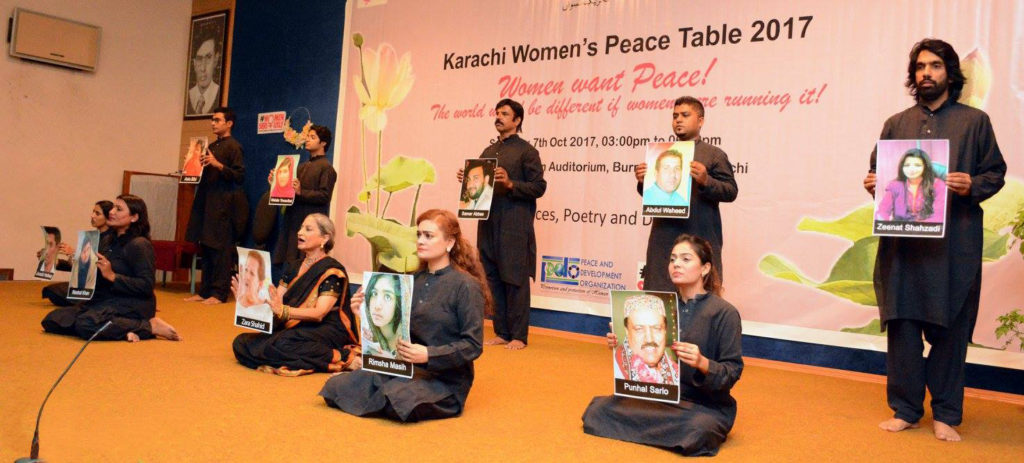 The women panelists in the first session were activists from different provinces. Gulalai Ismail, the award-winning activist from Peshawar, spoke first of the absence of women's voices and women's agenda at important forums. Gulalai pointed out that women were excluded from committees formed for constitutional reforms and women from various political parties were not being given a voice in peace processes, such as during the time when the political parties came together to formulate the National Action Plan.
She also pointed out how in their area political parties were not giving party tickets to women and when asked why, the usual reply was, because it was only meant for winning candidates, who are men.
She spoke of how Talibanisation in their region was romaticised and that there was no policy at the national or provincial level to address the extremist mind-set that was endemic in their region. She also shared that several attacks of extremism in Khyber Pakhtunkhwa (KP) were committed not by terrorists but by ordinary folk, whose minds had been poisoned.
She gave the example of a 10th class KP textbook story called Maymunay, that ends with an honour killing. Another highly praised story in the KP 6th class textbook is about Ghazi Ilm Din Shaheed, who was defended by Jinnah. The complex incident has been phrased in a way to give the impression that it is permitted to murder anyone accused of blasphemy, and   that it was a religious obligation.
In order to counter the extremist narrative against the Taliban mind-set, Gulalai joined forces with other women and youth to promote pluralism in their communities and expose their children to other sects and religions and their rights. She stressed upon the importance of women reclaiming their public spaces such as in the awami jirgas, which she said should not solely be all-male. Gulalai also felt that "We have to join forces with women of the neighbouring countries."
Husna Haider, an activist journalist from Karachi, drew the audience's attention to the case of Zeenat Shehzadi, the first woman journalist who had been missing since 2015. Shehzadi vanished without a trace while investigating a story about an Indian who was visiting friends in Pakistan and was picked up under suspicion. Husna questioned the women parliamentarians and politicians present at the conference as to why they hadn't raised their voices for Shehzadi, who was only 24 when she was picked up and why there was complete media silence over her disappearance. By comparison, when TV anchor like Hamid Mir was shot, and reporter Umar Cheema was picked up and tortured, the media went into overdrive, and even some parliamentarians raised their voices.
Instead, she said, Zeenat Shehzadi's issue was being diluted with questions of whether she was a journalist on not. Husna raised the important question of who was going to protect the freelance female journalists in the current trend of media houses commissioning bloggers to write investigative stories. It made independent writers and bloggers, especially women, who have found a space in the cyber world, more vulnerable.  Interestingly, in less than two weeks after the seminar, Zeenat Shehzadi was said to have been released and reunited with her family, as was Punhal Sairo, who had gone missing for two months and belonged to the Sindh Human Rights Defenders Network.
Noreen Lehri, a Baloch woman rights activist from Quetta, the first woman from her tribe to establish an organisation 17 years ago, shared the realities of Balochistan. Clean drinking water is available to less than 12 per cent of the population, only 28 per cent of women have access to hospitals for safe deliveries; 700 out of every 100,000 women die in childbirth; 71 per cent of the province live below the poverty line. All these factors, said Noreen, were contributing to extremism and terrorism in Balochistan, in which a huge number of lawyers and under-training police officers had been eliminated in the province, leaving many widows and children behind. Added to this were a thousand or so missing persons. Regardless of whether they were bigger issues or more basic issues, Noreen explained, all of them impacted women immensely.
The second session featuring women politicians Senator Sherry Rehman, Shehla Raza and Dr Shahida Rehmani (PPP), Dr Seema Zia (PTI), Naila Munir and Saman Jafri (MQM) was chaired by veteran journalist, Zubeida Mustafa. Radha Bheel, an activist from interior Sindh and Marium Palijo of Sindhiani Tehreek, spoke of the sufferings of women in interior Sindh, including the Dalit women, who had virtually no voice in the assemblies. They demanded to know why the state was so helpless in the face of the current kidnappings, forced conversions and violence against women in interior Sindh. Were the laws being held hostage by waderas and jagirdars, asked Palijo?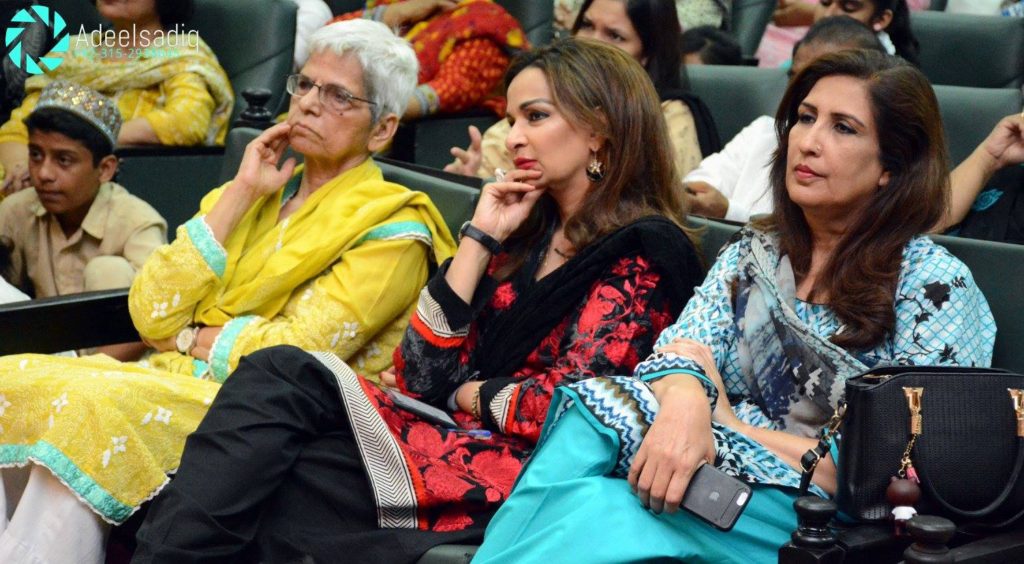 Senator Sherry Rehman described the struggles of female politicians during the reign of Zia-ul-Haq, when women came out on the streets to raise their combined voices on the laws against women. Shehla Reza, the deputy speaker of the Sindh Assembly, reiterated that whenever women's issues were raised in the Sindh Assembly, the women politicians banded together, whether they belonged to MQM, PTI or PPP.
She shared that the female members of the provincial assembly had all been through their own struggles, in order to have pro-women laws passed, and that it was their combined strength that enabled the enactment of laws on rape, acid-throwing crimes, and the Early Child Marriage Act which raises the minimum age of marriage to 18 years (from 16) — not only for women but for men as well. However, when it came to their implementation, it would take time to counter old customs like early child marriages that were still prevalent.
While the Women's Peace Table brought about forth perspectives of various activists and politicians from different parts of the country, there seemed to be a certain lack of understanding or disconnect between the female parliamentarians/MPAs and women activists from the grassroot level. Which is why such forums are important so that each side understands the issues presently faced by women, and come, to an understanding on how to jointly continue the women's struggle.
The writer is working with the Newsline as Assistant Editor, she is a documentary filmmaker and activist.
Next