By the People, For the People
It may not have heralded a Renaissance, but against the backdrop of the blood-drenched, soul-weary triptych of secular, political and economic divisions that is the Karachi canvas, the KB17 made a statement: the city has awoken. And so, one hopes, the rubicon crossed.
Biennales (and triennales) have, since the genesis of the event in Venice more than 100 years ago, become an embedded feature of the international art world. And interestingly, hearteningly, apart from the obvious venues in the 'civilised,' western 'First World,' cities like Guangzhou in China, Sao Paolo in Brazil, Sharjah in the UAE, and Dakar in Senegal, among 140 cities worldwide, now also host these events, showcasing artwork from across the globe.
And so it was in Karachi, where under the umbrella of the term 'Witness,' the vast all-encompassing title of the local biennale, was shown a hugely eclectic selection of everything — colonialism, thought-provoking post-modernism, new-age expressionism, defiantly in-your-face kitsch, work at once sublime, ridiculous.
It was art of, by and for the people.
There were paintings, prints, photographs, and digital artwork, sculpture, installations, puppetry, performance art, dance, films, son et lumiere, poetry and talks — the creative output of 140 artists from Pakistan and — 30 plus other countries. What really jumped out from this vast and varied canvas was how each piece served as a mirror to the artist who had made it, the country it was created in, and the time in which it found life.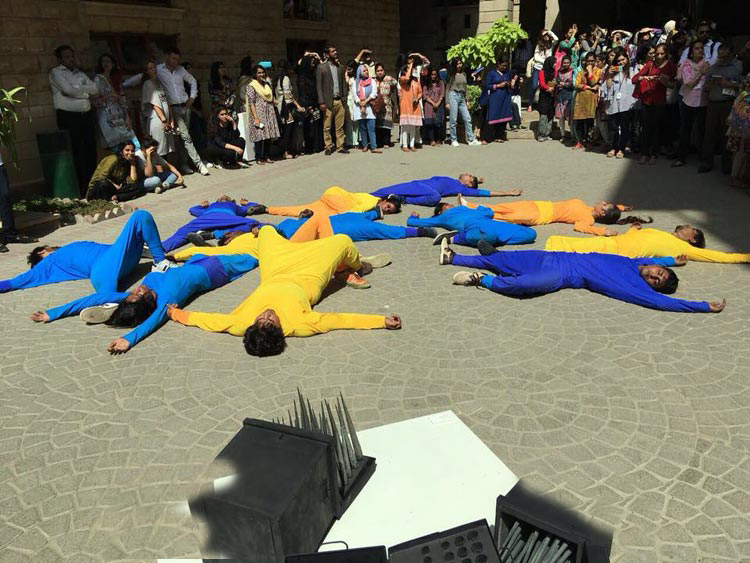 And the sites the work was shown at — all 12 of them — were equally eclectic. Beginning with the NJV — the impressive Maharaj Jagan Nath Vidya School on Bunder Road — the first public school opened in Sindh (1855), making it a fitting location to launch the first ever Karachi Biennale, to the often unsung but hugely deserving Karachi School of Arts, the ever-expanding, seriously productive V.M Gallery, the former home of the city's Theosophical Society, the Jamshed Memorial Hall, the Sadequain Gallery at Frere Hall, the 19th century Claremont House, and others, it was evident that each site had been chosen with care. The locations not just introduced visitors and foreigners from the 'other' side of the Clifton Bridge to some of Karachi's awe-inspiring 19th century architecture, but also to its heritage-rich, multicultural ethos. And since all shows were unticketed and free for all, the visitors were as diverse and eclectic as the sites and their exhibits.
KB17 then became the great equaliser — as people from all walks of life, all ages, all genders, and all ideological and political convictions streamed in to the assorted biennale locations. The sight made for a moving canvas of life in Karachi: abaya-clad women with straggly-bearded men, rubbing shoulders with teens in tees and tights, begums with Birkins shoulder to shoulder with labourers, technicians, starving artists… students, media personnel, musicians. Every Man, Every Woman, and so many children. A new generation who perhaps had a glimpse of a Karachi long lost, and now, one hopes, found.
And that the biennale engendered a response — rich, varied and sometimes, profound — was evidenced by the tweets, the media coverage and the overheard remarks. Among them (from a foreign curator): "Pakistan has to be the best-kept secret in the world. Thank God for the biennale — it got us here." This, while like other visiting curators, they were considering how much Pakistani artwork they could take home to show. From a geriatric art aficionado, "I feel like I've taken a walk back in time — and been reintroduced to Karachi. Because of the biennale I've visited parts of the city I haven't seen in years, and encountered artwork and people I didn't know existed in our milieu." And from a group of young teens, "Film it, save it. This is so cool — and it's our Karachi." Alongside, the self-appointed critics: "What on earth is that?" Also, "What rubbish. I wish they'd stop insulting our intelligence." And then the futurists: at the all-inclusive, throbbingly festive Drum Circle performance in Frere Hall, a little girl telling her mother, "I'm going to be a drummer when I grow up."
But perhaps the most memorable remarks came from a group of schoolchildren who had been escorted to the NJV premises by a group of teachers. One could see the 10-11 year olds enraptured by the performance, as a lithe, young dancer twirled dervish-like and fell to the floor in a swoon, only to arise and with a ghostly wail, start running after the scampering children. When she had their attention, she scaled, Simian-like, a large hand-created, deeply pitted meteor-like moving boulder, and once precariously perched atop, proceeded to strike impossibly agile dance poses. It was akin to watching a trapeze artist at a circus — you were left holding your breath because a fall seemed oh so imminent, prompting all the little girls to start chanting in unison: "Please don't fall, please don't fall." The boys, meanwhile, looking around to ensure they were out of their teachers earshot, on a lower decibel chorused, "please do fall, please do fall." Gender stereotype anyone? But hey. This was interaction. The audience reacted, responded. And isn't that exactly what the performance set out to do.
At the end of the day, what does one take back from the experience that was the Karachi Biennale? That it was a sum of so many parts which made it quintessentially Karachi. That it was unpretentiously good, unpretentiously bad. There were no 'emperor's new clothes,' no Dali's last interview. It was what it was and people qualified it as such. That it brought Karachi out of the box and into the international eye. But above all, that it happened, that it worked, that it offered a glimpse into a city that could be.
Next