Movie Review: Victoria and Abdul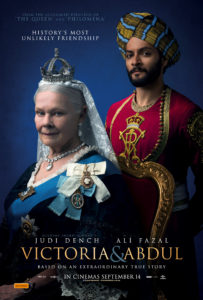 Victoria and Abdul is a light-hearted account of Queen Victoria's close friendship with a young man from India who travels from Agra to Windsor Castle to wait at her table, but leaps over barriers of race and class to become a trusted friend. Abdul Karim, the clerk from Agra, adapts well to his new environment and is soon giving the Queen lessons in "Hindustani," thus earning the title of 'munshi' or teacher.
The film is based on the book Victoria and Abdul: The true story of the Queen's closest confidant, by Bombay-based journalist Shrabani Basu. The first edition of the book by Basu drew upon Queen Victoria's papers, and court correspondence. Basu fleshed out the story when she managed to trace Abdul Karim's family, who had migrated from Agra to Karachi at Partition. They agreed to share Karim's personal diaries with her.
Directed by Stephen Frears, the film stars Judi Dench and Bollywood actor Ali Fazal in the lead roles. A BBC Films production, it is a period piece with all the trimmings. It follows Karim from his first fumbling steps at court, along with his sidekick, Muhammad Baksh (played by Adeel Akhtar), to his metamorphosis into a confident young man accorded increasing privileges at Victoria's court.
As the Queen's protege, Karim becomes the subject of derision among the Queen's inner circle and a bête noir for her son, the Prince of Wales, Edward Albert. The ageing Queen does not give an inch and supports Karim all the way to her dying breath.
The film's view of Abdul Karim is condescending and over the top in some sequences. For instance, in his first encounter with Queen Victoria, we see Karim ducking under the dinner table to — literally — kiss the Queen's feet.
Ali Fazal does a fair job of handling the role assigned to him, but a magnificent performance by Judi Dench sweeps all before it. The imperious side of Queen Victoria is fully in evidence, but there is a tender side too and Dench comes up with a subtle and nuanced portrayal of a lonely human being, trapped in a demanding role, and jettisoning it to share a moment of friendship with an unlikely fellow traveller.
The portrayal of Abdul Karim is simplistic and does feed into stereotypes, but the film pokes fun at Victoria's royal household as well. Their ignorance and racial prejudice is apparent in disparaging remarks about the two 'Hindoos' they spot at Victoria's court. It takes a while for the realisation to dawn that the two men are actually Muslims, but they are in any case people of colour and representatives of a colonised race.
Victoria and Abdul is witty and well paced. It has drawn some flak for its superficial treatment of the race and class divide, but expecting a period drama to portray the inequities and complexities of the Raj may be expecting too much. Watch it for Dench's compassionate portrayal of a lonely queen and you won't be disappointed.
Next