Video of the Day: Karachi City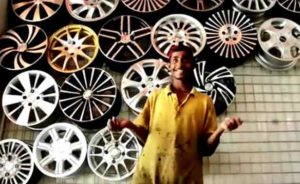 This is fun. It's full of hope and uninhibited joy. It's got both pride and a bit of prayer. And a very danceable beat.
If you live in Karachi you'll recognise some people and places. And if you are tuned into the modern music scene (either because you are young and hip, or you know people who are) you'll recognise the soundtrack that has been ever so slightly tweaked to fit the filmmakers theme: "Karachi City."
The song "Barbra Streisand" is one of the monster hits of 2011 here in Pakistan (though it took off in North America and Europe in 2010). The official video to the original tune is a homage to New York City. NYC is where Duck Sauce, the DJ duo that wrote "Barbra Streisand," got its start. In Duck Sauce's video you have a Streisand look-a-like talking about how "New York is the place of opportunities. If there is any place in this world that you want to come to, to be able to make it big, or to go after your dreams, it is New York City." The video showcases New York, its people, their lives and their dreams.
Clearly inspired by the original homage to the Big Apple, yet dreaming of an improved future for Pakistan's city by the sea, the facetiously named Team Awesome, with the "Karachi City" video, produces their own paean to their city. The group dedicates the video to "all Karachiites, with a hope for love, peace, freedom, harmony and happiness."
Sit back and enjoy. Or better yet, get up and dance.
[youtube]http://www.youtube.com/watch?v=mW3Ed_FqpsE&feature=youtu.be[/youtube]

The official "Barbra Streisand" Duck Sauce video is below.

[youtube]http://www.youtube.com/watch?v=wWhtcU4-xAM[/youtube]
Next