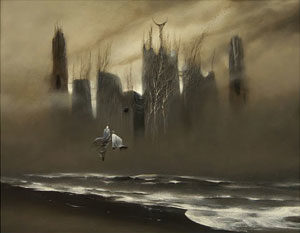 Babar Moghal's total submission to the subconscious leads to vivid creative drama captured on canvas.
The Second Floor (T2F) gallery came alive on April 23, with the opening of Babar Moghal's cyclonic pieces of art. T2F, usually a place of familiarity and tranquility for most of us, was completely reinvented with the work on display, that was at once serenely timeless and yet turbulent in the range and nature of emotions it engendered.
One was transported into a different world, and the viewer felt loss, sadness and inner turmoil in the course of the journey. However, simultaneously there also existed in the visual narrative a playful quality and a sense of joyful abandon. When questioned about the scope and content of his work, the artist spoke of his fascination with heavy metal music that influenced his work at one time, but maintained he does not want to be bound by such limits any longer. He now lets his subconscious be his guide, saying he submits to it completely.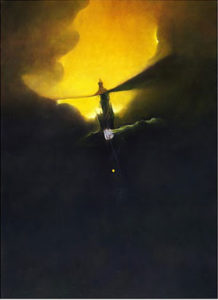 Moghal goes on to mention that some of his work has been categorised as 'Fantasy Art.' "I think it's just a convenient label to catalogue the work. I paint to amuse myself. I don't start painting with the premeditated thought of making a fantasy painting — it's the inherent poetry and mystery of the image that intrigues me," he says. And those are there in abundance in his imagery. But Moghal's work is also a study in detailing — both in the flawlessness of his drawing and in the technical expertise visible in the finished product. Ultimately, it is a dramatic flight of fantasy.
Next