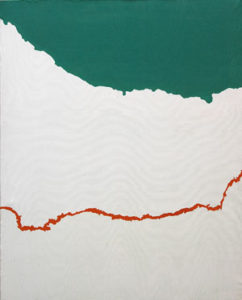 On April 12, Art Chowk gallery showcased a 'Journey Taken' by Wajid Ali. Viewers entered his life story from a rather narrow, dingy but busy hallway into an expanse of white light, space and experience. At the very beginning of the exhibit you were welcomed by a red carpet and installation titled, 'In the Line Journey,' a book that is 0.2km in length. The long stretch of paper was folded, rolled, pressed, turned and twisted at intervals to shrink the length of the artwork and perhaps in a strange way to give the piece a life of its own. The rendered line was an illustration of the experiences Ali wanted to share with us and as we began to follow the trail, the line discreetly drew us into the exhibition.
Ali's unusual innovation of mapping his journey gave you a sense of timelessness, space and a metaphysical travel that became a key characteristic throughout the exhibit. He identified and celebrated his country and it became more evident as he plotted and juxtaposed contours of people within and around maps and other photographs pertaining to Pakistan.
Ali's work prior to his Masters degree from NCA was based upon "halaat-e-hazra" or current affairs, says Durriya Kazi, and this concern greatly influenced his early body of work. Although this concern still exists, now it has matured into more conceptualised art. It was not until he returned from Lahore that he began to "diversify and internalise his approach," says Camilla, one of the Chowk's co-curators. The art that emerges is innovative and does not conform to the norms of formal training or any formulaic developmental processes.
The show acquired a strange rhythm due to overlapping signs, symbols, shapes, footprints, lines, contours and colours. Apart from the installation, Ali broke boundaries by producing a series of mix media artwork that enhanced the personal and private narrative within his work.
According to Ali, "Some paths trodden a hundred times, and some only once over a period of time comprising of several years have been recorded here… through lines and markings. The continuity of the line reflects time and space and takes the viewer on a trip through my personal experiences. My journey is unique and personal. The viewer's journey is a completely new experience and perhaps every time the works are viewed as a new experience. What I want to share with the viewer is the joy of my travels and the act of recording my journey."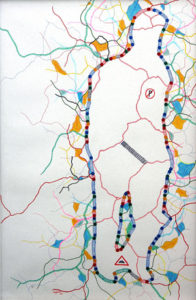 The beauty of Ali's work lay in the purity of expression. The simple lines and linear contours of his people encompassed images of both the advancing and retreating man. The figures represented a deep hesitation; similar uncertainty that is shared among all those who commit to travel and exploration. However, the monotonous and repetitive lines made an interesting interwoven pattern. The continuous pattern of lines and legs seemed an attempt to free us from our inhibitions — man-made confines — and urged us to never give up.
The conceptualised pieces enabled the viewer to look beyond the obvious. For instance, in a city, there are several ways to represent the various caste, creed, colour and races that exist. Ali chose to depict the existing cultures and minorities using circular stickers of different colours and brings them together within one figure to portray unity and blur boundaries.
Wajid Ali's journey was a revelation, an interpretation of the complexities that exist and how the social atmosphere of our society has affected him. It is a journey worth sharing.
Next