Usman Ghouri passed away last month. He was a well-known artist, a super popular teacher and a loved family man. His death was sudden and tragic, for he had barely crossed 40. But during his life, he left an indelible mark on everything he did and made an unforgettable impact on everyone he met. A tribute to Usman Ghouri was held on May 14 at the Indus Valley School of Art and Architecture and was followed by an auction of his work. Here, a friend remembers him.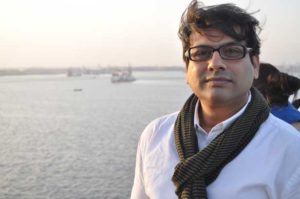 On Friday April 8, artist Usman Ghouri wound up a ceramic workshop he was conducting, photographed his work, returned to his office to send emails about an upcoming show and left the Indus Valley School of Art for the last time — a place he had been associated with for 15 years. He died early next morning of a sudden heart attack. He was 41 years old.
For a young man to die at the pinnacle of his life and career is a colossal tragedy (see the tribute at the end of this post). His colleagues, students and friends mourned the loss of a sincere, magnanimous friend, a gifted artist, a committed teacher, a tenacious worker and a dedicated father. "I feel we lost so much more than a teacher," said a note on his Facebook memorial page, "(His) discipline, endless energy, dedication to detail, [pursuit of] excellence, humanity and warmth … so much that we as artists aspire to have. Thank you, sir, for showing us all that. You will live on. Through us, in us."
Usman Ghouri's brief career went from humble beginnings to shows in galleries around the world. He was born in Sukkur, where his father was a government official. He put himself through the National College of Arts, Lahore to earn a Bachelors in Design in 1992. In 1996, he joined the Indus Valley School of Art (IVS), Karachi as a print-making teacher. From here he went on to do his Masters in Art from the University of New South Wales, Sydney. He returned in 2000 and rejoined IVS. In the years to follow, his perseverance and hard work led to him becoming the head of the print-making department, an associate professor and the curator of IVS and Koel galleries. He had numerous solo shows in Pakistan and his work was seen in galleries in USA, UK, Japan, Oman, Mauritius and Singapore.
Ghouri had a vision to keep print-making alive as an art form and to build a legacy for future generations to follow. He wanted to build a professional print-making studio, fully equipped with a large-scale intaglio press, to be shared with local artists. To realise his goals, he put together two box print-folios, 'Different Drummer' in 2009 and 'Out of the Box' in 2010 — the outcome of a workshop by the Australian artist Michael Kempson. He was working towards another "boxed" show for November 2011, the title of which — 'Cast Rituals' — he had coined. It was to be an exhibition of 10×10 boxes enclosing sculptures by various artists. This show would have given him the resources he needed to start work on his studio dream.
There was another project close to his heart — retrospective of the work of Mehr Afroze, which was checked in his roster for March 2012. Mehr Afroze, the renowned artist, was a mentor and a close friend to Ghouri. "I trusted his sincerity and honesty of opinion," said Afroze, "It was his enthusiasm and spirit that would have shaped this show."
Usman Ghouri's own work oscillated between print-making, painting and sculpture, all done with virtuosity and finesse. Artistically driven and avidly ambitious, he took up novel challenges and experimented with materials and processes to create new moods and directions. His work incorporated symbols, collages, textured surfaces, calligraphic strokes and lone phrases. His recent work combined aspects of painting and sculpture in meditative hues and textured surfaces that projected dignity and an emblematic presence. "Art is my passion, profession and my life," wrote Ghouri, describing his 'Verbal, Non-Verbal Series.' "The creative process provides an articulation of my work. I observe and absorb the environment and issues that surround me. In time, these issues develop distinct relationships with my thoughts, resulting in a discourse of a profound and meditative nature. The open-ended dialogues of such discussion share a presence in my work, without prejudice and judgment."
In contrast to his reflective palettes, Ghouri was temperamentally a vivacious man. His effusive, reverberating laughter and a quick-witted sense of humour touched everyone who traversed his path. He would find beauty and purpose in every little mundane thing in life. Online tributes by his friends, colleagues and students describe him as an unassuming, inspiring man who fostered confidence and encouraged creativity. "Soft-spoken and warm," "humble and humane" are words that friends frequently use to describe him.
According to one Buddhist tradition, people have two deaths. Their first is when they die themselves and the second is when the last person who remembers them dies. Usman Ghouri will live a long time.
Ghouri is survived by his wife Fareena and three children: Ayesha, 8, Faiza, 6, and Rayaan, 5.
Unfinished Works

A tribute to Usman Ghouri



You left us in halves.
Half of your laughter
Still ringing in the breeze.

Half of a heart
Still beating
for reasons unknown

A smile, a touch, a word
all begin to fade
from causes left unsaid.

The answers are there,
in your handiwork, the things
your hands touched, made,
fashioned into desires.

Answers in the people
left incomplete,
Your spouse, your children,
emptied friends,

suddenly left
as unfinished paintings,
works no longer in progress,
unframed, unformed sketches.

We are part of the
wishes you left behind,
wishes that waft into emptiness
leaving shells of your creations
that touch us now

as never before.

— Moeen Faruqi
This article originally appeared in May 2011 issue of Newsline under the headline "An Incomplete Canvas."
Next