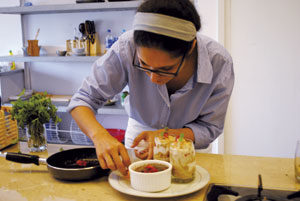 Amina Agha is not a name recognised by many people. But mention her moniker "Poppy," and many a food enthusiast will vouch for her culinary skills. A khansama she is not, a food connoisseur who has changed the way many Pakistanis think about food, she is. Introduced to cooking from a very young age by her grandmother's expert cook, Zahoor sahib, she vividly recalls the moment she laid eyes on her first kitchen creation, a crème caramel pudding. "I had never seen anything more beautiful in my life and immediately thought 'I made that!' It still takes my breath away when I think back to that moment and it felt amazing when I got claps at the dinner table." It was that experience that made her realise that cooking was her 'thing' and she continued to pursue it under Zahoor saab's training for the next five years. Even while away at boarding school, Poppy continued to cook and advance her skill by making challenging new dishes.
But unlike other professional chefs of our time, Poppy didn't enroll in a culinary school or pursue any formal training upon graduation due to her mother's dissuasion. Instead, she went to college, became a software developer, came back to Pakistan to run the family import business for electro-medical equipment, until she finally gave up all things practical to actively pursue her love for the culinary arts. "I often thought I'd made a huge mistake by not going to culinary school after 'A' levels, but actually it wasn't a mistake. Had I gone to culinary school at the time, I would have been very restricted in what I learnt because most schools have a set curriculum, which though excellent, it is almost entirely based on French cuisine — the mother of all cuisines as they say. But I don't believe that it is," she says. On the contrary, she believes that subcontinental cuisine is the ultimate cuisine. "Just look at the way all the flavours have traversed from here to East to West, it's unbelievable! And now what is the gora doing? The gora is emulating what we do by using our spices. So tell me, what then is the mother of all cuisines?" she asks.
Nine seasons into her famed cooking show on DawnNews, 'A Taste of Fusion,' Poppy decided there was more to be done. "Everybody kept saying to me, 'Why don't you open a restaurant, Poppy, it'll be fantastic!' But truthfully, I think opening a restaurant in Pakistan is a little sucky since people don't know much about cuisine here. I thought why should I spend time cooking dishes that people won't even understand? Instead, I thought I'd rather open a school where I can pass on my tools to others who can learn not to cook like me, but to cook at the same advanced level as me," says Poppy.
Thus was born Poppy's Culinary Institute, currently teaching its first batch of students in an organised and graciously sun-lit kitchen that overlooks one of Karachi's busiest streets. "We still need to get our own fridge and add another A/C to this place as soon as possible," she says, but none of those things seem to deter her or her students from cooking up a storm.
Poppy was gracious enough to let me sit through one of her fusion dessert classes with her student Anam Amin, in which they made two decadent fusion desserts: a chocolate and strawberry ganache pie and a very modern trifle. "Normally one would think of ganache pies and trifles as very traditional desserts, but we are going to turn them inside out and recreate these well-loved desserts in a new way," she says. Glancing over her instruction handout, I saw a list of only ingredients, no measurements. "If I was going to teach from a set recipe, it would be my own recipe and my students would never be able to bring originality to their cooking. But this way, they are encouraged to put their own twist on it," Poppy explains.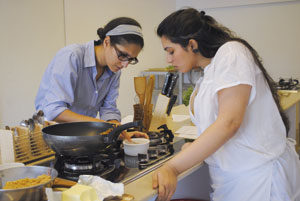 Tying their aprons, the chefs got down to business — Poppy did the talking while Anam did the cooking. Ingredient by ingredient, Poppy explained why it was being added and how it would affect the overall result. Every now and then, she would do something utterly unbelievable to show how even the oddest ingredients can be infused to create interesting tastes. I was truly horrified when she added crushed chilies to her chocolate ganache — but what it did for the taste buds was surprising!
Chatting throughout her lesson, offering useful tidbits of information, the desserts reached their final stage of decoration, and I myself felt like a chef in training. "I don't teach a specific formula for presentation," says Poppy. "It should be how the student wants it to be as per their thought process. I don't like to dissuade them from the way they want to play it up, but I do like to teach them some of the rules and parameters that they have to stay within. If you have too much, it looks sloppy. But if you have too little, it looks bare," she says sprinkling the last bit of castor sugar over her desserts.
Poppy's school is currently a one-man show, but she is hoping that will change as she churns out students over the next few months. Her current programme is a 12-week course in which the students will cover almost every basic cooking technique and cuisine. "In the first class, they learn how to make a 'roux,' which is the basis or soul of any sauce. Interestingly, Urdu uses the same word [rooh] for soul as well. It's basically a mix of flour and butter and then it's worked into more complex sauces," explains Poppy.
However, this course only aims to serve as a prep course to the intensive courses she has planned. "Right now, this course is pretty much based on the things I want them to learn to get a basic grounding in cooking. No cooking school abroad will do a primary course like this that starts you from the very beginning. Eventually, my intensive course, which will be very strict, will be based on either a CIA (Culinary Institute of America) or Le Cordon Bleu model," she says. Poppy is currently training herself according to the syllabuses of Le Cordon Bleu in order to get their teaching certificate next year. Once she is officially qualified to teach at their standard, the students will also be enabled to receive the school's certification and be recognised at an international level.
There are no secrets in Poppy's kitchen. Everything she knows is for her students to know and her dedication is blatant in her non-pretentious manner of teaching. "At 2:30 this morning, I suddenly thought, 'This is what I have to teach Anam tomorrow! We'll make the base like this and the chocolate like that,' and then I was like whoa! Go to sleep — you have a class in the morning! But all night I kept thinking about what time Macro or Primark would open and where I could find the perfect pot for the ganache we were going to make," she laughs.
Poppy's food journey has been a continuous one, and over the years, she has imparted much of her wisdom to Pakistani housewives, restaurateurs, and fusion devotees alike. Opening a professional-level culinary school has not only proven to be a positive addition to Pakistan's culinary scene, it has opened the platform for more people to take it up as a serious career. "I want to create people who are as talented as myself. Fine, in the long run that takes away from my name, but if they do well out there, I will take great pride in that. I'd rather teach people to cook, than them seeing me cook, any day," she says.
Next