Movie Review: All Good things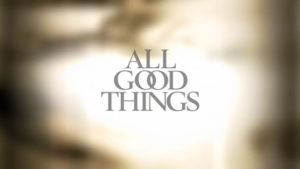 The Spider's Web
Director Andrew Jarecki steps out of his genre (documentaries) to use his artistic license to connect "pieces of the puzzle that were not visible" in a real murder mystery — and a high profile one at that — in his scripted drama All Good Things. And like his previous Sundance-winning documentary Capturing the Friedmans and of course Catfish, Jarecki's new project is highly emotive, but poignantly precise in capturing real life characters.
Based on the "heir apparent," Robert Durst, from a powerful New York family, the infamous disappearance of his wife Kathleen 'McCormack' Durst in 1982 — who still remains a missing person — and the subsequent murders of Durst's neighbour in Texas and journalist friend that remain unresolved, the movie connects the dots and propels the audience towards what seems like a glaringly obvious conclusion on who the murderer is. But All Good Things isn't merely a rehash of newspaper articles. Writers Marcus Hinchey and Marc Smerling and their team conducted exhaustive investigative work of their own — reading police reports, and working through case files and testimonies to weave this fact-based work of fiction.
The movie also reveals the eminent family's clout and its nebulous connections with drug, prostitution and gambling rings in New York. The name changing in the film, from Durst to Marks, did not extend to some. In one scene, a bigwig senator Patrick Moynihan knowingly ignores a journal containing evidence mailed to him, linking the fortunes of the Marks family with these nefarious rings. The movie transports us through three decades — the romance in the '70s of David and his wife, the breakdown of the marriage 10 years later, flashbacks and the 2003 testimony of David Marks.
Ryan Gosling's performance as David Marks sends chills down the spine as he turns from a free-spirited romantic into a cross-dressing psychopath. The first half shows how David stumbles upon the love of his life Katie, a Long Island simpleton, in one of his father's apartment buildings and the two chart out an almost boho-existence, smoking pot and running an organic food store in Vermont. A fairytale love affair? Not really. Pressured by his family to return and join the business, David eventually succumbs to his demons. Kirsten Dunst's role as Katie has been described as her first "grown-up" performance and Dunst certainly plays it convincingly. Academy Award-nominee Frank Langella plays Stanford Marks and his work here is of the calibre of his lead role in Frost/Nixon.
The real Robert Durst was diagnosed with Aspergers syndrome later in his life. He was questioned in connection with both the murders — of Susan Berman, his friend, and his neighbour Morris Black — but that apparently came to nothing. He remains a free man and resides in Florida. According to Dunst, in an interview, the real David visited the set while the movie was being filmed and watched from afar.
Those who point fingers at Jarecki for focusing too much on the love story and less on character-building of this psychopath may have a point, but they should be reminded that as a high-profile tabloid news story, the crimes got their fair share of attention. What people didn't see was the spectacular love story that preceded the disappearance and how the sequence of events explain the eventual "breakdown" of a seemingly carefree man into a withdrawn dark character. After all, it was "The Perfect Love Story. Until It Became The Perfect Crime."

This movie review originally appeared in the May 2011 issue of Newsline under the headline "The Spider's Web."
Maheen Bashir Adamjee is an APNS award-winning journalist. She was an editorial assistant at Newsline from 2010-2011.
Next