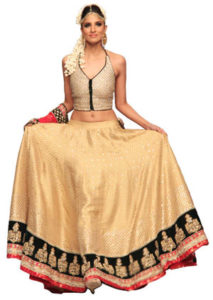 The second Style360 Bridal Couture Week culminated recently, less than five months after the concept was successfully launched in Lahore last year. This time round the event was grander, had more dimensions and was much better organised — although the opening show did suffer from the same problem of tardiness as its predecessor.
To begin with, the invitation cards in keeping with the bridal theme could easily pass for sophisticated invitations to a wedding. More than 40 stalls selling products and services related to the wedding industry had been set up this time round to create awareness among the general public of options available. The lounge and red carpet area was done up beautifully with huge urns and vases boasting a profusion of imported flowers complementing the off-white sofas. A chocolate fondue section, tea and coffee corners and a bar area serving soft drinks kept the waiting invitees satiated. A long passage that linked the red carpet area to the ramp served as a photo gallery, with photographs of models in ensembles of the designers of the day. But, what was most commendable and widely appreciated was that the organisers had taken up the challenge to also change the set and catwalk décor every day — a first for any couture week, anywhere.
And so, the first day opened with red chandeliers hanging over a red felt-lined catwalk, with silver jhalars forming the backdrop, complementing the rich Mughal look of the ensembles on display that day. Much to everyone's surprise J.J. Valaya, India's top designer, who was showcasing for the first time in a group exhibition — he had shown solo 10 years ago in Karachi — opened the show. His collection was a fusion of eastern ensembles with western flourishes. His women's collection included churidars with western tops, tissue skirts with worked blouses, and saris with suede tassels and intricately worked jackets, while his sartorial wear included sherwanis worn over churidars. A surprisingly overweight Meera donned his show-stopper: a heavily embellished orange lehanga and choli-blouse.
The first segment ended with Neelo Allawala's creations. Although there is no doubt that her line seemed to be inspired by Shamaeel's Moghul miniature print collection that she had exhibited last year, the collection was nonetheless elegant. Allawala played artistically with different fabrics, textures and colours and came up with a collection that was by far the best she has produced to date.
Opening the second segment was Maheen Khan, who had especially created a miniscule collection of bridal ensembles — a variation from her usual purely cut-based couture line. Although she used her signature lace and chiffon and her ensembles were understated as always, this time round there were also fully worked tops over flowing skirts-cum-saris. Her show-stoppers were donned by Misha Naek and Khizar Diwan — attired as bride and groom respectively in a grey ensemble and a white sherwani with a turquoise turban.
Unlike fashion shows — where attire changes are quick and hence the showings fast-paced — the dynamics of a bridal couture showing are different and require pauses in between showings and so, Vaneeza Ahmed, the producer and choreographer of the show, had incorporated an entertainment segment that not only went with the bridal theme, but instilled such life and energy in the show that it had the audience responding to them with the same zest that Hasan Rizvi and his BodyBeat troupe had put in.
The next designers to showcase their collection were Ayesha and Somaya. Although their label has been relatively low-profile, the collection made one wonder why, for their ensembles were by and large tasteful and elegant. Largely on western lines they incorporated diamantes, mirror-work and embroidery.
Rabya Chaudhry's performance choreographed by Hasan Rizvi heralded the last show of the day which featured Rehana Saigol's collection. Largely comprising bling and heavily embellished saris, the collection had a very Indian look to it.
With the ramp decorated with egg-shaped lights and chandeliers, Day 2 opened with Mona Imran's collection, another pleasant surprise for most in the audience. She began with a children's collection, modelled by cute tiny tots who came in, in pairs holding hands and followed it with a women's line comprising flowing dresses with appliqué work and traditional heavy ghararas.
Shireen Hasan closed the evening with her striking combinations of block-printed and worked ensembles.
The second segment of Day 2 opened with Lajwanti's collection which was well-choreographed and the collection this time round was much better than the last time. The palette was ranging from tea pinks to plums and deep colours and the work incorporating sequins, stones, mirrors and embroidery. Resham walked the ramp for Lajwanti in a crimson show-stopper.
Zainab Sajid came in next. Her collection was elegant, in muted colours — pink, off-white, beige, turquoise — with lots of silver. A lively performance by Rabya heralded the last designer of the day — Hajra Hayat. With some of her ensembles boasting western cuts, certain pieces stood out from among the rest for their elegance. Noor walked the ramp in Hayat's show-stopper.
The last day, the ramp looked breath-taking with fresh roses flanking it from both sides, and cut-out flowers adorning the backdrop. The show was opened by Deepak Perwani with Tapu Javeri — who incidentally provided the music for all the three days — walking the ramp for him in a black sherwani and shalwar. Embroidered kurtas and dhoti-shalwars, and sherwanis formed the bulk of sartorial wear while long, flowing silhouettes and traditional lehangas made up much of the women's line. Mona Lisa donned the show-stopper for Perwani.
After an electrifying dance performance by Hasan Rizvi and his troupe, Reem Abbasi's jewellery — gold encrusted with stones — was exhibited by models attired in saris designed by Amna Kardar.
Shaiyanne Malik ended the first segment with her rich ensembles that played with textures and colours rather than embellishments. Some of the ensembles sported ghara work.
The last segment of the Bridal Couture Week opened with Faraz Manan whose collection ranged from western cuts — gowns encrusted with diamantes, pleated dresses, string-back shifts — to churidars and saris.
A lively performance by Rabya was followed by Saba Waseem's collection — without doubt the only collection to stick out like a sore thumb. Most of the pieces were tacky and one was hard put to find a piece that could actually be regarded as wearable.
Mercifully, an invigorating performance by Hasan Rizvi brought the show back on track. After the CEO of HUM Network Ltd, Duraid Qureshi delivered his vote of thanks, the last designer of the evening, Mehdi exhibited his collection. He opened his show with made models attired in self-embossed brown kurtas worn over black pants and followed it with a women's line in black. His fusion collection was largely elegant and comprised gowns, shifts, worked dhaka pants, churidars and saris. He was the only designer to also put forward the short kameez of yore, worn with a long, chiffon jacket. His show ended with fireworks, bringing the Style360 Bridal Couture Week to a styish end.
The writer is a freelance journalist based in Karachi. She also works at Hum television.
Next