Interview: Ghulam Mustafa Khar
"The PPP will reap the harvest of Bhutto's exoneration"
– Ghulam Mustafa Khar,
former Governor and Chief Minister of the Punjab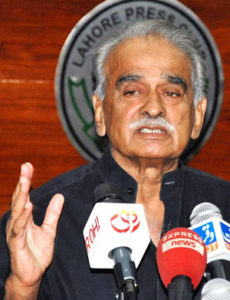 Q: Do you believe ZAB's execution was judicial murder?
A: It was a judicial murder. At the time, the entire media was controlled by the government and there was martial law. Now fast forward; certain things have come out; judges have come out openly and said they were pressured. At this point there is so much evidence to clear his name. There are witnesses to the serious negotiations that were going on at the time about Bhutto's future after he was removed from office. The army was afraid that if ZAB remained on the scene, he would return to power. Some army generals wanted him killed while some were against it, saying it would have negative repercussions and stain the reputation of the army. One alternative was to have him leave the country. But in the end, Bhutto would not agree to that. Now the whole world will come to know that the result was judicial murder….
Q: So, you agree the case should be reopened…
A: I think it [the judgement] should be revised. Why shouldn't the case be reopened? In England and other countries, even after 50 or 60 years, cases have has been reopened and the accused have either been condemned once again or exonerated.
I think as the ex-Prime Minister of Pakistan, as the leader of the Pakistan Peoples Party, and as a person, Mr Bhutto deserves justice. Although I am not on good terms with Mr Zardari, I think what he is doing is asking to rectify a mistake; so that the history of Pakistan is not distorted. It is good for the nation to know the truth.
People against reopening the case should not be afraid of the verdict. We have an independent judiciary. So even if the verdict is guilty, it should be acceptable to the majority of the people. However, I am absolutely sure that there is no way
Mr Bhutto will be proven guilty, today, tomorrow, or whenever the verdict is declared.
Q: What do you think the government's motivation is in reopening the case at this juncture?
A: I think, most probably, there will be elections in the near future. It will take some time for Mr Bhutto to be exonerated, but he will, I think, be exonerated. There will be sympathy for him because he was murdered, and once that happens, it will lead to a revival of the Pakistan Peoples Party. So the party will manage to reap that harvest.
Q: Even if one endorses the claim that ZAB's death was completely unconstitutional, should a sitting government take it upon itself to reexamine the case at the taxpayers' expense, or should this be taken up by the party he founded and remained at the helm of until his death?
A: It would be much better if it were taken up by the party because there could be some apprehensions among the people in this country about possible influence exerted by the government [on the judiciary]. So it should be handled by the party and the normal course of justice should be allowed to take place. That way it would be much clearer to the people of Pakistan that no political pressure was involved.
Q: Even if conclusively proven that ZAB was murdered, he was neither the first nor the last head of state/high-ranking official/politician to be politically assassinated (Liaquat Ali Khan, Zia-ul-Haq, Benazir Bhutto, Chaudhary Zahoor Elahi, Murtaza Bhutto, etc.). By the same yardstick then, shouldn't all these cases be revisited?
A: I think that all these cases should be reopened. It would be a very good thing to close this chapter once and for all, and show the country that all murders will be traced and resolved. And it will be a good lesson for future prime ministers, presidents and important people. At the very least this would provide some kind of deterrent for people who have become quite used to getting rid of their political opponents either via the judiciary or by the bullet. People will have to think twice about using these methods as it will show that even after a long time, accountability can take place.
Q: What do you feel about Babar Awan (given his political history and credentials) being tasked with the defence in this case?
A: Babar Awan is a competent lawyer. There have been comments from people on different sides [of the political divide] with different views about him. His political history is not admirable. And I don't admire him as a leader. But in this case he is just [performing his duties as] a lawyer. He has been a lawyer in many cases, and he works hard at whatever case he takes.
Related posts:
Bhutto in the Pakistani Imagination
The Trial, Part II
Interview: Sardar Mumtaz Ali Bhutto, Chairman, Sindh National Front
Whodunnit?
Next