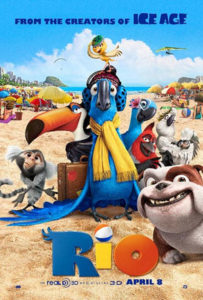 If you were not planning to visit Rio de Janeiro for the 2016 Summer Olympics, Rio the movie is sure to tempt you to venture out there. The film showcases, in all the city's glory, a vibrant culture and equally awesome tropical locations that form the backdrop to this fun adventure story.
After watching this animated escapade, now showing in cinemas across Pakistan (and in 3D in Karachi and Lahore), one can almost imagine the excitement that must have prevailed in the graphics lab of Blue Sky studio. The animators were given the opportunity to move from the Ice Age franchise to a project as sunny as Brazilian beaches.
Rio is the tale of a familial blue Macaw, Blu, lovingly brought up in Minnesota, USA, by a bookstore owner. But something rocks their simple American life. The bookseller Linda is informed by a Brazilian expert that Blu is the only surviving male of his species and should be mated with a female companion to save the breed from extinction. The only female of the species, Jewel, is kept safe at a veterinary institute in Rio de Janeiro, so Linda and the nervous Blu fly south in hopes of finding him some intimacy.
Jewel, meanwhile, is determined to escape to her natural habitat. While they do meet and mate, that's as far as it goes — at least for a while. Jewel and Blu are kidnapped by an exotic birds smuggler soon after they meet. They eventually manage to escape but only to find even more obstacles standing between their love and their dreams.
Through their adventures, the audience is treated to Rio — good, bad and glorious: in Samba music, narrow alleys, carnival, glowing lights, vibrant colours and people. The visual entertainment is worth viewing.
Directed by Carlos Saldanha, Don Rhymer's witty script is performed by well-known Hollywood names, including Anne Hathaway as Jewel and The Social Network star Jessie Eisenberg as Blu. However, as well as he rendered Blu's character, it's time for Eisenberg to show us the rest of his potential. George Lopez, Leslie Mann and Tracy Morgan also star in the film, but the real treat are Oscar-winner Jamie Fox and singer Will.i.am's performances as the streetwise Nico and Pedro.
Given the number of animated features emerging in recent times, their plots are becoming ever more predictable. Nevertheless they are still hugely popular for their ability to make us laugh. And Rio, while following formula, is sure to be a crowd-puller for precisely the same reason: it's hilarious.
A version of this review originally appeared in the May 2011 issue of Newsline under the headline "An Exotic Adventure."
Next