Set in the semi-rural area of Tumair just outside the capital city, Rohtas Rawan's first residency programme provided six artists with an environment close to nature yet near enough to Islamabad to be almost suburbia. The studios, equipped with living facilities, are surrounded by green spaces and bordered by a river.
Although, until recently, Islamabad was viewed as a cultural desert, its beauty has been an unchallenged fact. The area is known for its picturesque green hills, local streams and rivers, and the inspirational mellow quality of the light. This first private initiative, held from March 14 to April 19, was organised in collaboration with Vasl Artists' Collective, and featured three international and three local artists.
Artists' residencies come equipped with varying rules and regulations, although one of the basic tenets is the gift of space and time in which to think and create. The idea is not a new one, and began with the artists' community at Yaddo, funded by art-loving benefactors at the turn of the last century. Today's programmes bring together people from diverse backgrounds and origins who often share work and living space and interact with one another. They are frequently themed, in concordance with current social or artistic concerns. Not all residencies require artists to display their output, although many do, probably in order to show results and thereby justify the funding required to conduct such activities. In cooperation with Vasl residency rules, Rohtas Rawan specified that the selected artists would create a body of work intended for display at the Rohtas Gallery at the end of the five week period, as well as conduct lectures, seminars and educational and community art projects.
The problem with creativity is that it does not necessarily allow itself to be harnessed and bound by time. Much as an artist needs the opportunities and facilities afforded, when faced with a new environment, he takes a while to absorb his surroundings. At some point, this immersion will trigger thought. Thought requires some germination, much as a plant feels the earth beneath its stem, spreading roots as well as pushing upward, not always in one direction, but sending out a shoot here, a stem there, before sprouting leaves. This process of internalisation and externalisation goes on sometimes simultaneously, sometimes alternately. It is with the culmination that flowering takes place: the illumination of an idea or ideas, fashioned within the bounds of technique.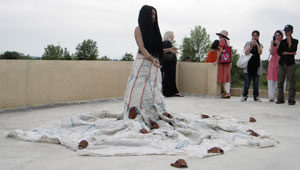 At the Open House organised at the farm just two days before the end of the five week residency period, the artists appeared to be at various stages of creation. Probably the most assured and productive in the group was Khanyisile K. Mbongwa. Khanye's work weaves together themes of identity and perception, using performance, video and photo montage. Stationed on the roof of her studio, she had caked her upper body in mud, encasing the lower half in cement bags stitched together to form a massive skirt extending all around her, on which she had positioned clay hands. She was recording a video montage in which she moved only her hands, emulating expressions often seen in classical statues: peace, placation, holding something at bay. Towards the end of the recording two fellow artists rubbed some of the mud from her back to reveal a qita from Faiz, 'If ink and pen are snatched from me, shall I/Who have dipped my finger in my heart's blood complain…'
By contrast, Iranian artist Katayoun Karami's prayer rug with its window featuring a video of eyes in a veiled face lacked the impact of her previous, powerful photographic artworks. Bashak Akcakaya's art deals with the place of women in patriarchal societies, using henna and henna tattoos in her paintings, one of which when closely viewed is seen to be made up of text stating 'sterilisation.' Her work appeared part of a process, as yet incomplete.
Hassan Mujtaba's photographs of school children reveal mastery of the use of repeated pattern to show blind obedience, isolation and ignorance. During the residency, he experimented with stones. At the Open House, the effect resembled a Japanese garden, the stones arranged from larger to smaller sizes in a regular grid leading the eye farther and farther towards the river beyond the boundary wall against which they were placed. But the arrangement lacked the conceptual strength of his former work.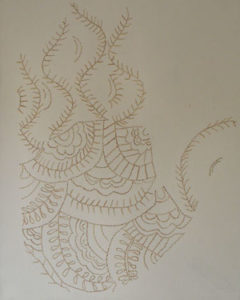 Muzzumil Raheel, whose novel use of traditional calligraphy is used to effect visual jokes, such as 'Please Read it Carefully,' the English words transcribed into graceful Urdu script, had little to display until the final exhibit at Rohtas, while Naqsh Raj's Meena Kari box containing found objects such as broken eggshells, ash, pigment, pebbles and feathers appeared to be the beginning of a dialogue with the self, the initiation of a new train of thought which needed time to develop.
Exploring notions of nature and artifice through transformations of space, the focus of this residency, produced some interesting ideas. How this talented group of artists choose to knit together technique and concept and produce a mature portfolio, will be seen in the future.
Next