As narrated to Shaha Jamshed by Anwar Maqsood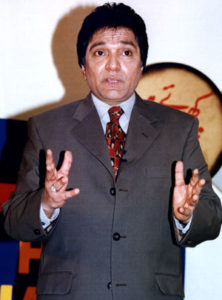 We are all at that stage of our lives when crying out aloud would perhaps not appear appropriate. In any case, tears dry up, but the sadness within remains. My heart bleeds for Moeen, but words fail me. Perhaps that is the reason why no one has invited me to any memorial for Moeen. I would not know what to say and, more importantly, to whom?
I prefer to shed tears behind closed doors, away from prying eyes.
There are commemorative programmes on Moeen daily. His friends talk about him 24/7. He was a man of such genius that he could win you over in a matter of seconds.
ARY's Loose Talk bound us together forever — like links in a chain, inseparable. He was the voice behind my words. And not once did he allow the tremendous performer in him to fiddle with my script. Maybe he never felt the need to — he could always access the soul of a character through the written word. But then he was a talent par excellence.
We did 381 episodes of Loose Talk. The programme was quintessentially Moeen — the way he talked, laughed and mimicked. Often we got into arguments over the script. Each would try to bring the other around to his point of view. Always a man of principles, Moeen needed to be totally convinced about the integrity of the script.
He would call me ratto tota (a parrot) for spouting Faiz and Faraz and berate me for not knowing a certain Qaim Chanpuri, whom he ostensibly knew by heart.
His colleagues are full of stories about his generosity and of his being a people's man. And they are all true. He was so concerned about the welfare of others that he forgot to take care of himself.
I got to know him in the 1970s. I was writing the script for the Zia Mohyeddin Show, and Moeen would often visit the sets. He and I would always be analysing the differences between TV and stage performances. Then I started inviting him to my stage programmes. He would be very anxious about whether he would be able to deliver or not, but he needn't have been for he was cut out for the stage. I would laugh at his lack of confidence. Then came Angan Terah and Moeen was so good in it that he ended up doing two episodes when I had actually scheduled one for each actor. His portrayal of the poet bowled me — and the audiences — over completely. He followed it up with Showtime, which featured Bushra Ansari. The "Amna Samna" segment, where Moeen was interviewed in different characters — which formed the base for Loose Talk — was the high point of the show.
Then came Studio 2 1/2, which in my view is the most popular PTV programme yet. Mohsin Ali was directing it. The 7th episode was on cricketers and apparently two prominent personalities from the cricket and political world were so offended by it that the programme had to be wound up. We re-started it a year later as Studio Pounay 3. With every programme, Moeen's ranking with his audience went up and up.
In Anwar Maqsood ke sath, Moeen's character of a Bengali stranded at the airport won the nation's heart. Studio 420 had 26 episodes with Moeen — it was directed by my son Bilal — and Moeen had, by then, become a superstar. Around the same time, we did Mohsin Ali's Half Plate, a serious play that put Moeen in the top actor's league.
Loose Talk's last episode came alongside the floods and I was ready to let it float away for I had plans to do Jeena Tau Hai with Moeen playing Siddiqui Sahib's character. I still remember the first day of recording. The entire cast was on the set. Moeen walked in, but upon not finding me there, he walked out leaving everybody bewildered. He came to my house right away. "Moeen, is everything okay? Is something wrong with the script," I asked him. "No, I remember it by heart, Anwar. When the script is yours, how can I have any problems with it? It's my heart that's causing problems and I don't want you stranded. I'm calling up Farooq Zameer in Lahore and you please ask him to do Siddiqui Sahib's character." I was stunned, lost for words. Robot-like, I spoke to Farooq. He arrived the following day and April 22 was the first day of his recording. At 3 'o' clock I heard the tragic news of Moeen's death. For once, Moeen knew something that I didn't. And I, who was always in good spirits and laughing and chattering, cried unabashedly.
Of late, Moeen had become very religious and would often go into sermon mode before formally introducing any programme. I would yell at him: "Kya kar rahe ho, yaar?" And his stock answer would be: "Mein apni akhirat ka saamaan kar raha hoon, tum ne tu abhi start bhi nahi liya hai."
The best way to pay tribute to him, I guess, would be by making people around you laugh. I am trying my best to continue with his legacy. But I often wonder why people who bring so much joy to your lives leave you crying at the end of the day.
This article originally appeared in the May issue of Newsline under the headline, "The Last Laugh."
Next