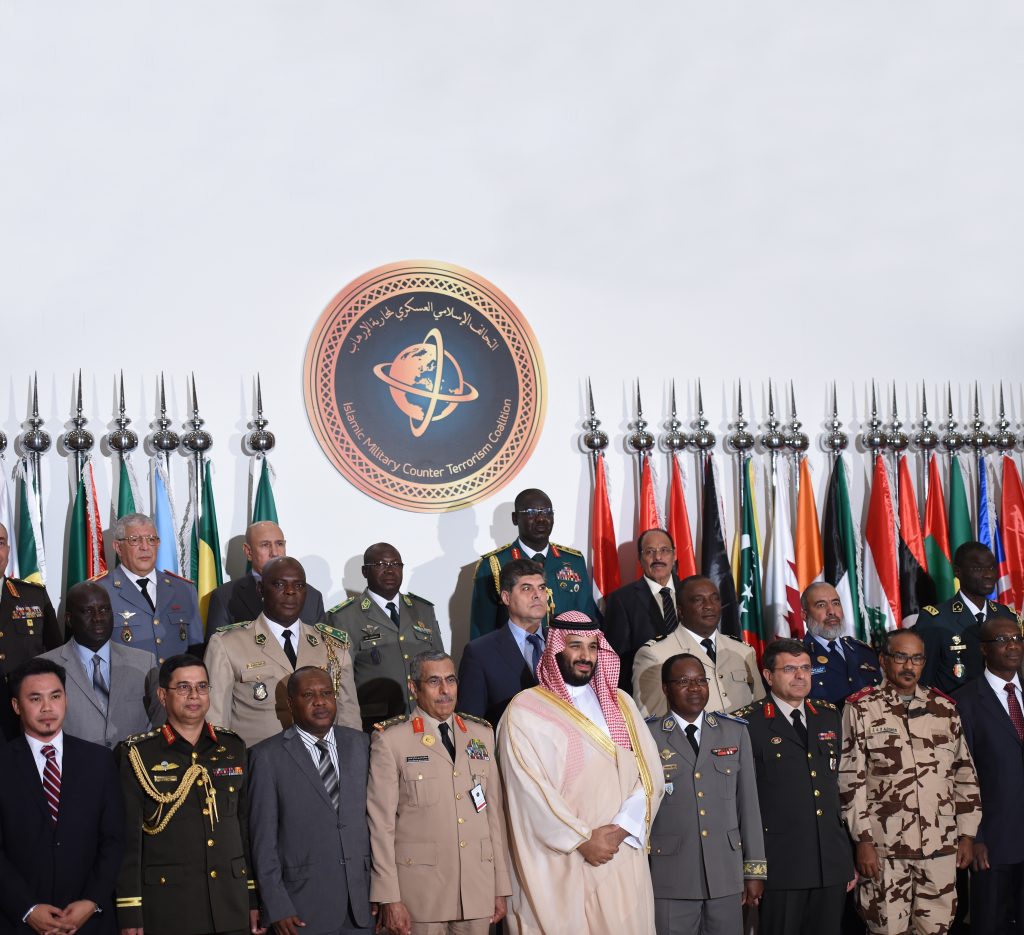 Not until the third week of May will there be a semblance of a constitution outlining the various facets of the Islamic Military Alliance to Fight Terror (IMAFT). It is then that the IMAFT will go from being a mere abstraction to a reality. Until that day, however, all that the citizens of Pakistan have is a shape-shifting apparition projected by the media.
When, in December 2015, Saudi Arabia announced the formation of the IMAFT — a 'Sunni NATO' of sorts — Pakistan's seat at the table was reserved without its consent. The controversial exclusion of Shia states such as Iran and Iraq from the alliance was seen by detractors as a deliberate attempt to isolate them, particularly Iran. Developments took an unexpected turn in January 2017, when Pakistan's Defence Minister, Khawaja Asif, confirmed the appointment of former Chief of Army Staff (COAS), General (R) Raheel Sharif, as supreme commander of the 39-nation-strong IMAFT. Subsequently, the government issued a No-Objection Certificate (NOC) to Sharif joining the alliance.
The controversial move has been met with criticism from many quarters, as under Pakistani law, Sharif must wait at least two years before assuming a role in any official capacity. Yet the rules were relaxed in the current context, so as to enable him to assume command of the alliance. As an institution, the coalition is somewhat of an enigma. Its various aspects remain shrouded in mystery. Unlike NATO, there has been no mention of an underlying treaty binding IMAFT — one that would potentially provide guidelines for the deployment of coalition forces in times of need. The Organisation of Islamic Cooperation (OIC), established in 1969, includes all 39 members of the IMAFT, as well as the 18 Muslim states that have been excluded from it. As such, the IMAFT runs contrary to the very concept of the OIC.
The former COAS, who was widely perceived as a symbol of hope and stability in Pakistan, stands at the threshold of a move that could tarnish his legacy. Newsline asked civilians, parliamentarians, politicians as well as former army personnel, to provide their perspectives on whether the general and the government of Pakistan should have accepted the Saudi offer.
Referring to Sharif's decision to head the alliance, writer and journalist Mohammed Hanif argues that it is "better than working for Bahria Town or running some silly think tank or starting a political party. He is a private citizen now and so can take up any job he wants." According to Hanif, Pakistan had given Sharif a lot of love and some prime properties and as such, he could have spent his retirement gardening or playing golf, "But I think he probably feels that this nation as well as the ummah owe him more love and more riyals. It is plain, old-fashioned greed disguised as love for the ummah. The only thing I am curious about is, which country's uniform will he wear?"
"Pakistan has been a victim of its fantasies of being Arab," says Mohammad Ali Talpur, a veteran of the Baloch national struggle. "As a result of this, it said goodbye — pun intended — to khuda hafiz, and adopted Allah hafiz in its place." According to Talpur, Pakistan is always in need of funds, which Saudi Arabia and other Gulf states have continued to provide. "Those who pay the piper call the tune," he explains. "Pakistan is, at best, a poor relative who is remembered when its 'muscle power' is needed."
Talpur is of the view that since the alliance is of a military nature, it goes without saying that there will be conflict. "There can be no neutrality in a boxing ring. NATO partners had to contribute in the Afghan war when asked to do so. Thus, to presume that after becoming a part of the Saudi military alliance, Pakistan can remain neutral either in Yemen, Syria or in the Saudi animosity towards Iran, is wishful thinking." Talpur explains that the offer to make Sharif the head of the force is an attempt to obscure the potential hazards of the alliance.
"If Raheel Sharif can play a role in mitigating the differences between Iran and Saudi Arabia, he will become an even bigger hero than he did through the successful implementation of Zarb-e-Azb," opines Lahore-based journalist Adnan Adil. "However, he must first get the approval of the Parliament, as it represents the will of the people," he continues. "It was not appropriate for him to have made the decision without the Parliament's approval."
According to Huma Yusuf, a global risk analyst and fellow of the Woodrow Wilson International Centre for Scholars, Pakistan's involvement in the alliance undermines a decision made by the country's parliament in 2015, that Pakistan would remain neutral in a conflict in the Middle East. "Having a former general lead such an alliance will likely result in a role being played by Pakistan's armed forces," explains Yusuf. "Even if Pakistan were to play a mediating role between Saudi Arabia and Iran, it should be taken up by the civilian government and not a retired general. While Pakistan has provided Tehran with reassurances that the alliance is not anti-Iran, regional and geopolitical dynamics indicate otherwise." Yusuf points out that the sectarian messaging that will emanate from Sharif's leading the alliance cannot be ignored. However, she maintains that there is currently a lack of clarity on what the alliance will entail and the specifics regarding Pakistan's involvement, and the implications of Sharif's appointment will only fully become apparent once these are clearer.
Ayub Shar, a Hyderabad-based engineer and political activist worries that, "If any of the member countries develop problems or conflicts, Pakistan will indirectly become involved in these." Shar argues, "The government should not only have deliberated the decision in parliament but should also have taken the public on board. Pakistan already has a bad reputation around the world and joining the alliance will do little to improve it." He concludes that hastily made decisions are a sign of an unstable and weak government.
"If the alliance remains impartial and makes a genuine effort to eradicate terrorism, then it could bring about positive results, in the same way Operation Zarb-e-Azb did under the generalship of Raheel Sharif," says Akash Datwani, a Karachi-based archivist and researcher. "However, if the alliance adopts a sectarian approach, then it will only bring out negative consequences."
And the proverbial 'common man,' domestic employee Jan Mohammad Khan, who has travelled to Karachi from Mansehra to earn a living, points out that the concept of an Islamic alliance has been around since the government of Zulfikar Ali Bhutto, who tried to form one such Afro-Asian bloc to counter the power of the West. "I agree with the stance taken by the Pakistan Tehreek-e-Insaf," he says. "If the alliance is indeed aiming to isolate Iran, then by joining it Pakistan is sending out the wrong signals." While he contends it is a matter of honour that a Pakistani has been chosen to lead this coalition, he worries that Pakistan could bring harm upon itself by being a part of a coalition that is likely to be sectarian in nature. And Khan too feels that the question of involvement should have been put to the Parliament.
What makes the entire scenario an even more bitter pill for citizens to swallow is that it involves a man whom they had placed on a pedestal in their minds, as a hero and saviour who was righting all that was wrong in Pakistan. The fact that Iran's Ambassador to Pakistan, Mehdi Honardoost, has expressed his reservations about the alliance leaves little in the way of hope. Honardoost revealed to the media this month that Iran had not been invited to join the alliance and although Pakistan had provided assurances prior to the issuance of the NOC, this did not mean that Iran was happy with the decision. The meeting of the defence ministers of all 39 member states in Riyadh next month will be a critical moment for Pakistan, as it will determine the terms of engagement.
The writer is a staffer at Newsline Magazine. His website is at: www.alibhutto.com
Next