Interview: Major General (R) Ejaz Hussain Awan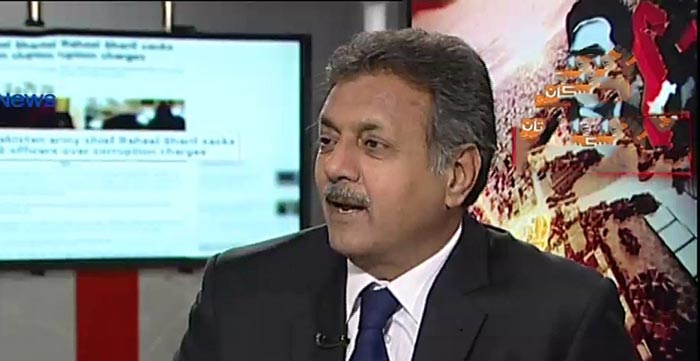 Are you for or against General (R) Raheel Sharif joining the Saudi-led Islamic Military Alliance to Fight Terrorism (IMAFT)?
We have to first see whether it serves Pakistan's national interest or not, and whether the President and Prime Minister of Pakistan have committed to offering the former army chief's services to the coalition.
It is unprecedented for a former Pakistani army chief to seek a foreign assignment within two years of retirement. Should Sharif have accepted the offer?
If there is no negative fallout and if the government of Pakistan is okay with it, I see no reason why he shouldn't accept the responsibility. In line with the 1982 military agreement between Saudi Arabia and Pakistan, the two-year abstinence period has been relaxed. In 1982, Pakistan had provided military assistance to Saudi Arabia, when it sent 15,000 troops, including a serving general and about six to eight brigadiers to the country, on the pretext that there was a possible threat to the sovereignty of Saudi Arabia. The troops remained stationed there until 1989.
What, in your view, was Sharif's motivation in joining the alliance?
Firstly, he felt that in doing so he was serving the foreign policy interests of Pakistan and that the government wanted him to accept this job. Secondly, he thought that after having commanded the Pakistan Army, which is more experienced at fighting terrorism than that of any other Muslim country, he should share his experience and expertise and train the armies of the 39 member states.
You must take into account the character of the government officials too. It is not possible that Raheel Sharif arrived at this decision by himself. For all we know, the prime minister may have already given the go-ahead [to the Saudis] and then later, when the news came out in the media, buckled under pressure and denied having any knowledge of it. There is no denying that this government lacks moral courage.
What was the government's reason for giving Raheel Sharif a No-Objection Certificate (NOC)?
The government believes that his involvement with the alliance would enable Pakistan to foster good ties with all 39 member states, as well as develop a good reputation among them.
What impact would it have on our relations with Iran, which has been left out of the Saudi coalition?
It would have no impact whatsoever. We are an independent and sovereign country and have a right to get into any kind of agreement with another state. For example, when Iran and India signed an agreement to develop the Irani port of Chabahar, they did not ask Pakistan if they could sign the agreement — and rightly so. The agreement did not affect Pakistan's relations with Iran.
I do not know whether Iran has opted out [of the coalition] by choice or whether it has not been invited to join the alliance. We understand that relations between Saudi Arabia and Iran have not been the best. And since the coalition is mainly Saudi-funded, Iran may not have wanted to join. But that does not put a bar on other countries.
Our relationship with Iran would only be impacted if this coalition is used as an anti-Iran bloc; but presently there is no indication of this happening.
Do you feel that the exclusion of 18 Muslim states from the coalition runs contrary to the concept of the Organisation of Islamic Cooperation (OIC), of which 57 Muslim states are members?
It is not like members of the coalition are going to attack non-member states. Inter-state disputes are not the mandate of the IMAFT. Nor will it assist member states in their disputes with other countries. For example, if Iran is not a member, the coalition forces will have no right to enter it. Take another example — Brunei. It has a force of 3,000 soldiers, while Bahrain has no force at all. Perhaps this is why these countries are not part of the coalition. Iraq is not in a position to be a part of any coalition force. It is at war with itself and the internal security situation does not permit it to send troops abroad. The same goes for Yemen and Syria.
India has the world's second largest Muslim population after Indonesia, but it cannot become a member of the alliance, which is only for Islamic states.
Should the issue of joining the IMAFT be debated in the National Assembly and be passed by it?
If the government feels that the alliance has negative implications and could have a negative impact on relations with other Muslim states, then there is no harm in doing so.
Some believe that Pakistan has joined the alliance because it did not want to jeopardise its relations with Saudi Arabia, which is already miffed with Pakistan for its earlier refusal. What are your views on this?
Pakistan's troops are not mercenaries. We have no right to participate in the ongoing war in Yemen. If Yemen has not invited any outside forces, who is Saudi Arabia to call in troops? We are not their servants. We do not fight other countries' wars. The 15,000 troops that were sent to Saudi Arabia in 1982, did not fight a war, they were only stationed there.
There have, reportedly, been high-level consultations with Iran on the issue and that Tehran has no objection to Pakistan's participation in the Saudi-led alliance. Do you have any knowledge of this?
This consultation took place when Iranian Ambassador, Mehdi Honardoost, called on COAS Qamar Bajwa in Rawalpindi on March 4, 2017. The army chief reassured him that Pakistan was fully aware of Iran's sensitivities and would by no means undermine Iranian security in any way. Likewise, we have no objections to Iran's relations with India.
The secrecy surrounding the move to join the alliance raises many questions about our policymaking process. What are your views?
This coalition force is still only an idea. It does not exist on the ground. Troops have not been contributed and no one knows the size of the force. Its air and naval capacities have not yet been outlined. It is still in its early stages. The defence ministers of all 39 member states will meet next month in Riyadh, where they will conceptualise the deployment of troops and the purpose of the coalition.
What is known so far is that it will be a counter-terrorism force, involving intelligence-sharing, capacity-building and training exercises. It is highly likely that these forces will fight terrorism within their own respective countries. They will not attack a non-member state.
The writer is a staffer at Newsline Magazine. His website is at: www.alibhutto.com
Next