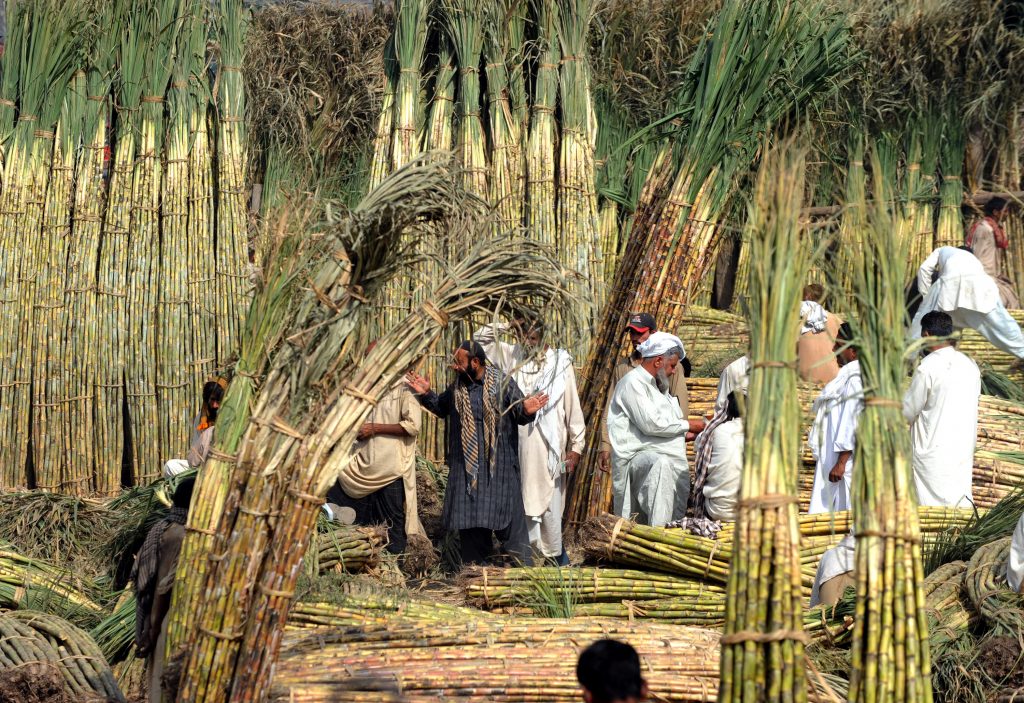 The sugar industry has always been prone to scandals. A significant element of conflict of interest has perpetually dogged the sector, mostly because more than half of the country's approximately 90 sugar manufacturing units are owned by powerful political elites.
Many of these units owned by politicians have never paid back the loans they obtained from nationalised banks to set up the units. No one knows how much of tax payable to the treasury by the sector is pocketed between the collectors and manufacturers. But every time there is a glut in the domestic market, which is almost every season, taxpayers' money is paid to the manufacturers by way of subsidy to export the surplus, as our cost of production remains high compared to international prices.
There have been times when using the concession, the greedy manufacturers have caused domestic shortages by exporting even what was supposed to be left untouched for local consumption. Not only this, lately the political elite have started trying to transfer 'non-profitable' units to cotton growing regions, thus posing a serious threat to the very backbone of our economy–the value-added cotton textile industry.
The latest price hike in the domestic sugar supply occurred in the first week of January this year, as a consequence of allowing export of 225,000 metric tons of the commodity.
Some sugar mill owners are well known politicians who have had the good fortune of being elected to govern the country on a number of occasions. Prime Minister Nawaz Sharif, his family and relatives own the Abdullah Sugar Mills, Brother Sugar Mills, Channar Sugar Mills, Chaudhry Sugar Mills, Haseeb Waqas Sugar Mills, Ittefaq Sugar Mills, Kashmir Sugar Mills, Ramzan Sugar Mills and Yousaf Sugar Mills. The Kamalia Sugar Mills and Layyah Sugar Mills are also owned by PML-N leaders.
Former President Asif Ali Zardari's family and PPP leaders are said to own Ansari Sugar Mills, Mirza Sugar Mills, Pangrio Sugar Mills, Sakrand Sugar Mills and Kiran Sugar Mills. Ashraf Sugar mills is owned by PPP leader and former Zarai Tarraqi Bank Limited (ZTBL), President, Chaudhry Zaka Ashraf.
Former Federal Minister Abbas Sarfaraz owns five out of six sugar mills in Khyber Pakhtunkhwa (KP).
Nasrullah Khan Dareshak owns the Indus Sugar Mills while former Federal Minister and current Secretary General, Pakistan Tehreek-i-Insaf, Jehangir Khan Tareen, has two sugar mills, the JDW Sugar Mills and United Sugar Mills.PML-Q leader, Anwar Cheema, owns the National Sugar Mills.
Senator Haroon Akhtar Khan, special assistant to the Finance Ministry on Revenue, owns the Tandianwala Sugar Mills while Pattoki Sugar Mills is owned by Mian Mohammad Azhar, former Governor Punjab. PML-F leader Makhdoom Ahmad Mehmood owns JamaldinWali Sugar Mills. Chaudhry Muneer owns two mills in Rahimyar Khan district and former deputy PM Chaudhry Pervaiz Elahi and former Minister of State for Foreign Affairs, Khusro Bakhtiar have shares in these mills.
In the year 2000, when there was a serious disruption in the supply of sugar in the country, the Public Accounts Committee (PAC) alleged that 20 sugar mills, a majority of them owned by sitting ministers and some influential elites, were involved in the ongoing sugar crisis. Those named by the PAC included: Fatima Sugar Mills, Hamza Sugar Mills, JDW Sugar Mills (owned by Minister for Industries and Production, Jehangir Tareen); Koh-i-Noor Sugar Mills, Layyah Sugar Mills, Madina Enterprises Sugar Mills, Noon Sugar Mills, Patoki Sugar Mills, Shah Sugar Mills, Tandianwala Sugar Mills (owned by Senator Haroon Akhtar Khan), Al-Abbas Sugar Mills, Al-Noor Sugar Mills, Dewan Sugar Mills, Dewan Koski, Meeran Sugar Mills, Mirpurkhas Sugar Mills, Shah Murad Sugar Mills and Tando Mohammad Khan Sugar Mills.

The way out of the growing annual liability on the country and its people due to subsidies is to allow free import of sugar by the private sector and let the country's sugar mills compete with the commodity bought at prevailing international prices.
Of course the politicians who own these mills and are in a position to make and unmake trade policies are not likely to let that happen. But it would be in the interest of the nation to give voice to this demand until it is heard and the government of the day is forced to make the right decision.
There are examples galore to prove the point. In 2016, the Economic Coordiantion Committee (ECC) had granted permission to export 0.5 million tons of sugar till March 31, 2016, with a subsidy to the tune of Rs. 13 per kilogram. The politically influential lobby is said to have successfully pressed the government to extend the deadline for export   beyond the given date.
The mill owners claimed that the government had approved export of sugar through the ECC in November 2015 but granted permission by end January 2016. They said that the Karachi port did not have the capacity to export beyond 100,000 to 150,000 tons in that timeframe, so the Pakistan Sugar Mills Association (PSMA) asked for an extension. When asked to justify the Rs. 13 per kilogram subsidy on export of sugar at a time when prices were escalating in the international market, mill owners said that the subsidy could be reduced proportionately, in accordance with increased prices of sugar in the international market.
So far the sugar industry is said to have obtained orders to export around 250,000 tons or 50 per cent of the allowed limit, so they have already started lobbying to convince the government to extend the deadline, enabling them to avail the subsidy on export at a time when the sugar price in the international market has gone up by $50 per metric tons in recent weeks. At the time the ECC allowed export of sugar, its price in the international market stood at around $414 per metric ton while the existing price stands at over $460 per metric ton.
The Shahbaz Sharif government's recent attempt to quietly violate a decade-long ban on the establishment of new sugar mills and relocation of existing ones in the province highlights the manner in which policies and regulations are changed by rulers for private profit at the cost of public loss.
The provincial industries department amended its 2006 order more than a year ago to allow relocation of existing sugar mills, allegedly to facilitate Prime Minister Nawaz Sharif, Chief Minister Shahbaz Sharif and their family in shifting their mills to the southern-most districts — Rahim Yar Khan, Bahawalpur and Muzaffargarh — with higher sucrose recovery rates than in central Punjab. This is a well- known cotton growing area.
However, other sugar mill owners with manufacturing plants in south Punjab have successfully thwarted —at least for now — the Sharif family's move to relocate factories through a legal challenge in the courts.
The country's sugar industry, the second largest agro-based sector after textiles, grew rapidly — under political patronage and protection through tariff and non-tariff restrictions on imports and generous subsidies — from 41 mills in 1987 to 91 by the mid-2000s, before a ban was placed on the establishment of new factories due to excess installed capacity.
The Sharifs are said to be among the first few political families to venture aggressively into the sugar market in the 1980s and 1990s. If one were to believe what was said in those days, the annual profit from one sugar unit in that period used to be more than enough for setting up a new one.
Over the years, the sugar industry has become quite important as over one million direct and indirect jobs are linked to it. It is a source of livelihood for a very large number of farmers, who usually get higher-than-global prices for their harvests and are richer than average farmers because of government interventions in the sugar market at the behest of strong lobbies of growers and factory owners represented in all major political parties and parliament. There is a suspicion that most of the lucrative sugarcane farms are actually owned by the political elite that own the sugar mills as well.
In the years that the industry expanded, banks were controlled by the government and you needed political connections for obtaining credits – and then defaulting on them.
The sugar industry is mostly located in rural Sindh and Punjab. A small quantity is also produced in KP. Previously, Punjab was partly dependent on supply from Sindh, but the setting up of large-scale sugar industries in Punjab has made the province self-sufficient. Sindh still produces surplus sugar. The present installed capacity for production of the commodity is estimated at above 5.5 million tons, whereas the demand is estimated at around three million tons.
There are two lobbies in this industry, one of the cane growers and the other of mill owners, but actually both work in unison to gain the maximum advantage by creating the impression that the country would face a severe shortage if their demands were not met.
Pakistan's sugar has not been able to make its presence felt in the export market due to low crop yield per hectare and low content of sucrose. Thailand produces six tons per hectare, India 6.5 tons, Brazil 10 tons, Egypt 12.5 tons, Australia 14 tons, and Pakistan just 4.5 tons.
Growers blame the industry for creating an artificial crisis by not lifting the available crop, with the twin motives of keeping cane prices below the procurement rate and reaping high profits through a price increase. Rich farmers also monopolise access to state institutions that mediate between farmers and mill owners, and are involved in corrupt activity aimed at improving their access to lucrative marketing channels.
Currently, the sugar industry is reportedly up in arms against the Commerce Ministry, as it has slashed the Sugar Advisory Board's (SAB) approved export quantity of 400,000 tons to 250,000 tons for export till May 31, 2017.
SAB, in its meeting held on March 16, 2017, recommended the export of another 400,000 tons of sugar against available surplus quantity after keeping strategic reserves. After a thorough review, and input from provincial governments and PMSA representatives, it is said to have ascertained that sugar stocks are still surplus by about 800,000 tons, even after accounting for requirement of 13 months for domestic consumption and, keeping a reserve of an additional one-and-a-half month, recommended 400,000 tons for export.
The industry is said to have pointed out that that a 250,000 tons export limit will not mitigate the payment crisis of sugarcane farmers and warned that it did not take much to comprehend the social and political turmoil that could be a consequence of hundreds of thousands of 'hardworking honest farmers' being denied their dues because of an ill thought-out policy decision by the ministry of commerce.
The sugar industry is said to have also argued that as per crop report presented by the Ministry of National Food Security and Research during a SAB meeting held on December 19, 2016, sugarcane production was forecast to be in excess of 71 million tons, as the area under cultivation has increased 'due to timely payments' made to sugarcane growers. Sugarcane yield has also shown an improvement compared to preceding years and the sugar industry foresees record sugarcane production during the current crushing season.
The industry has also stated that mills' utilisation of sugarcane is around 80 per cent which means 56.8 million tons will be crushed to produce sugar. The average sucrose recovery on an all Pakistan basis is about 10 per cent, hence the sugar industry safely assumes a total production of about 5.68 million tons of sugar as against previous conservative estimates, based on which permission to export was granted.
Next