The Life and Times of Qandeel Baloch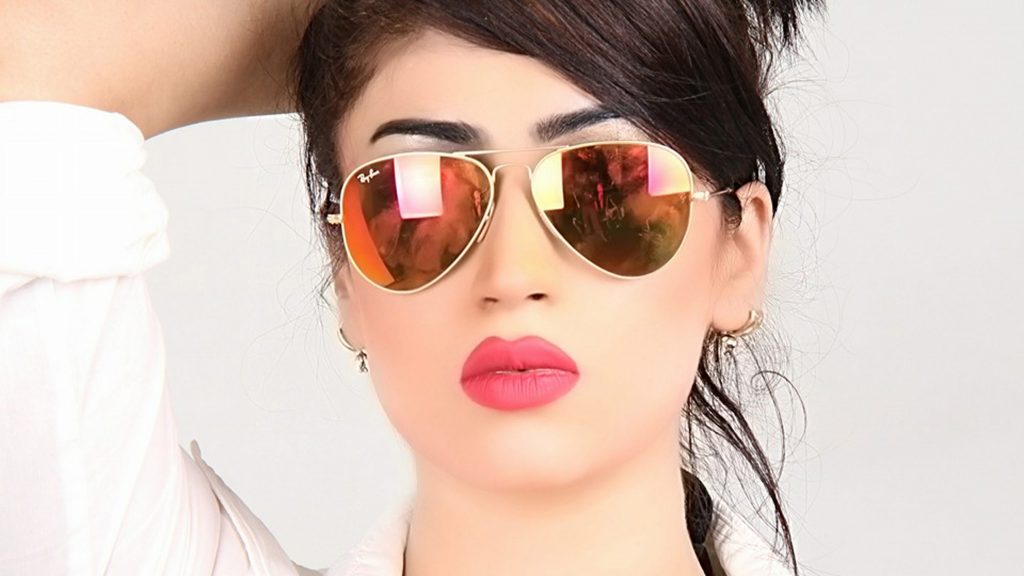 On July 15, 2016, popular social media celebrity Qandeel Baloch was strangled to death by her brother in the name of 'honour.' The 26-year-old's murder left the country divided. While media outlets and urbanites mourned her demise, celebrating her as a modern feminist icon, others clearly unmoved by the atrocity, maintained the murder was a natural, understandable, if not an altogether correct reaction to Qandeel's 'infamous' and controversial personality.
After her sudden demise, this conversation about who Qandeel was and what she represented, inspired journalist Sanam Maher to examine her life's story. And after being approached by a renowned publishing house, Maher decided to write a book on the woman Pakistanis loved to hate.
Maher discloses she was not one of Qandeel's Facebook followers during her life, but her death and the discussion that followed it riveted her to Qandeel's story. "In the first half of 2016, Qandeel was in the news a lot," recalls Maher. "When she died, however, it wasn't just the media, but virtually everyone I knew — and those I didn't — talking about her." Women who were once either bashing her for her bold stance, or were silent spectators before the much-flaunted canvas of her life, were jolted into the realisation of their status as women in Pakistan after her terrible death. "They became acutely aware of the fact that no matter how famous or how rich you can become, as a woman you are still vulnerable," she says.
A few days after Qandeel's death, a panel discussion on Qandeel Baloch and her murder, comprising law and policy-maker Abira Ashfaq, journalist Hamna Zubair, and sociologist Nosheen Ali, was held at The Second Floor (T2F) in Karachi. The hall at T2F was packed with people of both genders, all ages and all classes, demonstrating how the reaction to Qandeel's death had cut across barriers.
And with a veritable epidemic of honour killing in 2015, with 1,096 reported cases, Maher's assertion that Qandeel's death was a watershed, rings true. "Privileged or not, Qandeel's death felt like a personal blow to many people. She was someone everyone felt they knew. How many of us can even name — let alone identify through a photo in the newspaper — the hundreds of men and women who are killed for honour in Pakistan? But people engaged with Qandeel every day on Facebook, or watched her videos. So her death really brought the brutality of 'honour killing' home," says Maher.
While in the months leading to her death, a few details about Qandeel's personal life did start doing the rounds in the media, the information was sketchy. "Nobody questioned it when she said her father was a rich landlord, or that she did whatever she did online for fun. She had all of us, including the media, fooled," says Maher.
Then reports surfaced of alleged abuse by her ex-husband and a son. Finally Qandeel broke her silence to say she was the only breadwinner in her household, but offered little other personal information. Even with these snippets and all the self-promotion and publicity Qandeel generated, how many people really knew her? Who even knew her real name — Fauzia Azeem?
Maher set out to explore her story. She visited Qandeel's home in Multan where she was murdered, and her village of Shah Sadrdin, and met those who knew Qandeel personally.
And through her journey, Maher began to recognise the courage of the woman who came out of a rural conservative and traditional background and a forced marriage and went on to become a social media star.
In an interview with a leading daily, Qandeel had spoken about being a feminist in a society that had "nothing good" in it. "This patriarchal society is bad," she said. According to Maher, Qandeel reflected the Pakistani Muslim woman. "Towards the end of her life, Qandeel was talking about girl power, about being a feminist, and it was interesting to see how feminists — many of whom did not accept or acknowledge her when she said those things during her life — suddenly began to talk of her after her death," says Maher.
"It takes guts to do what Qandeel did. And the book is a tribute to that kind of courage," she adds. It was the same courage one witnessed in one of Qandeel's last Facebook posts. She wrote, "No matter how many times I will be pushed down under… I am a fighter, I will bounce back." And often referring to herself as a "one-woman army," she said, "Qandeel Baloch [is an] inspiration to ladies who are treated badly… I know you will keep on hating, who cares?"
Perhaps it is understandable why Maher's book has been nominated by The Huffington Post as 2017's most awaited non-fiction title. The work does not merely talk about Qandeel, but also provides a reflection of Pakistan as a society, says the author. "It looks at who we are right now — the kind of place and audience that enabled a woman like Qandeel to become as famous as she did, and then to have let her be killed as she was."
Next