Aslam had set his first book — The Season of the Rainbirds (1993) — in Pakistan. With The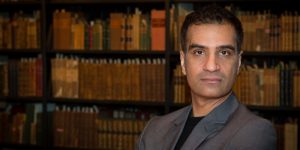 Golden Legend he returns to the setting of his birthplace. In the period of 25 years that has elapsed between the two publications, obscurantist thinking has proliferated in Pakistan. Social relations within communities have markedly deteriorated, particularly to the detriment of the minorities. Aslam brings all this to bear in a novel that is as beautiful to read as it is disquieting.
He engages the power of contrast to drive a strong and seditious message across in favour of eclecticism. Contrasting ideas between secularism and fundamentalism, altruism and avarice, love and hatred, morality and expediency, and sanctuary and peril, play an important part in the portrayal of current-day Pakistan in the novel.
Nargis and her husband Massud are both architects in their fifties. They work in partnership and are responsible for some of the most beautiful buildings created in Pakistan. A deep aesthetic sensibility permeates the way they live "surrounded by objects from which they draw inspiration." The city they call home is named Zamana and it bears rather a strong resemblance to Lahore. They share their home with their Christian housekeeper named Lily and his 19-year-old daughter called Helen. Nargis and Massud have educated Helen in Zamana's finest schools and she is a virtual daughter to them as they are themselves childless.
Aslam loses no opportunity to weave in overt and insidious threats of persecution that the disenfranchised confront on a daily basis. His characters suffer the abuse of power by self-styled moral custodians, whose vigilante style of retribution is reinforced by discriminatory state laws. Helen courts danger by writing for Zamana's only progressive current affairs magazine. Her father, Lily, risks his life by starting an affair with a Muslim widow.
Nargis and Massud's homestead is a small enclave of enlightened co-habitation but it has already experienced trauma when Helen's mother, Grace, was murdered. Once again, violence shatters the restored equilibrium of their lives when Massud is caught in the cross-fire of a shootout. The incident is a high profile one because the shooter is an American spy whose involvement connects Massud's death "with greater and greater things, to the vast sickness of the world." A sinister intelligence officer disturbs Nargis' period of bereavement by pressurising her to appear at the American's impending trial and to concede forgiveness.
After Massud's death, Nargis, Helen and Lily are compelled to become fugitives because of the circumstances that threaten them. A young Kashmiri freedom fighter, Imran — also an escapee — has made himself known to Nargis as he had donated blood to Massud. Nargis decides to take Helen and Imran with her to an island sanctuary that contains a mosque and a library that she and Massud had built. Lily's whereabouts are unknown to them as he has gone into hiding when his secret affair is exposed. The manhunt that ensues causes a deep sense of unease to run throughout the novel. The uncertainty regarding the fate of the characters is sustained to the end.
Aslam's lyrical prose is hypnotic even as it describes awful events. His earlier writing style, infused with metaphor, has been burnished to a distinctive prose that controls effusiveness and yet enhances description. When monsoon rains hit the island: "Lightning enters through the windows, making black shapes on the walls and floors…the water falls out of the sky without stopping two or three days at a time, flowing silver through the trees."
Sometimes, the descriptions occur as the omniscient narrator's voice, and at other times they are echoes of the characters' thoughts. The writing is impregnated with symbolism and coded references that lend themselves to multiple interpretations. The many references to libraries, books and architectural models strewn through the novel draw attention to the artefact as a repository of culture and knowledge.
The title of the novel makes reference to a 13th century book called the The Golden Legend by Jacobus de Voragine. Its English translation was one of the first books printed by William Caxton. Such cross-cultural references proliferate throughout Aslam's novel.
One particular book is of special significance. Shortly before Massud dies, he is reunited with a book which was written by his father and published the same year as Massud's birth. This book called That They Might Know Each Other is "an acknowledgement and celebration of the countless ideas and thoughts that had travelled over the ages from one part of the planet to another."
The book is torn apart by the intelligence officer to intimidate Nargis but she salvages the shreds and undertakes the repair of the pages by sewing them with a golden thread. She recalls the Japanese art of Kintsuge, of repairing broken pottery with gold lacquer.
The idea of goldenness becomes a leitmotif for illuminated thinking and civilised behaviour in a nightmare world where brutality has run amok. There is little to celebrate in this uncomfortably accurate panorama of the way the country stands today. However, the golden thread is a reminder of the spirit of humanitas that manages to shine through despite the odds.
Next