Editor's Note: April 2017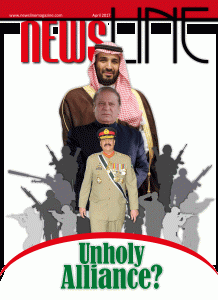 The general elections are not due to be held before 2018. And the much-awaited Supreme Court judgment on Panamagate could swing any which way.
So why have all the major political parties gone into election overdrive?
Leading the pack are the PPP, which is firmly ensconced in Sindh, and the PML-N, which currently occupies the throne.
After a long stint in Dubai following his spat with the army, Asif Zardari has returned home, refreshed and raring to go. And he has taken his battle to the bastion of the Sharifs: Lahore.
For one whose performance in his home province is so abysmal, what magic does he hope to conjure up in the Punjab?
In a tit-for-tat move, the Prime Minister landed in Sindh, where he promised everything — short of the moon. For a country that is heavily in debt and running on empty, where is the money for this largesse coming from?
Interestingly, both the PPP and the PML-N are accusing each other of corruption and misgovernance and exposing each others' sins of omission — and commission — and both are spot on.
The PTI laughs off the Sharif-Zardari sparring as merely 'noora-kushti.' Imran Khan alleges that the removal of Ayyan Ali's name from the ECL, the sudden arrival of Sharjeel Memon from Dubai after two years, despite NAB's charges of gross financial misappropriation against him, the acquittal of a former PPP minister, Hamid Kazmi, convicted in the Haj Scam case, the acceptance of Dr. Asim Hussain's bail plea after 19 months and, above all, the return of Asif Zardari himself from Dubai, are all part of a sweetheart deal wrought by AZ to bail out Nawaz Sharif in the event of his conviction in the Panama case.
The captain is not letting up. The latest salvo he has fired in Sharif's direction pertains to the NOC he issued to the former army chief, Raheel Sharif, to assume charge of the Saudi NATO, without taking the parliament into confidence.
The worthy Defence Minister, Khawaja Asif, was his usual cagey self when questioned about it and finally issued a statement that was intended to engender more ambiguity.
If the Saudi Alliance is intended to fight the Islamic State (IS), why have those states that are actually fighting the IS on the ground — Iran, Syria and Iraq — been left out of the loop?
Moreover, should we join an alliance with ideological implications vis-Ã -vis our foreign relations, specifically with Iran, given our sectarian faultlines and our troubled relations with all our other neighbours? And finally, the IS has landed in Pakistan and is spreading its tentacles through its proxies. So should we not first turn our attention to the vipers in our own backyard?
Rehana Hakim is one of the core team of journalists that helped start Newsline. She has been the editor-in-chief since 1996.
Next