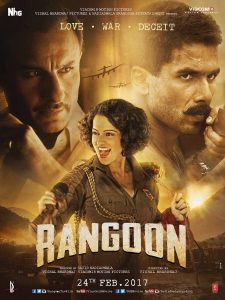 Set against the backdrop of World War II and the twilight years of the British Raj, the movie Rangoon engages viewers in a romantic tale framed during an important part of pre-Partition history. The epic is set mostly at the warfront, revolving around three main characters: an unhappily married Parsi actor-turned-producer, Rustum `Rusi' Billimoria (Saif Ali Khan), who is in a relationship with his muse and the reigning silver screen diva, Julia (Kangana Ranaut), a Hindu of illegitimate birth. Third in the romantic triangle is a stony-faced Jamadar Nawab Malik (Shahid Kapoor), a soldier of the British-Indian army.
These three aside, Director Vishal Bhardwaj of Omkara fame deliciously weaves in a fourth character — the villain who drives this period film. He is a deceptively amiable British Major General, David Harding. And so immersed is he in the Indian culture, that Harding can not only speak, but can recite Urdu poetry and sing ghazals too. It is after a short acquaintance with this character that the film rolls into action. With subtle arm-twisting, and assurances of protection for his mistress, Harding pushes `Rusi' into sending Julia to the Indian-Burmese warfront to entertain the troops battling the Imperial Japanese Army. And an unimpressed Jamadar Nawab — a POW escapee from a Japanese prison camp — finds himself assigned to protect a difficult, precocious celebrity.
The film has parallel undertones in its ambitious scale. The crux of the story narrated at the beginning of the film has been edited out for the Pakistani cinemas, making it a bit difficult to follow Jemadar Nawab's dual role. But it has to do with the germination of the Indian National Army (INA) created by Subash Chandra Bose to fight for independence from British Rule after he was disappointed by Gandhi's non-violent movement.
Central to the entire epic is Julia's character, which is based on an actual stuntwoman-cum-actress called Mary Ann Evans known as Fearless Nadia. 'Bloody Hell' is Julia's pet phrase in the film and at the peak of her career she is adulated by the masses. But at the same time she is Rusi's property, who purchased her as a child for Rs. 1,000. She not only thinks of him as her saviour, but as the love of her life. Sent to the border against her wishes with her entire dance troupe, an accident occurs during their journey while crossing a river, and Julia is swept away to the enemy side along with Jamadar Nawab. In their urgency to return to their base camp without getting caught by the Japanese, Nawab's interest in her is kindled, as he learns her story and is impressed by her spunk and prowess as a stuntwoman.
Perhaps the inspiration behind the film was in line with the subcontinent's 70 years of independence from British rule. What is puzzling is the number of negative reviews as Rangoon is more than just a typical Indian masala movie. Perhaps unrealistic in some instances, as most Indian films tend to be, this period piece is superior in its multi-nuanced storyline, with complicated characters that beautifully blend into a story of love, intrigue, treason and valour. The superb cinematography of pristine landscapes, with just the right amount of ambient song and dance, the film makes for pure enthralling entertainment.
The writer is working with the Newsline as Assistant Editor, she is a documentary filmmaker and activist.
Next