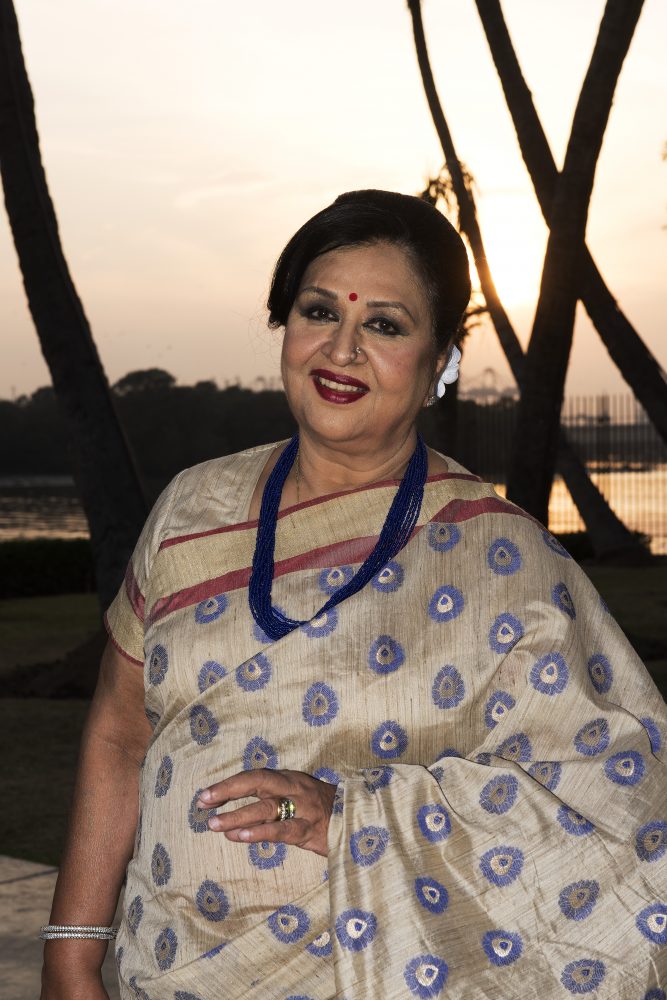 When I had last met film star Shabnam on her trip to Karachi from Bangladesh nearly four years ago, it was after a gap of over three decades, so I was not so surprised to see the transformation in her. However, this time around when I met her in February — she had come to attend the Karachi Literature Festival (KLF) — I was taken aback by the drastic change. She looked as elegant as always, but she seemed to have suddenly aged. Her life partner, Robin Ghosh, was no longer by her side. He died of cardiac arrest last year and it had shaken her up. She burst into tears every time she talked about him. But soon she would pull herself together and continue with the conversation. Was it the actress in her hiding behind a mask? Possibly.
Even today, Shabnam, the superstar of Pakistani cinema in the '70s and '80s, is as confident and coquettish in front of the camera as she was in her heyday. She seems to forget everything else the minute the camera lens zooms in on her, and immediately springs to life, posing like a true pro. It's like a dream-come-true for any photographer. I could see Tapu Javeri heave a sigh of relief when he saw how camera-friendly this veteran was, and within minutes, he had managed to capture the images he was looking for.
As we made ourselves comfortable in her room at Hotel Beach Luxury following the photo shoot, the venue of the KLF to which she had been invited as a delegate, and began our conversation, I found Shabnam extremely forthcoming and down-to-earth.
I began by asking her about the kind of life she leads in Dhaka now.
"My life has been like any homemaker's life. I have had nothing to do with the silver screen there, as I acted only in one movie after my return to Dhaka in 1999," she said simply.
Did the film flop, forcing Shabnam to retire from reel life?
No. On the contrary, the film was a super-duper hit; in fact, it ran even longer than Aina, her biggest box-office hit in Pakistan. Cast in the title role of Amma jaan, she says the audiences took to the character and to this day, whenever they spot her anywhere, they shout out, 'Amma jaan!'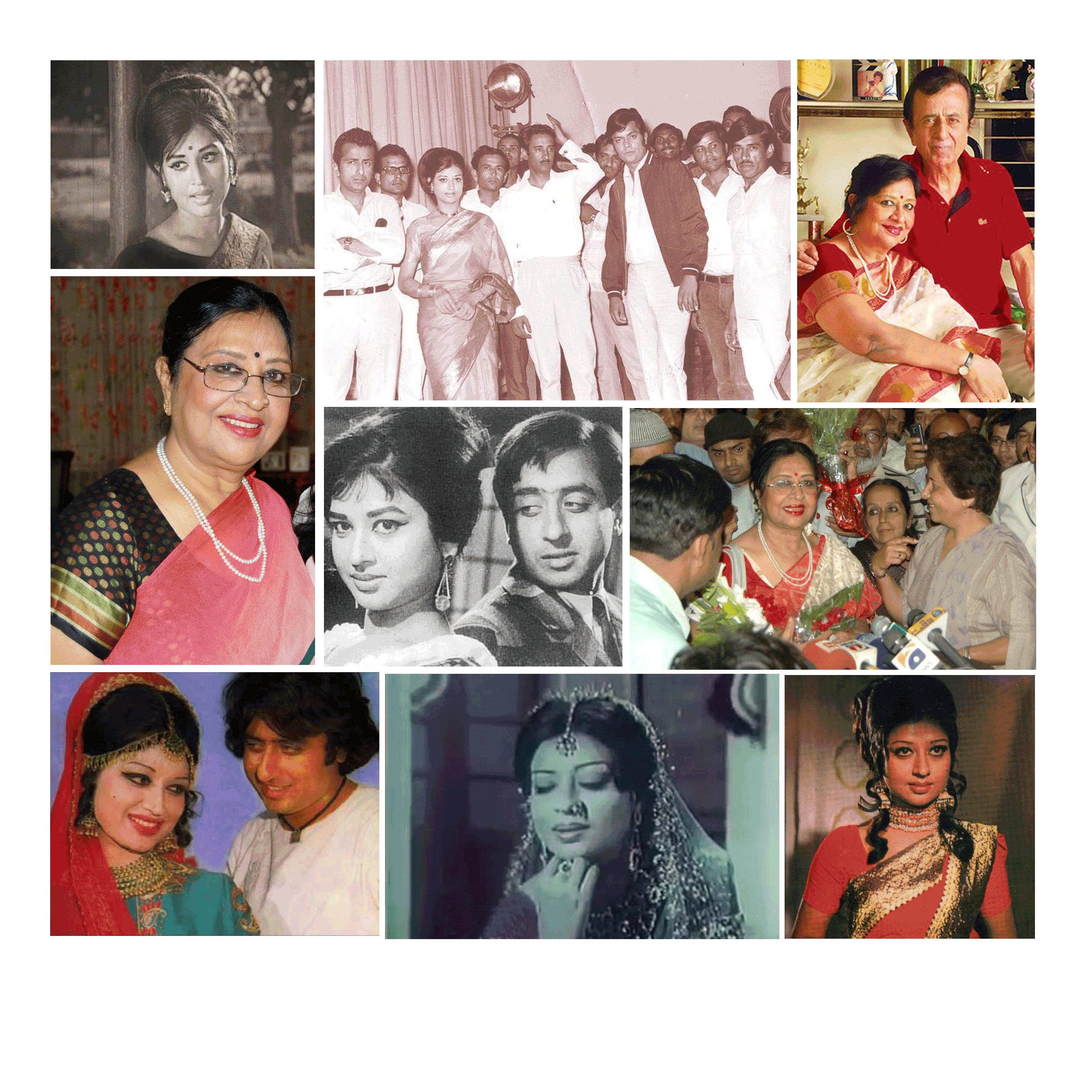 Shabnam continued to get several offers after Amma Jaan, but none that touched her heart. In the case of Amma Jaan, she says 10 minutes into hearing the script, she was bowled over and decided to do the film. "After this movie, I decided to call it a day while I was still at the top of my career graph rather than do mediocre roles."
When Robin Ghosh fell seriously ill, their only son Ronny, who had been living in London for 30 years, returned to be with his parents and stayed on for three years. However, he was due to return to London in March, which means that Shabnam must be living all by herself now. Speaking to her, one realises that the adulation and the glitz and the glamour that comes with the life of a successful actor is invariably accompanied by a heavy price tag. In Shabnam's case, it was her son who had to pay the price. Due to her shooting schedules, she was finding it increasingly difficult to give him the time and attention he required. And following a daring incident that took place at their house in Lahore back in 1978, when intruders who broke into the house, even threatened to kidnap Ronny, she packed off her traumatised son to London when he was just nine years old. She recalls, "A friend of mine, who was a psychologist, was visiting from the US. When she saw Ronny's state and how afraid and subdued he had become — he even refused to go to school or anywhere else on his own — she advised me to immediately send him away, which I did. And he did not return until three years ago."
A heavy price to pay for any mother, but Shabnam does not blame her profession or Pakistan. Surprisingly, there is no bitterness or rancour in her voice as she recounts the incident. She leads a quiet and lonely life now. But there are no regrets.
"I have always remained very grounded, even when I was at the peak of my career," she says matter-of-factly, "so a quiet life doesn't bother me. I maintained a low profile even in my heyday. At the back of my mind there was always the realisation that although people are chasing after me today, the minute I have a few flops to my name, no one will give me the time of day. I didn't let fame go to my head, even after Aina's release and was, in fact, prepared for the eventuality of becoming a non-entity. However, by God's grace I continued to rule the screen long after that."
And had fate not intervened, perhaps Shabnam would have continued to do films in Lahore. One day, she received a call from her father in Dhaka and in the middle of their conversation she sensed that he was having a stroke. "When he called me he couldn't go beyond my name. I felt he was slurring, and I told him to hang up. Then I called my in-laws in Dhaka and asked them to take him to hospital. I have no brothers and my sister was then in India, so I immediately packed my bags and left straight for the airport. When I landed in Dhaka I went straight to the hospital, where I was told he was critical and wouldn't live beyond 72 hours. I went to his bedside and called out to him, he immediately responded; the doctors were shocked that my voice had registered with him, as he had been unconscious all along. I stayed with him for three hours; then my mother insisted that I go home and rest, as it had been a long day for me, especially as my flight to Dhaka had also been delayed."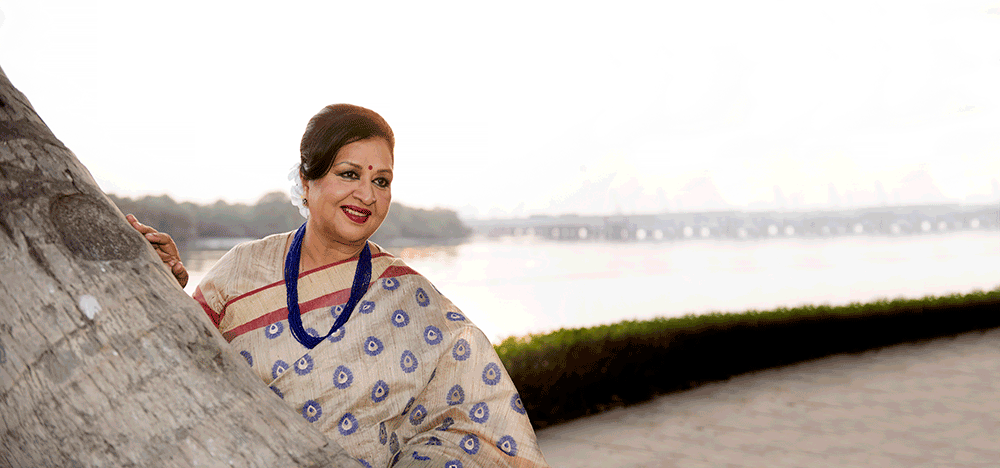 Shabnam recalls vividly that when she arrived at her parents' place, there were no lights on in the house; all the bulbs were fused and there was no one to change them. "I got my neighbour's driver to come over and change the bulbs for me. That's when I realised that I couldn't leave my parents by themselves any more. They were too old to fend for themselves. My in-laws also felt that I had done enough movies and now needed to be there for my parents. So I wrapped up my work in Pakistan and moved back. My life began to revolve around my parents. My father survived for nearly two years after that, and I am sure it was partly because I was there for them. I took them back and forth to the doctors, whenever needed. I became their son and daughter."
Though Shabnam lives in Dhaka now, she has stayed in touch with her friends in Lahore and Karachi. Viber and Whatsapp have made it all easy and possible. She feels Karachi has changed drastically, since she was here last, four years ago. "There are so many roads, flyovers and skyscrapers now that I get confused. Among her closest friends living in Karachi is her co-star of several films, Nadeem. He has not changed much, she says about him, except that he has lost a lot of weight. "I asked him if he was on a diet or if he was unwell, and he said it was all part of the ageing process."
She misses all her friends here, not to mention the shopping, the exquisite shalwar kameezes and the exotic food. Laughing, she adds, "Food that we shouldn't be eating at our age! And I must confess that nothing can beat the Pakistani shalwar kameez."
The conversation turns to Bollywood. Interestingly, there is a ban on the exhibition of Indian movies in Bangladesh, and only co-productions are allowed to be screened. "The Indian film industry is huge, and we are comparatively very small," says the veteran actor. "They have a huge market and their movies are made on massive budgets, whereas our market is miniscule and we can't spend as much, so there is no question of competing with their movies. Only two Indian movies were allowed to be screened in Bangladesh in all these years, after which there was a complete halt. Our contention is that they must screen our movies if we screen theirs. It has to be a reciprocal arrangement."
Thrilled to be invited to the KLF, when asked if she managed to attend any sessions other than her own, she simply said — without any hint of arrogance — "No, I didn't want to steal the other speakers' thunder. If I had attended the other sessions, I would have ended up being a distraction and I didn't want to do that!"
Spoken like a true star!
The writer is a freelance journalist based in Karachi. She also works at Hum television.
Next