Newsliners: The Bold and the Beautiful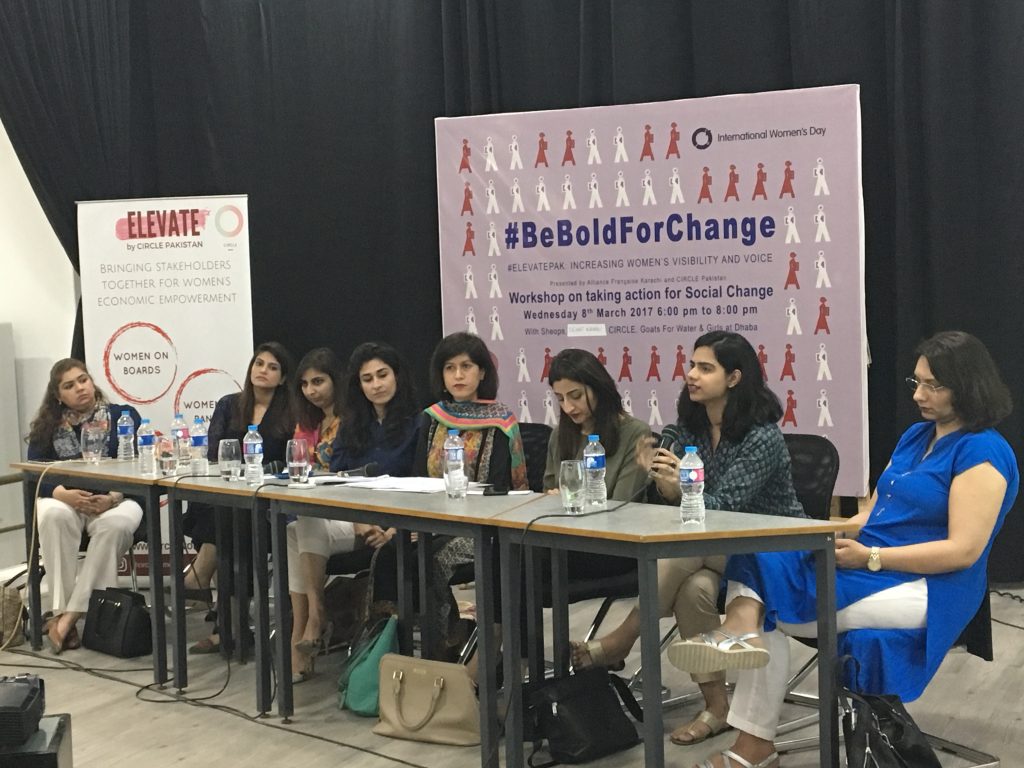 As part of CIRCLE's campaign for social change titled #Elevatepak: Increasing Women's Visibility and Voice, on the occasion of International Women's Day on March 8, CIRCLE and Alliance Francaise (AF) jointly held a unique workshop as part of a global movement.
Bina Shah, the President of AF, welcomed the participants saying it was the first time AF would be hosting a series of seminars and workshops as a step to counter the endemic problem of women's invisibility in the public sphere. A panel of six women from various organisations, initiatives and campaigns, including Sehat Kahani, Sheops, Girls at Dhabas, Goats for Water, a filmmaker and CIRCLE, made presentations, more accurately called pitches, for social change through advocacy, enterprise and technology.
Sadaffe Abid, CEO of CIRCLE explained the purpose of her social enterprise: to work for women's empowerment and advancement in Pakistan and raise their visibility by bringing their ideas and voices to the forefront. '#Be Bold for Change' was their theme for this year's International Woman's Day. It was part of a series of conversations, dialogues and workshops aimed to increase women's visibility in Pakistan's economy. Currently, they comprise less than 25 per cent of the workforce, of a population of almost 200 million. Abid cited a recent report which stated that globally the number for women in leadership was less than five per cent, and in Pakistan it was probably even less than one per cent. Through such gatherings, plus strategic interventions by company CEOs and universities, CIRCLE hope to create change. And at present they are working with 10 CEOs in Pakistan to ensure gender diversity and hire more women on the group's leadership boards. Abid also spoke of advocacy work and their next campaign for this year: 'Strong Women, Strong Pakistan.'
The keynote speaker was Dr. Ayesha Khan, an Associate Director of portfolio at Acumen, a leading impact investment platform that is a pioneer in the field of social enterprise, investing in enterprises that are financially sustainable and create social impact. Khan said she has the privilege of working with some of the most interesting entrepreneurs in the country who are trying to solve the problems of poverty alongside helping new businesses. However, she pointed out, that while looking into start-ups that approached Acumen with ideas to solve Pakistan's challenging problems, it became evident that none of the big bold ideas were coming from women. She said that women needed to have the confidence to place a higher value on themselves and their ideas, and not be afraid of having a big dream or a big vision. To bolster her argument, Khan quoted Eleanor Roosevelt, "Well behaved women, rarely make history."
Nadia Patel Gangjee, the founder of Sheops, short for She Operates and She Opts, spoke of her work — the financial inclusion of women in the entrepreneurial workspace. She explained how Sheops empowers stay-at-home women and women-owned businesses to put their products online, showcase them and sell them to retailers and customers — basically reaching the markets with their products by teaching them technology. Nadia spoke of the difficulties she encountered in the course of her work, as technology is a very male-dominated field where women are underestimated, just as they are in other areas.
Fariel Salahuddin, an energy specialist turned entrepreneur and founder of Goats for Water, said she never thought she would be working in the male-dominated sectors of power and livestock, but now found herself in the thick of it. Her non-profit enterprise finds off-grid villages and installs solar-powered pumps in exchange for goats that the communities provide. She described the far-reaching impact on the lives of women, children and men in the village in Jamshoro where they installed just one water pump.
A public health specialist by profession, Dr Sara Syed, founder of DocHers (now rebranded Sehat Kahani), spoke of her innovative idea for Pakistan where 51 per cent of the population does not have access to basic healthcare, but produces doctors everyday. There is also a 100,000-strong female community of midwives, Lady Health Workers and visitors, of which almost 70 per cent are currently out of work. Through a simple solution to a complicated problem, Sehat Kahani connected the female medical force and female community of healthcare workers in the marginalised communities through technology.
Amna Chaudhry, co-founder of Girls at Dhabas, explained how the movement began — organically without any plan for it to happen, and how, given the need, it was turned into a South Asian Feminist Collective. Meesha, a multimedia journalist and an award-winning filmmaker and producer of the documentary Outlawed in Pakistan, spoke of how the justice system failed in Pakistan for women like Kainat Soomro. She spoke of how there were very few films on women by other women in which women are talking about anything but men.
The six pitches were followed by an interactive session of brainstorming ideas and pledges from all participants of what each would do to help Pakistani women raise their visibility and their voice.
Next