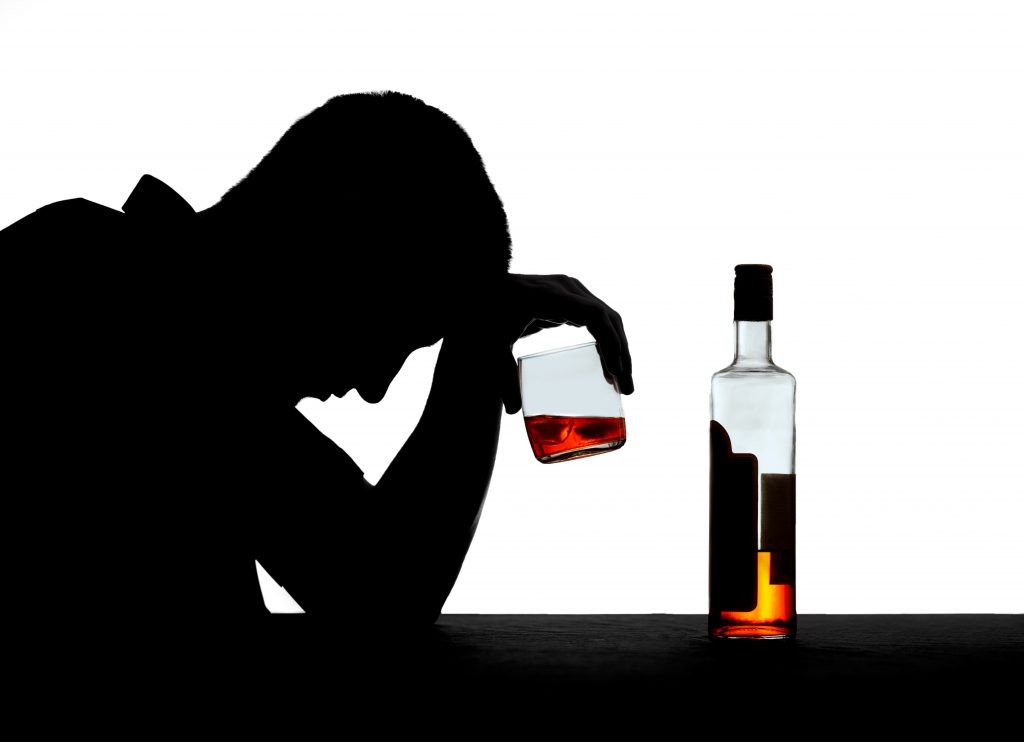 Sixty-one-year old Father Samuel George was in Gojra on the morning of December 26, 2016, when one of the boys present there got a call that his father, Yaqoob Mithoo, had taken ill and was admitted to DHQ Hospital in a serious condition. "We immediately left for Toba Tek Singh (TTS). Mithoo was in the ICU, along with 10-12 other people admitted there. The doctors said they had all ingested poisonous liquor. Unfortunately, there were next to no facilities to handle the condition of such patients. The first death was at 2 a.m. — it was of Sajid Masih," says the priest.
Masih was one of four Christians accused of selling the toxic liquor that took so many lives. Of the other three allegedly responsible, two survived: Sawan Masih, who the police say is a rickshaw driver, and Mubarik, who local residents claim is a Chuttiana police station sanitary worker.
Father George continues. "We buried 27 bodies on December 27. And the process continued. The last death was on the 31st. Very few people came to the first Sunday service after Christmas. I think they were still in shock. But there were around 2,000 on the chaleeswan (the 40th day of mourning rituals)," he says. The Immaculate Conception Catholic Church in TTS, where the rites were held, lies on Shorkot Road, a one-minute walk from Mubarikabad Catholic Colony, most of whose residents are sweepers and sanitary workers employed in government offices and hospitals, etc. Few of them are educated.
A case was filed against the men responsible for the death of those who had imbibed the toxic alcohol they had manufactured and sold. And soon thereafter, the case was transferred from the original Investigation Officer, TTS, Saddar, to a Joint Investigation Team (JIT) comprising Farrukh Raza, Senior Superintendent Police (SSP) Investigations Faisalabad, Shahid Hussain, Deputy Superintendent Police (DSP) Samundari (a tehsil of Faisalabad), and Inspector Rauf Ahmed, TTS (City). Speaking over the phone from his office, DSP Shahid said that the final cause of death would only be determined on the basis of the conclusions drawn by the chemical examiner conducting the autopsies. "The first post-mortems were done of only five-six of the dead, in which samples of their liver, lungs, intestines and stomach were sent for examination." These results, the DSP stated, indicated that the deaths were due to poison.
Although the source of the sale of the alcohol is still moot, the DSP continued, "Sawan Masih was the cleaner for the toilets of the mosque in the area, which is situated next to a wholesale shop selling chemicals. When done with his mosque duties, the shop owner asked Masih to empty the drum in his shop into some containers he gave him. Masih smelt its contents — a liquor-like substance. In fact, it was methanol that the owner usually sold as aftershave lotion by adding colour and perfume to it. Seeing a possible 'deal' in the making, Masih, along with three others, bought the contents of the drum for Rs. 3,000, and the men transported it to a busy street in the area where they put it into polythene bags and sold it for Rs. 300 per bag. Subsequently they decided to sell it as liquor for Rs. 50-60 per glass. Reportedly before they fell dead, those consuming it complained they were not getting the intoxication from the alcohol."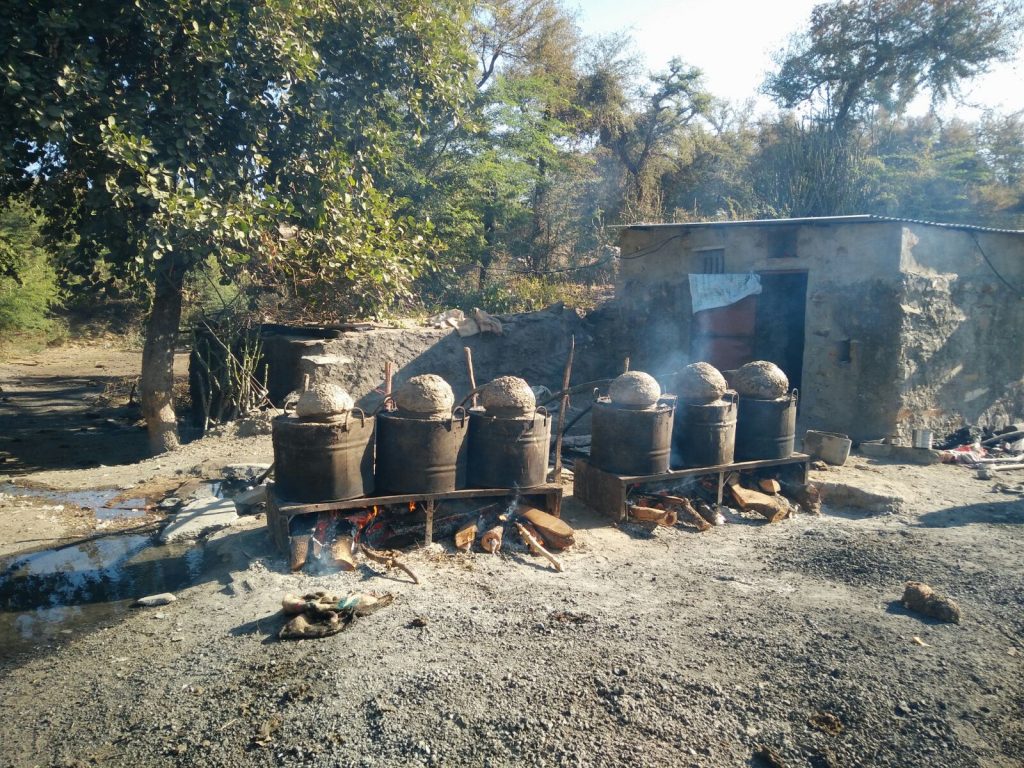 According to the people of the area, both the sellers and the buyers of the liquor, who usually had little access to alcohol, saw this as an opportunity — for the sellers to earn some money, and for the customers to give themselves a rare treat. While the consequences of the business were unarguably tragic, DSP Shahid saw it as divine retribution, saying, "Alcohol is banned; it is haram. When you defy God's rule, this will happen." Father George was more realistic in his assessment. "People have been drinking before (this tragedy occurred), and they will continue to drink after it. They were having trouble finding liquor because of the new ban imposed on it. So they resorted to what they could find. The police does not want to acknowledge that the liquor was originally taken from the Chuttiana Police Station. The Christians who bought it decided to add something to it to increase the amount. That added substance made it toxic. Those who imbibed it were not so crazy as to knowingly drink poisonous liquid," said the priest.
Mohammad Nadeem, Station House Officer (SHO), TTS (City), to whom the JIT report was submitted, rejected the contention that the alcohol was taken from a police station. According to him, "It is very clear that those men were searching for liquor for two to three days and couldn't find it. Christians drink on Christmas, so Sawan Masih bought methanol from the wholesale shop. It was absolutely wrong of the owner to sell it to him, because he knew that Masih was a Christian [looking for liquor] and would most probably not use it as aftershave lotion. Subsequently, Sawan Masih did not drink the liquid himself. But the three others with him did, and two are now dead. Masih is in jail awaiting challan and a trial, and the Muslim owner of the wholesale shop, his brother and servant have been booked under Section 302 of the PPC and Section 788 of the anti-terrorism law."
Whatever the truth of where the liquor came from, the facts are that 42 people, including the first known casualty, Yaqoob Mithoo, died, and 80 more were physically affected. A jail sepoy went blind.
Explaining why the episode had resulted in such widespread disaster, a licensed chemist working for a leading pharmacy in Rawalpindi, said on condition of anonymity, "What these people drank is not 'kachi sharaab' (desi homemade liquor). They drank liquid that is used as a cleaning agent and as an antiseptic. It contains methylated spirit (i.e. methanol), as opposed to the rectified spirit (i.e. ethyl) that goes into the making of alcohol."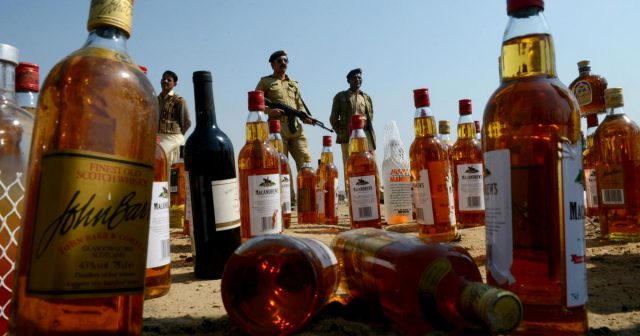 In Pakistan three types of alcohol are available for consumption:
Illegally imported liquor, or that which is legally produced and sold by local manufacturers and is expensive;
Tharra — home-made desi liquor that is a mixture of ethanol, methanol, etc.
Surrogate alcohol, whereby people use aftershave lotion, mouthwash, and other cleaning liquids to manufacture some form of liquid that can intoxicate.
A technical officer working in the alcohol manufacturing industry spelt out the process: "The normal practice is that sugar waste is sold off to distilleries like ours. Alcohol is made when molasses are fermented with yeast, and the ethanol is separated from impurities such as methanol. The methanol content in normal liquor is almost nil. When we ferment gannay ka ras or sugarcane juice, we do so in controlled conditions, in appropriate temperatures. Desi liquor makers do not take care of the temperature. And they have no lab checks. So if a normal human being drinks something with a high methyl content, he will not be able to digest it without side effects." He continued, "The problem is people want a 'fix' — they are frustrated or addicted, they don't find or cannot afford proper liquor, so they resort to such poor substitutes. People also use paint, petrol, Samad Bond etc, to get high."
"The [Mubarikabad] residents knew the inherent dangers of local alcohol. Yet they proceeded to buy it, make liquor with it and sell it," said Rumila, wife of Anglican Bishop TTS, Rt. Rev. John Samuel, over the phone from her home. "But then," she added, "Everyone makes homemade liquor, even if no one will admit it."
"Tharra is a locally made liquor (moonshine) and turns poisonous when a chemical is added to it," said SSP Munir Ahmed Sheikh, currently serving in Tando Mohammad Khan (TMK), where in March 2016, official statistics cite the death of more than 26 people from the consumption of poisonous liquor. The cause of death under case FIR no. 29/2016 filed for the deaths in TMK is listed as 'methylated alcohol' and the ingredients used to prepare the deadly desi liquor included: gur (jaggery), the bark of a keekar/babul tree (acacia nilotica), dried orange peels, fertilisers, tranquillisers and some other herbs. The SSP continued, "Tharra is not that difficult to make. The profit margin is huge, so everyone makes it — Muslims and non-Muslims. We are tired of this practice. We conduct crackdowns, in villages, in small homes, and we arrest perpetrators, but due to the prevailing weak laws they are soon free again. The next time we raid, we find the same people doing the same thing again."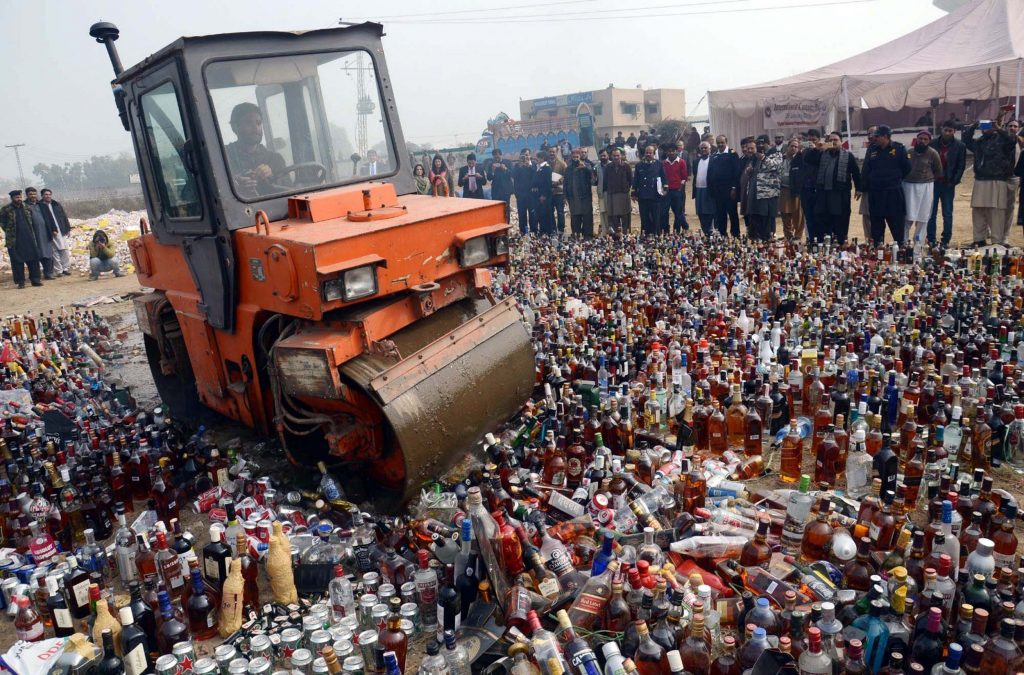 In 2016, 177 alcohol-related cases were registered in TMK alone, with 230 of the accused arrested and 91,584 litres of tharra recovered. The figures for those apprehended are clearly not an effective long-term deterrent. SSP Sheikh elaborated, "There is a whole methodology involved in the dealers' buying time to escape detection and capture. When we conduct a raid, people have devised tactics to stop or delay us — women and children come in the way, women lie down in front of our vehicles, and by the time we find the bhatti (old-fashioned baking oven) where the liquor is brewed, it has been cleaned. But despite the raids, for the makers this business is worth the risk: it is easy money, and there is no really strong law to punish them."
The case (FIR no. 29/2016) is currently under trial in a district and sessions court in TMK. Out of the 18 accused, two are in custody, six are out on bail, seven are proclaimed offenders and three died in the same incident. The applicable provisions in the case include: PPC sections 316 (qatl-i-shubh-i-amd), 337-J (causing injury by means of poison), 35 (criminal act done with criminal intention), Section 201 (causing disappearance of evidence of offence or giving false information), Section 109 (abetment); Prohibition Enforcement of Hadd Order 1979 (PEHO), Section 3 (prohibition of manufacture of intoxicants) and Section 4 (owning or possessing intoxicants).
In October 2016, 11 Christian residents of two colonies in Jhelum died of alcohol poisoning. The reader at the DPO office Jhelum, Allah Ditta, maintained that three police officers originally arrested for involvement in the case filed pertaining to the trade of the tainted liquor, were mere extortionists and not involved in the sale, supply or delivery of the poisonous liquor, as originally reported in the press. As for the recent rise in deaths, Ditta contended it owed to the ban imposed in September on alcohol which has aggravated the problem. "Now people look for quick fixes," he said. "Raids were conducted in Gujranwala, because people buy their chemicals from there and then proceed to do on-the-spot mixing. No alcohol was found from the premises that were raided. The people who brought the alcohol were, however, charged and the challan is now ready to be presented in court."
In Punjab, two kinds of licence permits are available for the legal consumption of alcohol: PR-I for local non-Muslims, and PR-II for foreigner non-Muslims. Each license allows for the purchase of six bottles of alcohol per month per person. ID card copies are attached with the applications of people looking to buy the liquor to determine they are non-Muslim before they are issued permits. There are more than 20,000 permit-holders in Punjab, mostly in Lahore. Only four and five star hotels are authorised wine dealers in Punjab province. A senior official from the Excise and Taxation Department (E&T) Punjab said that often non-Muslims don't use the liquor themselves and sell their permits or the liquor they have purchased. Methanol is not manufactured in Pakistan. It is an import which falls under the purview of the district government and the Explosives Department in the Ministry of Industry and Production. It is not fit for consumption, but is cheaper than other substances and so is used as a substitute.
There has been no legal sale, consumption or manufacture of rectified spirit (i.e. ethyl alcohol) in KP since the Muttahida Majlis-e-Amal's (MMA) government's tenure during the Musharraf days. However, there are a lot of sugar mills and factories making methylated spirit (which is used for medicinal, industrial, and furniture manufacture purposes) and as an official working for E&T, KP pointed out, (parchoon) chemical wholesale shops are not supposed to hand out stuff to anyone who asks. "People are more addicted to niswar here; drinking (by Muslims) is not a problem in KP."
There are no official figures available for permit holders in the E&T in Balochistan. However the office did provide a list of 16 authorised wine wholesalers and 40 retailers operating under L1 and L2 permits in the province, in the Quetta, Lasbela, Dera Allah Yar, Dera Murad Jamali, Sibi, Turbat and Gwadar districts.
In Sindh, the rules pertaining to permit-holders are relatively relaxed, despite an ongoing court case. The Sindh High Court (SHC) had ordered the closure of all wine shops in Sindh, but the ban was overturned by the Supreme Court (SC) on an interim basis later last year.
"You don't even need a permit. Shop owners don't ask for it. You go there, and say you want this or that and in so much quantity and they readily give it," said Bruener Bellthshazzer Newton, aka Tony, over the phone from Jacobabad. The 50-year-old Sindhi has been running a Christian-welfare NGO, the Christian Social Uplift Organisation, in Jacobabad, for almost three decades. He is of the opinion that desi liquor is made in a variety of ways, all of them unhealthy and dangerous. "All the big companies have proper labelling at the back of the bottles and cans of alcohol they manufacture, which contain warnings and guarantees. But there is also counterfeit-labelled liquor now," said Newton.
And as an assistant priest ordained in a Rawalpindi church wryly observed, "the liquor permit is ostensibly given to Boota Masih, but the liquor is consumed by Mohammad Boota." One permit-holder acknowledged that he obtained liquor only to sell it for Rs. 1200-1500 per bottle to Muslims. And in what has, over the years, become standard operating procedure, some boys working for three famous bootleggers in the French Colony, F-7 Islamabad, routinely hand out bottles to drivers of incoming cars, who speed away the moment the transaction is complete.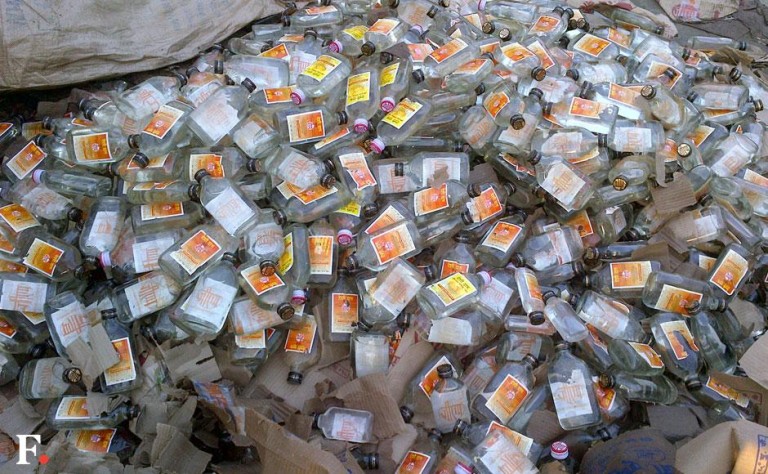 Weary of the hypocrisy in the system, Dr. Ramesh Kumar, an MNA of the ruling PML-N, became part of a legal battle in the SHC in Karachi last year. His contention was simple: why are there so many wine shops in areas that have a negligible or no non-Muslim population? He wants it officially declared that most of the alcohol consumers in Sindh are Muslims, not Christians or Hindus. Kumar contends, "Clifton has 50 wine shops, they conduct business worth crores. Meanwhile, the non-Muslim population of the entire country is less than six per cent. Then examine the fact that the non-Muslim population in Punjab and Sindh is almost equal in number, but Punjab does not even have 20 authorised sellers. A Punjab politician actually said to me, 'Why are you so cruel to Muslims?' So now I've presented a bill in Parliament to change the Constitution. Under Article 37-H, alcohol consumption is allowed to everyone for medicinal purposes, and to non-Muslims for religious purposes. My contention is that this article of the Constitution is discriminatory and blasphemous to non-Muslims because alcohol is banned in all religions whether Hinduism, Christianity or Islam. If everyone in Pakistan drinks, then why are only non-Muslims mentioned in this article?"
Alcohol consumption in Pakistan certainly presents its own set of issues. Pakistan is seen to have general addiction problems and Muslim citizens are the main consumer base. But it is not usually them who fall victim to alcohol-related deaths. The unavailability of cheaply prized alcohol makes poverty-stricken people resort to manufacturing or purchasing toxic concoctions posing as liquor. And most of the victims of these are Christians.
Just a cursory glance at major poisonous-alcohol-related deaths in the last three years reveals that the majority of the victims were poor Christians, and just a few Muslims. Often suppliers also feature among the dead.
Rizwan Sherwani, the Lahore-based Director (Technical) in the E&T in Punjab concurred with these findings. "There is a gap in demand and supply. Demand for liquor is increasing and so is the informal market. That is why there is an increase in the local production of alcohol. And ironically, virtually all the liquor is consumed by Muslims, but only the poor get killed. There are, in fact, more alcohol-related deaths in Muslim countries. India introduced low-priced brands of alcohol to avoid incidents related to bad hooch. And in Australia and the US, home distillation is totally regulated by law."
Sherwani recalled a Lahore High Court (LHC) case started in General Zia-ul-Haq's time which is still lingering in the courts. "It was the 'J. Paul vs. the Government of Pakistan (GoP) case.' Paul had a wine shop and after Zia came to power, under the Hadd Ordinance fresh licensing was mandatory. So he applied for a licence and wasn't given one. Only hotels were okayed. He filed a case. The court asked the government to show the prevailing demand for liquor by the Hindu and Christian community, which was only for their own consumption. The E&T Department could not establish this. And no judge is going to allow a wine shop to open by declaring that there is demand by Muslims. When I joined the E&T in 2005, that case was still continuing and, 12 years later, no judgment has still been given," said Sherwani.
L. Paul and Sons had been in business since 1940 and had two wine shops, one in Wazirabad and one in Lahore with two licences: L1 and L2. As Paul's current lawyer, Hina Jilani, points out, the date of original closure of his business is important: Februrary 11, 1979, whereas the Hudood Ordinance was promulgated on February 10, 1979. Said Jilani, "Under the Ordinance, the sale of liquor had not been banned, it had simply been regulated under certain conditions with the stipulation that fresh licences would be issued under Article 17 and 19. This man had the licence to operate till June 1979, but he was closed down without any notice. So under the Ordinance and under Article 18 of the Constitution, which guaranteed the right to continue operating his business, that was wrong. Since then Paul has been unable to open his business, despite writing to the Chief Minister apprising him of the case. Even the SC rejected his request. The case has been in the LHC twice (1997 and 2006), and the LHC keeps asking the E&T Punjab to explain why a private citizen cannot run a liquor business. The E&T keeps giving the same reply: 'We have allowed it only in five-star hotels.' This, though there is no law that says it has to be so. The E&T's decision is based merely on conjecture that Muslims will get angry if the shop is reopened. But there are private wine shops in Sindh and Balochistan. Aren't there Muslims there? So why not in Punjab?"
An E&T official, on the condition of anonymity, said that either alcohol should be completely banned, as in KP, and the state of Gujrat in India, or the liquor-related economy should be altogether liberalised as it has been in the rest of India, Nepal and Sri Lanka, which, he contends, is the better option. "The policy, legislative framework, administration, moral standard of political leadership and taxes and duties levied on alcohol are all decisive issues. It is not an upper class issue. You can get liquor in Gymkhana (Club) for example, but we have no authority there. In Balochistan you can get imported liquor. In Sialkot, there is a Christian population, but the consumers are not Christian. Bootleggers heap their cars with liquor and deliver the bottles to their clients. In Islamabad, diplomatic bonded warehouses exist, and the staff of the embassies of poor African countries sell liquor. The alcohol confiscated by the customs is also disposed off and distributed. There is a 300 per cent duty on liquor — more than other countries, because it is a monopoly item. By the time it reaches the end-user, it is very expensive. This is a middle class issue."
And as long as the federal and provincial authorities don't come to terms with the ground reality vis a vis informal trade of alcohol and the revenue it generates in the black economy, nothing will change.
The writer is a freelance journalist.
Next