Wood-blue georgette shirt printed in a vegetable dye palette with antique embroidery around the neck. Designer: Shamaeel Ansari / Photography: Shamyl Khuro
Dull maroon shirt minimally embellished at the hemline. Designer: Shamaeel Ansari / Photography: Shamyl Khuro
Smocked and flared sleeves give a modern twist to a classic cut with a traditional jewelled brooch. Designer: Shamaeel Ansari / Photography: Shamyl Khuro
Sunset hues in this front-open shirt add warmth and inject colour for those cold and dreary days. Designer: Shamaeel Ansari / Photography: Shamyl Khuro
Two-panelled shirt is worked with an elaborate motif showing meticulous attention to detail. Designer: Shamaeel Ansari / Photography: Shamyl Khuro
Accessories add spunk to Shamaeel's classic print, such as this slim beige scarf knotted around the neck. Designer: Shamaeel Ansari / Photography: Shamyl Khuro
Previous
Next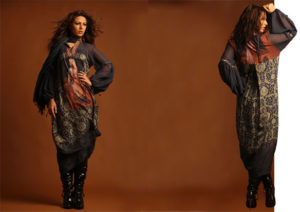 Shamaeel Ansari, the finance major from Berkley turned textile enthusiast, who launched her debut collection at London's Café Royal way back in 1987, had exited designing unexpectedly at the peak of her career. Taking a six-year break, she focused primarily on exports and worked as a buyer for the "big boys" of textile and fabric, including Donna Karan Home, Club Monaco and Eddie Bauer. But three years back, Shamaeel decided to return to her "first love": designing clothes. She quickly rose to the top once again and has not only been lauded for her bold colours and unique sense of style but also was chosen as the chairperson of the Pakistan Fashion Design Council this year. Fiercely competitive, Shamaeel is now planning to launch her salon.
Her Autumn/Winter collection's ready-to-wear-line that is featured here (and in Newsline's annual for January 2011) was launched on December 8, 2010. Shamaeel says the paintings of the great master Abdur Rahman Chughtai symbolise an image that is both sublime and feminine. She derived inspiration from his work but contextualised it to reflect bold femininity in her clothes. "It is art as wearability," says the veteren designer. Boasting exquisite screen prints and dramatic cuts, this collection can be worn with traditional churidars, jeans or tights for a modern twist. Using organic fabric and textured or marble-ised fabric in some places, this collection is a testament to Shamaeel's creativity.
Designer: Shamaeel Ansari
Photography: Shamyl Khuro
Hair & Make-up: Rukaiya Adamjee
Coordination: Umer Mushtaq
Text: Maheen Bashir Adamjee
Model: Ayyan
Maheen Bashir Adamjee is an APNS award-winning journalist. She was an editorial assistant at Newsline from 2010-2011.
Next