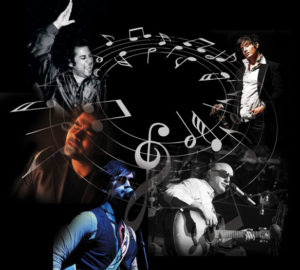 Pakistani singers were seen and heard on almost every platform imaginable this past year. From appearing on Coke Studio and India's "Chhote Ustaad" contest to singing title tracks for local drama serials to giving playback for Bollywood films — and even starring in them — they did it all. Their voices resounded on the big and small screens — and on the streets of Mumbai and Karachi.
Many of them have made their way to the biggest banners in neighbouring Bollywood. And not without reason: they bring a refreshing twist to the sometimes homogenous Bollywood sound.
Atif Aslam, with his offbeat style of singing, is a classic example of this. He has given some of the biggest hits in Indian films, such as Race and Ajab Prem Ki Ghazab Kahani. Another interesting new traveller on the road to Bollywood is Ali Zafar. He invaded not only the world of soundtrack but also of acting. Tere Bin Laden, a small-budget film that went on to become a hit, was clearly a breakthrough for Zafar. Presently, he is acting, singing plus composing for Mere Brother Ki Dulhan, a Yash Chopra film starring Katrina Kaif and Imran Khan. And if rumours are to be believed, he even taught the gorgeous Kaif how to strum the guitar for one of the film's sequences.
Mahesh Bhatt, a great proponent of Indo-Pak collaborations, was the first producer to sign Ali Azmat and Rahat Fateh Ali to sing for his film Paap. Subsequently, Bollywood's top guns Karan Johar, Shahrukh Khan and Farah Khan have recorded with Shafqat Amanat Ali and Rahat Fateh Ali for their films Kabhi Alvida Na Kehna, My Name is Khan and Om Shanti Om.
Our music industry may be rather sparse compared to Bollywood, but occasionally that proves to be a bonus — it helps outstanding talent to develop without excessive pressure to kowtow to commercial interests. That Atif Aslam, Ali Azmat, Strings, Jal, and Shehzad Roy have featured in various Bollywood soundtracks over the last 12 months is proof of their immense talent and popularity.
The most sought-after singer is, undoubtedly, Rahat Fateh Ali Khan, whose substantial body of work over the last decade was dwarfed by his mushrooming popularity in India in 2010. The maestro has sung for 18 Bollywood soundtracks, his voice almost an anthem for the year's box-office bonanzas. Three of the biggest hits of the year, "Sajda" from Shahrukh Khan's My Name is Khan, "Aaj Din Charhiya" from Saif Ali Khan's Love Aaj Kal, and "Tere Nain" from Salman Khan's Dabangg featured Rahat's voice. Running a close second was Atif Aslam, whose "Pehli Nazar" from Race and "Tera Honay Laga" for the Ranbir-Katrina starrer Ajab Prem Ki Ghazab Kahani still continue to play on everyone's lips. Incidentally, Rahat's "Mein Tenu Samjhawan Ki" for the Indo-Pak collaboration, Virsa, was as popular as his Bollywood numbers.
Music has become the staple diet of Pakistani drama serials, too, it seems. TV producers have picked up on the trend of title tracks from Indian soaps and roped in popular singers to do them. Rahat sang for Geo's hit serial Meri Zaat Zara-e-Benishan, and Shafqat Amanat Ali for HUM TV's Tere Janay Ke Baad.
With the advent of Coke Studio's third season on TV channels, the already rising trend of live music (as opposed to videos) picked up pace. The collaboration between traditional, folk and pop musicians plus the innovative new spins on old songs electrified the music scene across the country.
This season, Coke Studio offered original and extremely catchy renditions of songs, among them Zeb and Haniya's "Bibi Sanam Janam" and "Alif Allah" by Arif Lohar and Meesha Shafi. The Shafi-Lohar combo was an instant hit and "Alif Allah" was the staple sound of every car with a stereo. The show also made an important departure this season. It featured three of the finest performers in the Sufi, ghazal and folk genres: Abida Parveen, Tina Sani and Sanam Marvi.
Coke Studio has reintroduced audiences to the experience of listening to music outside the framework of a music video. Bands and stars are being encouraged to perform live more and more, enhancing their profiles and their fan bases.
The underground scene is also buzzing with activity. Amateur bands are scrambling to improve their performance and creative skills to match the polished performances of the professionals. And this increased ambition has led venues to hurriedly provide a platform for eager-to-show musicians. Coven, Orange Noise and That's What She Said (the new incarnation of the wildly popular Rachel's Plan B now featuring the 19-year-old rising star Sara Haider as lead singer) are regulars at Karachi's T2F and Base Rock Café. With concerts being promoted through text messages, the 16-28 demographic flocks to watch them perform. Islamabad's Nissa Lounge plays a similar role, drawing crowds to hear artistes like Arieb Azher. Underground bands are lapping up the increasing interest in their music from seasoned veterans in the music industry. Suddenly, they are everywhere: ADP is playing on Coke Studio, the Cheapmunks are performing on FM89 and Amir Zaki is playing with Spoonful. The gap between the two worlds appears to be narrowing — a trend that is proving exciting for amateurs, professionals and listeners alike.
While the pop scene is flourishing, the diehard classical music aficionados are not giving up on their ustads. Tarteeb at T2F, the Tehzeeb Festival and the All Pakistan Music Conference in Karachi treated audiences to soulful raags and instrumental music by veterans and their disciples.
This year did not bring us an unusual number of new albums or hit singles, but it definitely saw an increase in the number of music listeners in Pakistan.
Inspired by the work of their international and local peers, the younger breed of artists is now aiming for better music with videos of higher production quality and more innovative music — one of the most positive trends of 2010. The ability to release songs online and produce music videos on a small budget has provided ambitious young musicians a platform to make themselves heard. And often a star is born in the process.
Next