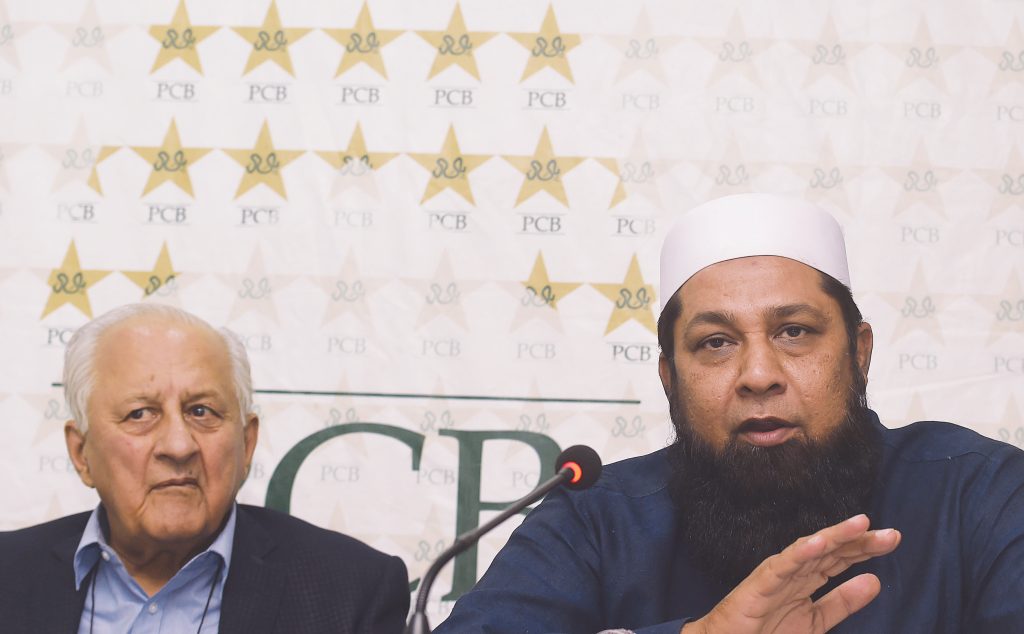 It wasn't a sight that one would have expected to see. Shaharyar Khan, the Pakistan Cricket Board (PCB) chairman, singing the praises of Inzamam-ul-Haq and how he expected the former captain to bring about a positive change in Pakistan cricket in his new role as the country's chief selector.
When a reporter asked him about how he had publicly criticised Inzamam for letting Pakistan down, Shaharyar urged him to let bygones be bygones and instead look to the future. None of the many journalists present felt the need to grill the PCB boss any further on that particular issue.
It is this tendency of not learning from the past that has brought Pakistan cricket to a point where many have started to fear about its future. One is not suggesting that Inzamam was a bad choice for the important job of chief selector and is hence doomed to fail. But he certainly is the same man who was categorically held responsible for one of the darker chapters in Pakistan cricket — the forfeiture of the Oval Test against England in 2006.
In what later deservedly earned a place among cricket history's most infamous incidents, Inzamam refused to take the field after being penalised by controversial Australian umpire Darrell Hair for alleged ball-tampering. Shaharyar, who was in his first term as PCB chairman at that time, urged the captain to play on but to no avail. In the coming days, Shaharyar became the fall guy as he was forced to resign as PCB chief in the aftermath of the Oval fiasco.
Later, in his book Cricket Cauldron: The Turbulent Politics of Sport in Pakistan, Shaharyar blamed Inzamam for disgracing Pakistan. Inzamam is also the same man who was singled out as the chief villain of Pakistan's 2007 World Cup humiliation in the Caribbean where the national team crashed at the first hurdle. A probe committee headed by former Test cricketer Ijaz Butt concluded that as captain, Inzamam's dictatorial ways contributed towards the team's failure.
But eight years, it seems, is a long enough time to erase such memories. Today the same board that paid off Inzamam to retire back in 2007 sees him as somebody who might prove to be a saviour. It might sound surprising but such contradictions and U-turns have been the hallmark of our cricket authorities in recent years. Time and again, we have seen the same mistakes repeated again and again. After each disaster, and there have been many, the cricket board has claimed that it will take ample measures to stem the rot. But it has failed each time.
That's because the measures taken were mostly cosmetic, like changing either the captain, coach or the selection committee or, at times, all of them — as has happened in the aftermath of Pakistan's early exit from the ICC World Twenty20 championship in India. Seldom has the board looked inwards at its own flaws that directly contribute to the dysfunctional system through which Pakistan cricket is being run.
The rot begins at the very top. It begins with the appointment of a hand-picked chairman to run the PCB. The authority to pick a chairman rests with the prime minister who, according to the board's controversial constitution, is the PCB's patron-in-chief. The premier exercises that power to appoint an octogenarian ex-diplomat like Shaharyar Khan to run the Board. Even that would have been fine but the problem is that over the years, the PCB has been reduced to a one-man show as the chairman can exercise sweeping powers.
In many other Test-playing nations, the cricket board is formed by officials who are elected through a much more transparent process. And power is more or less delegated. Due to constant government interference and a stream of officials with vested interests, Pakistan cricket has failed to evolve a proper system through which the Board can be formed and later run in a professional manner. It's a deadly mix which has stunted the growth of the game in this country.
Today, Pakistan cricket is rife with bogus clubs and a highly-flawed domestic structure. All of that affects the first-class game, which is why we get incompetent international cricketers like Umar Akmal, Ahmed Shehzad and even Shahid Afridi.
What Pakistan cricket needs is some honest soul-searching followed by a series of concrete steps aimed at revamping our flawed system. It's a herculean task considering that only a long and exhaustive overhauling can undo the damage that has already been inflicted on our cricket. But it is something that needs to be done. Many argue that the same system has produced cricketing greats like Javed Miandad and Wasim Akram and that, despite all odds, Pakistan has won the World Cup in 1992 and the World Twenty20 Championship in 2009.
The fact of the matter is that such success stories have been few and far between. It's also a fact that cricketers like Miandad and Akram achieved cricketing greatness primarily on the basis of their individual brilliance. What a proper system does is that it helps enhance lesser mortals like Umar Akmal and Ahmed Shehzad and turns them into world class cricketers. A proper system paves the path for the right culture without which it is next to impossible to form a winning unit.
Though not as bad as Pakistan, South African cricket is also experiencing a lean period — something that was visible in the Proteas' below-par showing in India. Despite its high-profile status in international cricket, South Africa remains the only leading team that has failed to reach the final of a World Cup or World T20. The country's cricket board formed a four-man panel to investigate South Africa's poor show in the World T20 in India. One of the members of the review panel is Francois Pienaar, the former South Africa rugby captain. In a recent interview, Pienaar made it clear that the country's cricket team will have to promote the right culture if it wanted to win world titles. "If you don't have the right culture in any organisation, it's very hard to be a high-performance team," he said. "CEOs and coaches and captains come and go but you have to understand the culture and the core of why teams are high-performance teams, and you can't tinker with that. As soon as you start tinkering with that, then you stand the risk of not remaining a high-performance team," he stressed.
Pienaar could well have been talking about Pakistan and its cricket team. Anything that can go wrong does go wrong in the corridors of the PCB and team dressing room. In the Board, more often than not, a power struggle is going on. Officials are appointed on the basis of how loyal they are to the chairman rather than anything else.
In the dressing room, there is a similar scenario with players either backstabbing their teammates or at least contemplating doing so. There is this sense of insecurity among the players, as Azhar Mahmood, the former Pakistan all-rounder who served as the national team's interim bowling coach at the World T20 championship, pointed out after the championship.
The root cause of all these issues is our flawed system. No matter how many minor surgeries are carried out in the form of sackings and new appointments, Pakistan cricket will not achieve any long-term goals until and unless a major operation is conducted.
It is important for Pakistan cricket to find ways and means to pinpoint the various problems and then rectify them. The government, which has contributed in our cricket's decline can, for a change, play a more positive role. It should form a high-powered committee whose sole objective should be to help put a proper system in place to run Pakistan cricket. If need be, the same committee can be asked to look after national cricket affairs for an interim period.
Once the Board transforms itself into a more professional organisation, there will be a better chance of instilling the right culture in our cricket. Under-performing cricketers like Akmal and Shehzad will know that unless they pull up their socks there will be no place for them in the team. Better performers like Sarfraz Ahmed will be hailed rather than pushed down.
In the meantime, however, Inzamam will be selecting our teams and Shaharyar will keep running the cricket Board — till further orders.
Next