Nuclear Smokescreen: The escalating Pak-India arms race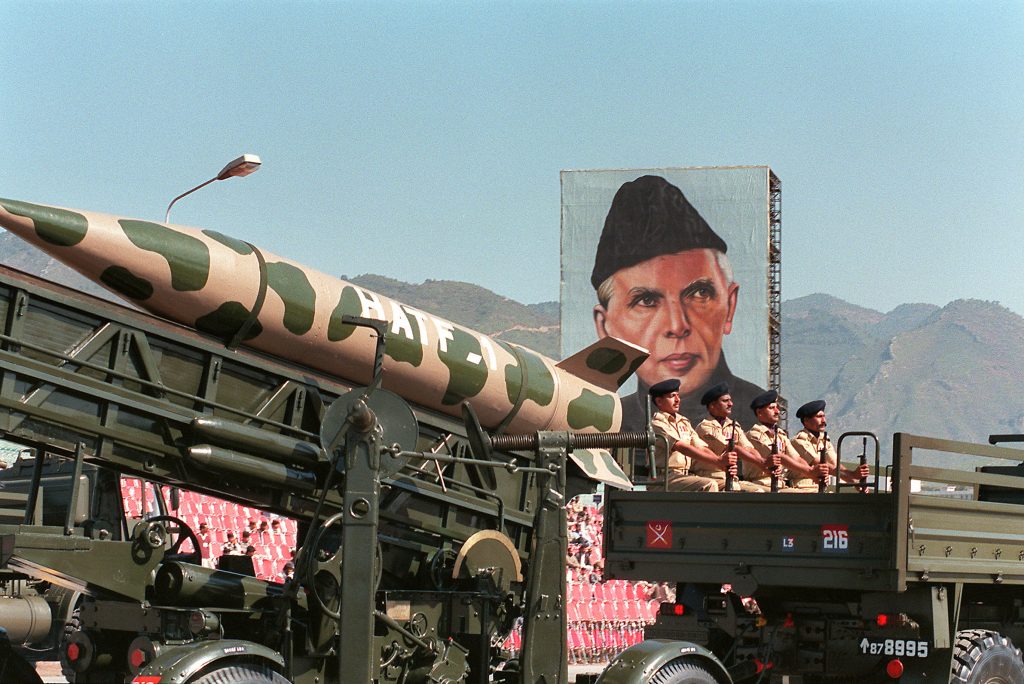 From March 31 to April 1, US President Barack Obama hosted the fourth edition of the Nuclear Security Summit in Washington DC. The summit focused on preventing criminals from accessing radioactive materials, a reduction in highly enriched uranium and separated plutonium, how to increase the detection of smuggling, and cybersecurity.
The Nuclear Security Summit came after an International Panel on Fissile Materials' study claimed that the world has enough plutonium and highly enriched uranium stockpiles to create a nuclear arsenal 200,000 times as deadly as the bombs that targeted Hiroshima in 1945.
A couple of weeks before the summit, the investigations over the Brussels attacks had revealed that the intended target of IS militants were nuclear power stations in the European capital.
Pakistan Prime Minister Nawaz Sharif was to head the Pakistani contingent in Washington, but the Lahore bombing on March 27 forced him to stay home, leaving Special Assistant to the PM on Foreign Affairs, Tariq Fatemi, to take his place.
In February, the US had formally expressed concern over the security of Pakistan's tactical nuclear weapons. State Department Deputy Spokesman Mark Toner said, "The US is concerned about the security of those nuclear weapons, and that has been a common refrain in our discussions with Pakistan."
In a recent report, A Normal Nuclear Pakistan by Toby Dalton and Michael Krapon, it is claimed that "Pakistan has the fastest growing nuclear arsenal and, within the next five to 10 years, it is likely to double that of India, and exceed those of France, the United Kingdom, and China."
Pakistan has maintained that it is working on "tactical nuclear weapons" with the aim to protect itself against potential Indian offensives.
"The International Atomic Energy Agency has recorded 2,734 nuclear incidents worldwide, including five in India, but not a single accident or breach happened in Pakistan, although our programme is 40 years old," Foreign Secretary Aizaz Chaudhry, part of the Pakistan team attending the summit, told reporters at the Pakistan embassy.
"Pakistan has worked very hard to ensure the security of our nuclear installations. While India has an ambitious nuclear and weapons programme, Pakistan has a modest programme — we have the right to defend ourselves."
Chaudhry reiterated that Islamabad is coordinating with the international community over the nuclear installations' security — something that was thoroughly discussed at the summit.
Recently, Iskander Rehman's report Murky Waters: Naval Nuclear Dynamics in the Indian Ocean dilated upon how the pursuit of a sea-based nuclear strike force is the next step in the Indian quest for an assured retaliatory capability, and Pakistan's naval nuclear ambitions are fueled primarily by the growing conventional asymmetry, rather than strategic imbalance between both countries.
"An imperative issue is missing in the debate: what new command and control model will be adopted by Indian strategic forces, and what challenges would it pose to the security of the region," says Maimuna Ashraf of the Strategic Vision Institute, an Islamabad-based think-tank.
India has recently approved $16 billion for nuclear-powered submarines and naval warships. According to reports, India further plans to develop more than 160 naval ships, three aircraft carriers and more than 40 warships and submarines, including anti-submarine corvettes and stealth destroyers.
"India is one of the three Asian countries to maintain aircraft carriers. On the other hand, Pakistan has lately approved a proposal to purchase eight diesel-electric submarines," says Ashraf. "However, viewing India's naval ambitions, Pakistan will look to neutralise developments with India, and it may prove an initiative for having a permanent sea-based deterrent equipped with a submarine-launched variant of the cruise missile (Hatf-7-Babur)."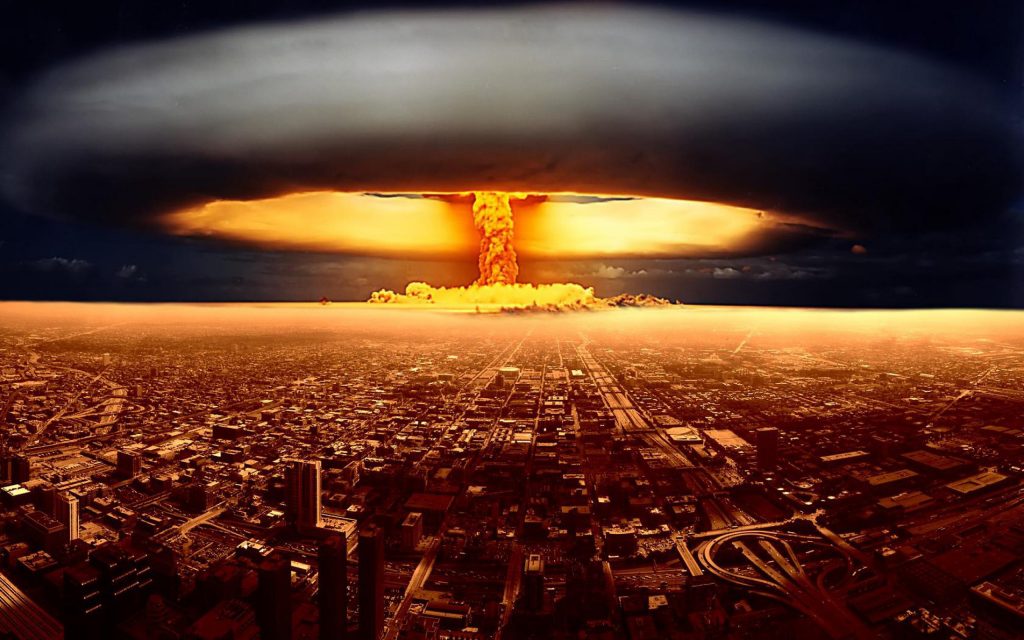 Pakistani nuclear physicist, academic and analyst Pervez Hoodbhoy says this nuclear arms race between India and Pakistan could signal Armageddon.
"If any degree of nuclear weapons is used in the region, that would be catastrophic. Both countries are producing the maximum amount of weapons that they can," he says. "They're building up their arsenals. Pakistan is going for tactical nuclear weapons, all of which are low tech. Meanwhile the Indians are going for ballistic missiles, nuclear submarines and space-based weapons," says Hoodbhoy.
He adds, "Both countries have enough of an ability to wipe the other out. And this is an utterly senseless race. One doesn't need a few bombs to cause a huge amount of damage. Even half the bombs possessed by either country is enough to destroy civilisation in this part of the world."
According to globalsecurity.org, the Wuhan-based China State Shipbuilding Industrial Corp (CSIC) signed a contract in April 2011 to deliver six Type 032 Qing-class conventional attack submarines by 2016/2017. "Each can carry three CJ-10K submarine-launched 1,500km-range land attack cruise missiles (LACM) capable of being armed with unitary tactical nuclear warheads."
Other reports add that China is helping Pakistan build two types of submarines: the Project S-26 and Project S-30. The vessels are to be built at the Submarine Rebuild Complex (SRC) facility being developed at Ormara, believed to based on the Chinese Qing class submarines-3,000-tonne conventional submarines.
Hoodbhoy points out that China's support of Pakistan's nuclear programme is the direct corollary of Beijing's rivalry with New Delhi.
"The Indians have an eye on China. Beijing's main rival is New Delhi. But we are, of course, hung up on India. And this is why China is helping Pakistan's nuclear programme," he says. "This goes back to the 1970s. The Chinese have been heavily invested in Pakistan's nuclear programme. They see Pakistan in geostrategic terms and have been cultivating relations accordingly. Then they ensure that (JeM Chief) Masood Azhar isn't banned at the UN — they're playing a game, which is well known."
He adds: "Both India and Pakistan are playing a senseless game as well, and this nuclear arms race could end in war unless it's forestalled."
Maimuna Ashraf says that to understand the current nuclear dynamics, and Pakistan's adherence to full spectrum deterrence vis-Ã -vis India, it is important to revisit the past.
"In 1998, when Pakistan detonated its nuclear weapon in response to India's nuclear weapon explosions, it declared its right to retain its capability as minimum credible deterrence to avert security threats from its eastern neighbor. This posture signalled that Pakistan would not use its nuclear weapons unless Pakistan's nuclear threshold was crossed by its foe.
"Conversely, after the 2001 Indian Parliament attack, the Indian Military Command developed an offensive military strategy, 'Cold Start Doctrine,' in 2004 to replace the outdated 'Sundarji Doctrine.' Although the complete doctrine is classified, the declassified concept is to reconstitute the existing three Indian army's strike corps into eight integrated battle groups that could be deployed quickly to strike the narrow pieces of Pakistan's territory through a limited incursion in response to a terrorism event in India involving Pakistan.
"The doctrine was designed on the assumption that Pakistan would not resort to the use of nuclear weapons in response to a limited incursion that does not cross its nuclear threshold. The Pakistani nuclear establishment thus argues that CSD would provide India the space for conventional or limited conflict in a nuclearised region."
Ashraf maintains that for an appropriate reactionary response to CSD that excludes massive nuclear retaliation, Pakistan developed the low-yield, short range, tactical battlefield 'Nasr nuclear missiles.'
"These tactical nuclear weapons were part of Pakistan's full spectrum deterrence, which provides a qualitative response to conventional threats and asymmetry perceived by India," she says. "Moreover it offers a range of options as Pakistan will not be forced to retaliate with strategic nuclear weapons as a first response to conventional force.
"It is important to understand how Pakistan defines its strategic deterrence. Pakistan's deterrence is dynamic, as Pakistan perceives deterrence strengthens if it forcefully deters India. It implies that Pakistan will continue determining its nuclear deterrence requirements on the basis of Indian nuclear advancements or developments."
Ashraf continues, "As long as Pakistan sees the nuclear developments of its neighbouring state destabilising the region, it would continue responding to them. Thus, Pakistan is maintaining the deterrence, which is minimum, credible, yet full spectrum to deter all forms of aggression."
A senior security official wishing anonymity calls out US double standards in dealing with Indian and Pakistani nuclear programmes.
"Many American officials have openly said that India's nuclear explosive materials are vulnerable to theft, but Washington is signing nuclear deals with New Delhi, while pointing fingers at Pakistan," he says. "The army chief's trip to the US last year was based on this concern as well. All we want is a nuclear deal similar to the one that India has, especially considering the role that we've played as an American ally in their War on Terror."
Hoodbhoy believes that the contrasting level of trust manifested by the US should not be surprising.
"Obviously they see Pakistan as a country that's less trustworthy. The world would probably agree with the Americans — I mean we would probably agree too, given how much terrorism has happened in Pakistan," he says. "Pakistan has had a very aggressive attitude with regards to its neighbours — all of them, be it India, Afghanistan or Iran. So I don't think we should be surprised that the world doesn't trust us. Also, if someone in Pakistan is so heavily engaged in nuclear commerce, do you really expect the world to trust us?" he asks.
The security official maintains that Pakistan's consensus on targeting all forms of militancy over the past year-and-a-half should be noted by the US.
"Especially since a lot of this militancy was sponsored by the US itself in the '70s and '80s. They might have changed their policy towards the likes of the Taliban, but the US can't shy away from responsibility," he says. "Pakistan has supported the US in their war and now it's their turn to reciprocate. If they're really worried about our nuclear programme falling into the wrong hands, they should be at the forefront of facilitating us, instead of exhibiting double standards in deals with Pakistan and India."
But how likely is it that these rogue elements, jihadists such as the Taliban, can actually access Pakistan's nuclear programme?
"That depends on if you have Taliban within the armed forces or not," says Hoodbhoy. "That's the problem; these rogue elements have penetrated Pakistan's security machinery for quite some time."
Hoodbhoy says that the only way to curb the growing paranoia is to completely halt nuclear arms' construction, especially in this region.
"Let there be a complete moratorium on the building of new warheads. Let both India and Pakistan agree to end the production of more warheads," he says. "As for the ones that currently exist, well, let them be for the time being. Hopefully we'll see a day when we can collectively bury them, once and for all."   n
Kunwar Khuldune Shahid is a journalist and writer based in Lahore.
Next