Creating Futures: Vocational training schools which are making a difference
Rs. 75.1 billion. That's how much has been allocated to higher education in the 2015-2016 federal budget — out of a total budget of Rs. 4.451 trillion, according to a report on the budget in The Express Tribune. If only the budget gave the same importance to education that it does to defence, perhaps the current literacy rate of the country — which stands at 57 per cent — would be a lot higher. While the portion allocated to education is 14 per cent higher than it was in the previous budget, it still leaves a lot to be desired. And so, as with everything else in the social sector, the private sector steps in to fill the gap to the best of its ability. However, with 47.3 per cent of children between the ages of 5-16 out of school, and the unemployment rate at 8.3 per cent in 2015, there is an urgency for the government to do much more. In the meantime, private citizens and non-government organisations are striving to plug the holes, and have had some resounding successes in the education and vocational training arenas. To cite a few: The Citizens Foundation, AmanTech, The Hunar Foundation, The Adult Blind centre, etc. The latter three run training skills centres and have changed lives by helping forge viable futures for generation next. Newsline takes a closer look…
The Hunar Foundation (THF)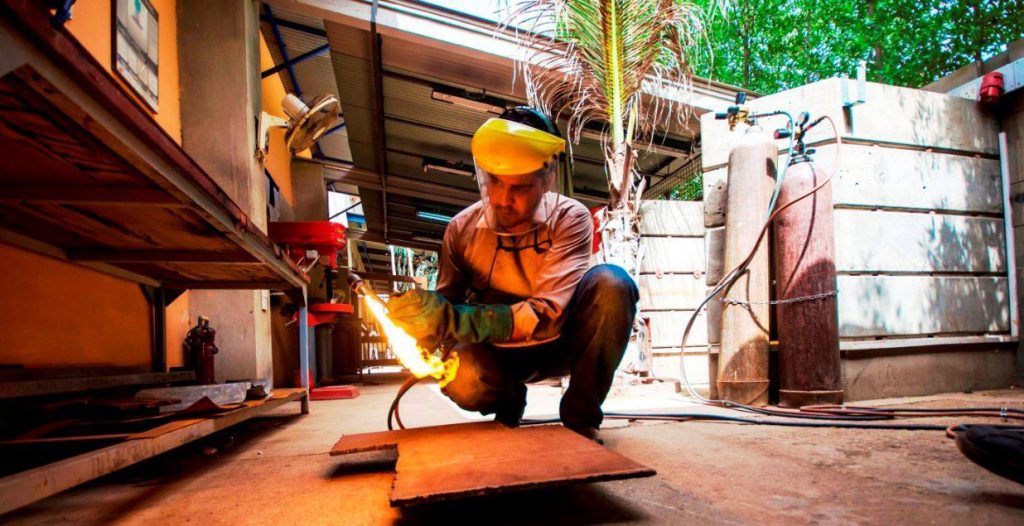 It is the fundamental right of a child to be educated, but you are doing them a disservice if you educate them but cannot provide them means of employment afterwards," says Syed Javed Hassan. Sitting in his office on a beautiful day in Karachi, The Hunar Foundation's (THF) CEO is charming and passionate about vocational training and the hopes he nurtures for the youth of Pakistan.
He continues, "If you want statistics, 24.4 million Pakistanis wake up each morning not knowing if they'll have a square meal. That's quite a scary number. We think the main reason people can't get a meal is not the dearth of jobs, but because they lack the skills to get a job. Our aim is to provide the standards and curriculum for people to gain these skills."
Aslam Khalique, former chairman of a multinational, pioneering architects Shahid Abdullah and his brother, the late Arshad Abdullah, chairman and co-owner of an internet enterprise, Adnan Asdar, and industrialist Abbas Akbar Ali, started The Hunar Foundation. The first three of this group had been closely involved with The Citizens Foundation (TCF) for a while, and along the way, according to Hassan, "They observed that while the TCF was doing a stellar job in educating the youth of the country, not much was being done in terms of the students gaining employment." This is where the idea of The Hunar Foundation (THF) was born, and it became functional in 2008.
Currently, THF runs four institutes in Pakistan and there are two more on the anvil. The premises in KDA, which offers courses in assorted trades for males only, has a capacity for about 300 students. A walk around the premises and the workshops located within, display the facilities at hand — spotless classrooms and the heavy-duty machinery which is used for practical courses. The Hunar Foundation institute in Delhi Colony near Gizri — with a capacity for about 200 students — is a females-only facility. Skills such as hair-cutting, dyeing and beauty treatments are taught there. A much larger institute is located in Tando Allahyar, which is part of the Rashidabad Welfare Trust. The Hunar Foundation institute there has a capacity for about 700 students, but currently has an enrolment of only 360 male students. The centre in Lahore, which was initiated just a little over a year ago, is situated on a four-acre plot, and can potentially hold 800 students, but currently there are only 150.
The facilities at the KDA branch of THF are state-of-the-art. The premises are, in themselves, aesthetically pleasing and there is a restful calm about the surroundings. On any given day, one can see the uniform-clad students, moving from one class to another for assorted lectures, or else engaging with one another in casual banter in free periods.
Of the two institutes that are currently under construction, one will be located in Jhelum with an initial capacity for 200 students, and the second one will be located in Korangi. This branch will be co-ed, and will include, among other courses offered, teachers training. THF Korangi is an ambitious undertaking: it plans to eventually accommodate up to 2,000 students.
Given the magnitude of the organisation and the professionalism that is evident in its operations, THF is an impressive enterprise. How does it sustain itself financially?
Hassan says capital does tend to be a challenge. "THF is quite an expensive venture; it's not like setting up a school. Realistically, a vocational centre costs at least a million-and-a-half USD nowadays. This includes equipment, workshops, classrooms, etc." He continues, "We get zakat donations, and, additionally, we have quite a few private donors who are very generous. We also get corporate sponsorships and some public sector funding. Worldwide, governments play a major role in vocational training. It does take place here, but it's not given the focus it should get." However, he concedes, "It is getting better."
In addition, he says, "We take a fee from the students, but the education of those who don't have the capacity to pay is fully subsidised." Many students are not in class all day; they either take morning or evening classes, because they work the rest of the day to earn a living, or to pay their tuition fee for THF.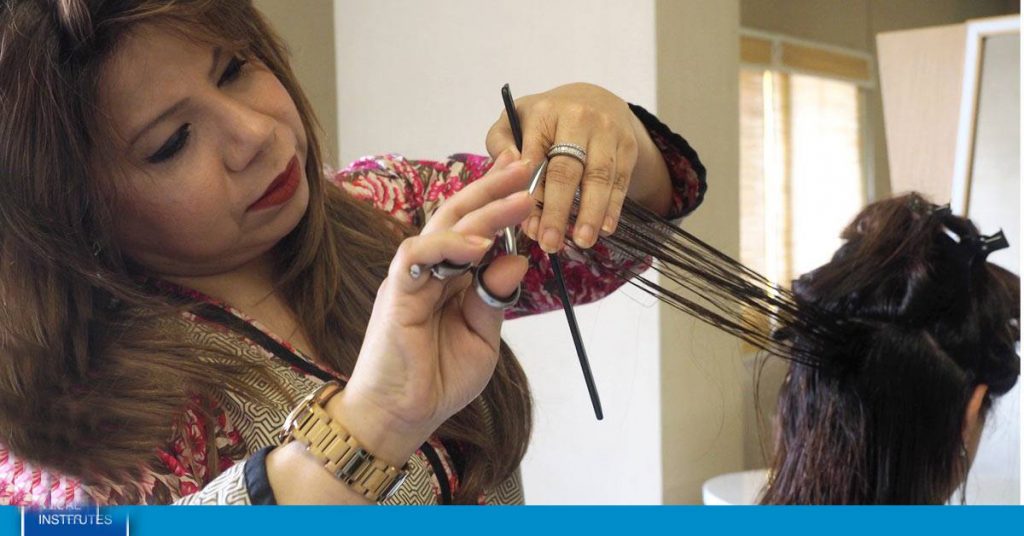 And the fee varies depending on the courses offered at the institute. These include mechanics, plumbing, welding, soft and life skills (ethics and grooming of the individual on a personal level), computer classes, sports, English lessons and hair and beauty. The trades all fall under the UK City & Guilds international qualification.
Currently, THF provides level 1 and 2 in all the disciplines offered, and is working towards level 3 and 4. According to Hassan, no one in Pakistan provides certification up to level 6.
Currently, men's courses are as long as a year each, whereas women's courses are limited to three months. In Hassan's opinion, the best trades in terms of potential earning are welding and plumbing. Interestingly though, these are the least popular trades among the students. "This is because they are seen as dangerous and grimy," he says. On the other hand, there is a huge demand at the centre for refrigeration and air conditioning, as well as electronics and electricians' training.
Ahsan Raza, 18, is training for the electrical engineering trade. "It's the most popular discipline offered here, and since I was a child I was interested in appliances. I love the practical part of it, but the theory gets tough," he says with a sheepish grin. Students pay about Rs.1,200 per month for this course, a six-days-a-week programme spanning a year.
The electrical engineering instructor, Syed Mohammed Zunun, has been a senior instructor at THF since 2010. He says there are about 20 students in this trade, which is the most popular because the electronic market is booming in the country.
As for THF faculty, says Hassan, "There is a shortage of good trainers, and you're only as good as your trainer." According to the CEO, some instructors are trained in Australia, and others through an exchange programme with Germany (the trainers are trained in Pakistan by professionals from Germany). Skills International (which is part of City and Guilds) also provides training. But even international certification, Hassan feels, is not enough. "We are barely scratching the surface; there is still so much more to do," he says.
One of the biggest challenges faced by THF, is convincing both potential students and their parents to come on board. According to Hassan, this is because there is not enough of an understanding of the concept of vocational training. "It is wrongly perceived as second-status, or viewed as second-tier," he says.
"We not only have to convince youths to enrol, we also have to convince their parents about the benefits of vocational training." But after seeing the potential prospects the training yields, he says parents often recommend others to send their children to THF.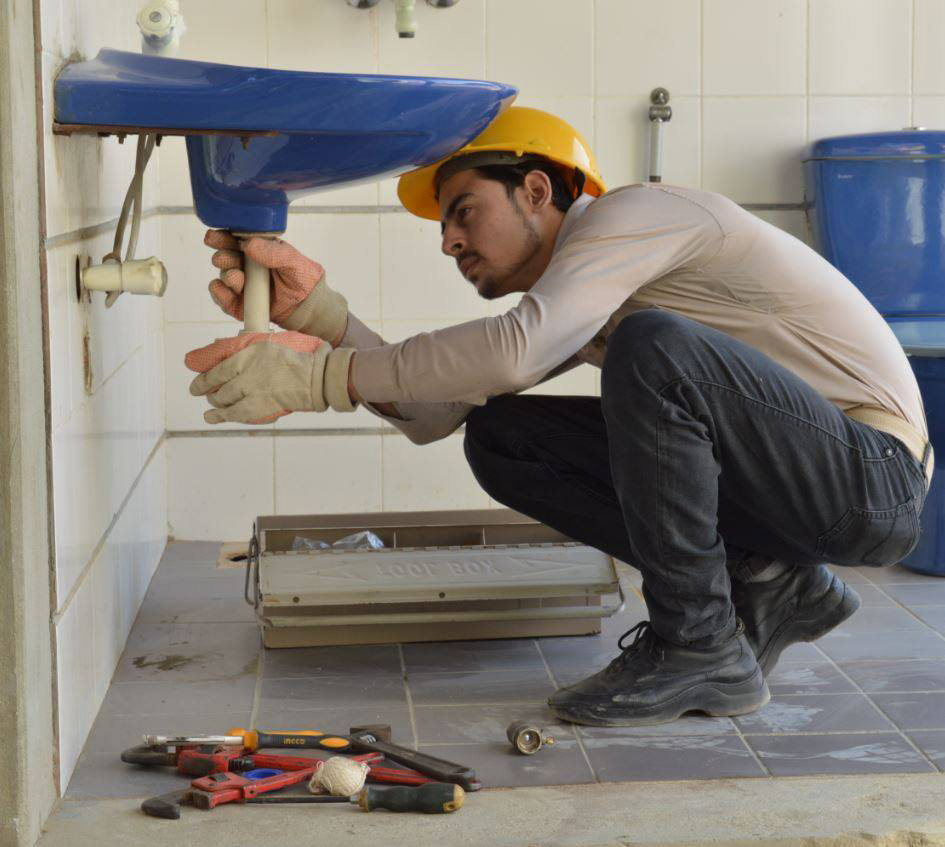 Some parents are particularly keen on sending their kids to THF because they hope this will open doors for them to find jobs in Dubai and Saudi Arabia. THF helps students in finding job placements in Pakistan — and abroad. Of the 800 graduates of THF since it launched operations in 2008, 50 have so far been able to secure jobs overseas. The Hunar Foundation also follows the professional advancement of its graduates in Pakistan, and tries to find them jobs abroad after they have a few years experience under their belt.
How does the institute deal with disciplinary issues? "We have minor disciplinary issues. We do not allow smoking, gutka or paan on campus. We have seen kids eating gutka and we have had to warn them they will be inviting suspension if they repeat this misdemeanour. Thankfully there has not been any violence, even though some of them come from very difficult backgrounds," says Hassan. "I think the kids who are into that kind of lifestyle would not enrol at a vocational centre. These are kids who want to make a difference in their lives."
And the trainers respond with warmth and give it all they have. Says the electrical engineering teacher, Zunun, "Only those who are genuinely interested enrol themselves. And they ask the most interesting and insightful questions. Sometimes I have to repeat the answers 10 times over. But I do so because they show interest, enthusiasm and improvement each day."
And then, when done, confident and eager, the trainees are ready to face the world. For the instructors at THF, that is true validation.
Adult Blind Centre (ABC)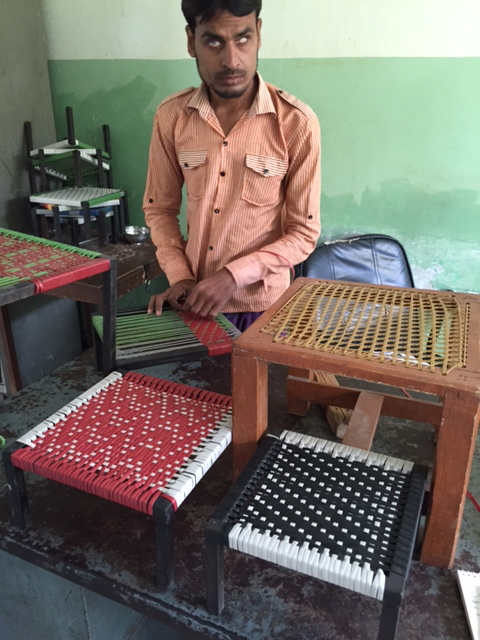 Cricket and chai: quintessentially Pakistani passions, irrespective of gender, income, caste, and creed. And students at the Adult Blind Centre (ABC) in Karachi are no exception to this rule.
"They love to play cricket," says Dr. Ayesha Vawda, who is part of the managing committee at the ABC and its honorary secretary. She also discloses how much the students relish their tea breaks at the centre, where they get a chance to catch up with each other over a cuppa.
Nestled in the Garden East area of Karachi, in a west-open grey building, the ABC, which functions as an NGO, has been working tirelessly to help Karachi's blind population since 1956. Walking into the building through the garden, one encounters students and members of the faculty engaged in conversation, laughing, clearly at ease. What is striking is the fact that while visually impaired, these individuals choose not to be victims. In fact, they are happy to just be part of any community.
The ABC was inaugurated by former Pakistan President, Iskander Mirza, and has, despite many difficulties, managed to endure since then. Its services are offered free of cost to students — some of whom have been there for several years — and additionally, they are given a daily stipend of Rs. 50 each, with plans to increase this sum later this year. The ABC also assists its students in finding jobs. All of this is not an easy undertaking: with limited funding, the ABC struggles to just survive. Even generating awareness about the institute itself to draw in support from donors is an arduous task.
And yet, the dedicated 15-member executive committee of the ABC's board refuses to say die.
"The centre has had its rough and tough times. At one point it was taken over by the government — but not for long. I remember, when I became a part of the organisation in 2003, the place was in a state of ruin, and there were maybe only three or four students. We really had to work hard to put things back together," says Dr. Vawda.
And while the ABC is now back on its feet, with 55 students currently enrolled at the centre, some things remain the same: the organisation has been unable to put a viable fund-raising programme into place and so remains purely dependent on donations.
The various courses offered at ABC include Braille in English, Sindhi and Arabic/Quran classes. "Now there is no book in the world in Braille that our students cannot read," Dr. Vawda tells Newsline. Extra-curricular activities offered at the centre include singing, cricket, learning to play the harmonium and tabla, candle-making, cane-furniture weaving, and learning how to use a computer. Additionally, the ABC also holds free eye camps for visually impaired people who are not enrolled at the institute, and during these, spread awareness about the institute.
Students who come to the ABC to study are mostly those who have previously studied at the Ida Rieu School for the Blind and Deaf. There is no fixed age for students to enrol at the institute, there is no entrance test, nor is there a specific time-frame for them to complete a course. "The basic qualification is the student's visual impairment," says Dr. Vawda.
Some students enrolled at the ABC have completed their matriculation and intermediate studies — although without having the benefit of being able to take these exams in Braille. So, those visually impaired students who wish to sit the exams have to be accompanied by scribes to take the examinations. And when ready to step into the real world, the students at the ABC are helped to find jobs by the institute. These include, among other job placements, positions at call centres. Some students also sell the candles and cane furniture they make in class in order to earn a living.
The basic philosophy of the ABC is to ensure that Karachi's visually impaired citizens do not beg on the streets. "We want them to live with dignity, we want them to be happy here, and to become functional and productive members of society," says Dr. Vawda.
The Adult Blind Centre is not gender-specific — but currently its students comprise only men. "We are not gender-biased. The reason there are no women at the ABC is because it's very difficult for blind women to make the commute," says Dr. Vawda.
Interestingly, visual impairment at the institute is not restricted to the students.
Most of the teachers are also either completely, or partially blind. "It is a well-known fact that the blind are able to teach the blind better than sighted teachers," Dr. Vawda explains.
Some of the trainers have been teaching at the centre for years. One such individual, who instructs the cane class, is Mubarak Shah. Profoundly visually impaired himself, he has been an instructor at the centre since 1986. Talking about his experience he says, "One of the most remarkable things about the students at the ABC is that even though most of them live in far off areas such as Malir and Memon Goth, they make sure to get here by 8:30 a.m – 9:00 a.m. They are all dedicated to the institute."
The Braille teacher, Faisal, also blind and an extremely kind and patient man by all accounts, has been teaching at the centre for about 12 years. "I prepare them for the matric and inter exams, and teach them how to read and write in Braille," he says, while demonstrating how he instructs students to use the Braille board. According to Dr. Vawda, it is because of Faisal's efforts that several students at the ABC have been able to give their matric and inter exams, earn an education and graduate.
As for the students, they are keen to learn, and are obviously happy in their surroundings. In fact, the ABC is almost like a second home to them. "I've been at the centre for about four years now, and am now ready to take the board exams," a visibly pleased student, Mohammad Yasir, tells me. Another student, Bilal who cannot see or hear, has, according to Dr. Vawda, shown immense progress. She says there has been a marked, positive change in him since he came to the centre.
Others exude confidence. A case in point: One of the students in the cane class, is a keen singer and extremely enthusiastic about music. When I enter the classroom, he stops weaving the cane stool he is working on, and begins to sing loud and clear for his classmates and me. "I want to be a singer," he says with a wide smile.
And then there is the most fun part of the students' day: a game of cricket. It is amazing to see the level of enthusiasm with which the visually impaired play. The ball has a tiny bell attached to it so that they can sense the direction the ball is moving in when being bowled and when hit — and their ability to field is nothing short of amazing.
A day at the ABC is an eye-opener: it demonstrates with clarity how sight is not always synonymous with vision.
AmanTech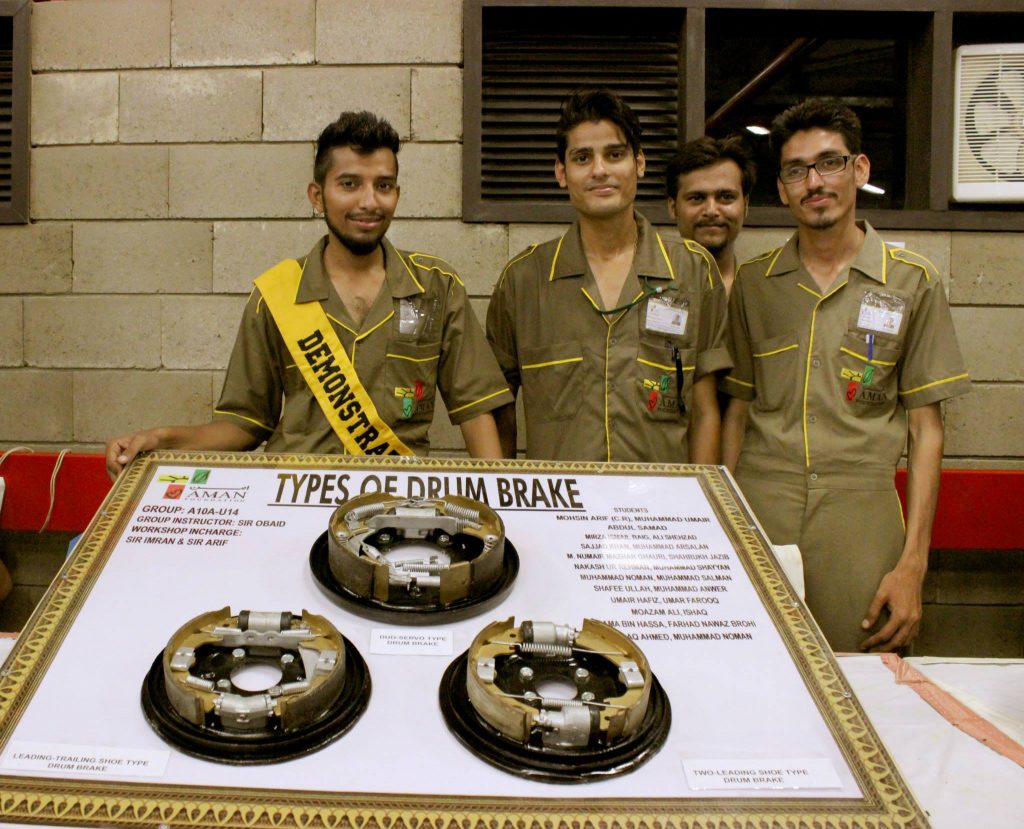 This is AmanTech," Ali Samir, manager of strategy and business development at Aman, tells me as he walks me through the enormous facility that is Aman's vocational training centre based in the Korangi area of Karachi. We cross the courtyard where he says there is assembly every day, and where the national anthem is played.
It's interesting how the vocational centre has an almost school-like feel. Samir says that although admissions are open for students between the ages of 18-24, sometimes even those nearing 30 are allowed entry. And AmanTech wants to engage them all completely. So they have created the atmosphere to make this aim viable. "We have a cafeteria; we provide uniforms as well as ID cards, and we get the students to also engage in activities other than the trades they have applied for." These activities include sports competitions, talent shows, plays and debates. There is a library and a student affairs department at the facility, and there is even a hostel at the premises which can accommodate about 200 students. Samir discloses that currently students from Khyber Pakhtunkhwa are the residents of the hostel. "These students were sent by the KP government to receive training here — funded by the government," he says.
"AmanTech was started in 2011 primarily to address the issue of youth unemployment in the country. It's a direct intervention," says Samir. Its aim is to empower the youth of Pakistan with skills, training and soft skills (grooming) required to succeed in the local and the international job markets. And from inception to date, it has done just that. Since it launched operations, over 4,000 young men and women have graduated from the institute.
Several AmanTech courses have the City and Guilds' certification, but others have a local qualification — the AmanTech certification.
"This has been endorsed by the Sindh Board of Technical Education (SBTE)," says Samir. "The students who don't make it to the trades that fall under the City and Guilds qualification can receive AmanTech certification." AmanTech is still a work in progress. Its growth rate in all areas mounts all the time with the number of students and the number of trades offered growing exponentially since it started. It currently has several trades to choose from, including automobile technician, fabrication, welding and pipework (FWP), mechanical, electrical, general electric, plumbing, carpentry, and refrigeration and air-conditioning. Compulsory courses at the institute include soft and life skills and computer classes.
AmanTech has also partnered with local industry to create more trades. For example, it develops courses which offer training in skills that are specific to the companies, who in turn help with funding for machinery and other equipment. One such trade is stitching — which largely caters to women. This trade, Samir says, was launched with Younis Textile Mills (YTM). AmanTech offers a three-month course in this trade, for which the machines have been donated by YTM. Younis Textile Mills used the same machinery at its factories.
"Since YTM, we've had a lot of interest from other sectors," says Samir. "We've had the paper and printing industry come forward, and we will soon launch a trade with them. A company from Dubai has also approached us to do Arabic training courses for tele sales so that people from here can find employment in the UAE."
And how involved is AmanTech vis-Ã -vis job placement for its graduates? "Our placement rate is about 55 per cent. After training with us, about 15-20 per cent of the students want higher education as opposed to immediate employment," says Samir. So that leaves around just 25 per cent not employed. He continues, "Of course we want to place all our students. And so the more corporate partners we work with, the more feedback we get from the industry. That way we can place more of our graduates in the workplace — here or in Dubai."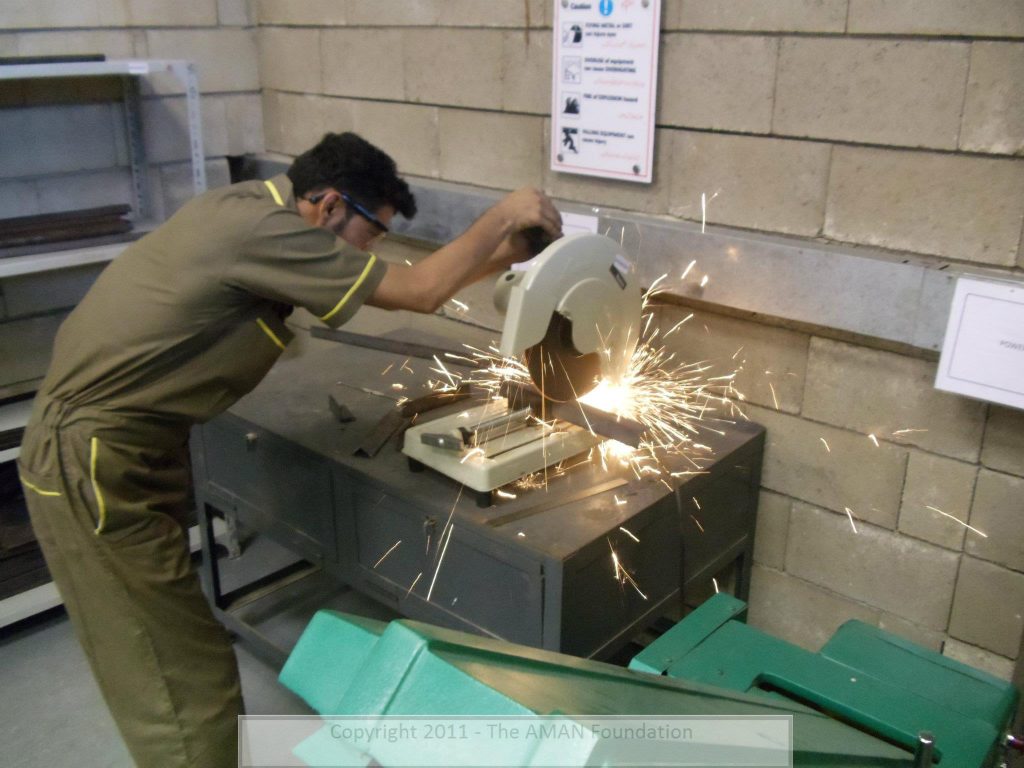 However, even while a cursory glance at the AmanTech facility speaks of how inspiring a story it is, it is not without its challenges. "The biggest challenge is industry alignment," says Samir. "When we set up AmanTech, the automobile industry had a very bright future nationally. But, in five years, it is the motorcycle sector that has boomed. We have to keep pace and to stay on top of these kinds of changes. It is difficult to say the least."
Walking on, and taking in the impressive facility with 14 computer labs and assorted workshops for different trades (with a separate classroom for the theory aspect each trade offers), one can see the students and trainers engaged in classroom activities. It is clear there is a healthy dialogue going on between the teachers and those being taught. According to Samir, the trainers at AmanTech have either been trained by professionals from City and Guilds, "Or we take people from within the industry who have the knowledge and experience of the fields they become instructors in."
Classrooms are fitted with fans, multimedia systems, blackboards and, of course, desks and chairs. Students can be observed working on simulators in workshops where the practical courses take place. One student, Shahzad Mustafa, 23, demonstrates how to work the simulator for the automobile course (there are five automobile workshops at the institute.) "I have been at the centre for about 10 months. I really enjoy it. Right now I am working on an open house project," he says, excitement writ large on his face. "I am making a CNG kit from scratch with my group members." He goes into detail using technical terminology that is hard to follow for the uninitiated. Shahzad hopes to gain a good job once he is done at AmanTech, but says if that doesn't work out he would love to open his own workshop.
Imran has been at the centre since 2012. He is in charge of one of the workshops with about 25-30 male students in his classes, and has had experience in the industry himself. He relates some interesting insights gleaned from observations he has made about his students: "I notice that students who have passed their matric take about two or three months to settle in. But those who have worked in the field prior to admission here or who have worked in a dealership, tend to pick up on the trade a lot quicker. The only difference is that the latter don't know the terminology that is only learnt from books." He says he has to give the matric students with no work experience more time than those with hands-on experience.
As for the finances of running such an ever-burgeoning enterprise, Samir says, "We have partners and trustees. Our trustees are the people who seeded the AMAN Foundation and who continue to support us. But at the same time, we know partnerships are vital — we can't do it alone," he says. "We have corporate partners who fund students from their areas. We also have regular corporate partners such as Standard Chartered among other bank partners and we liaise with government corporations such as the Punjab Skills Development Fund and the Benazir Bhutto Shaheed Youth Development Programme." He adds that if there is any gap in funding, it is covered by the AMAN fund-raising team and trustees.
Furthermore, funding is derived from the students themselves. "The foundation covers close to 80-90 per cent of the fees for every student — whether that money comes through a grant, funding, partnership, or trustee — but we do expect the students to pay a fee of Rs. 1,500-2,000 a month, depending on their trade," says Samir.
One just has to look at AmanTech to size it up in one word: success.
Raisa Vayani is an Editorial Assistant at Newsline
Next