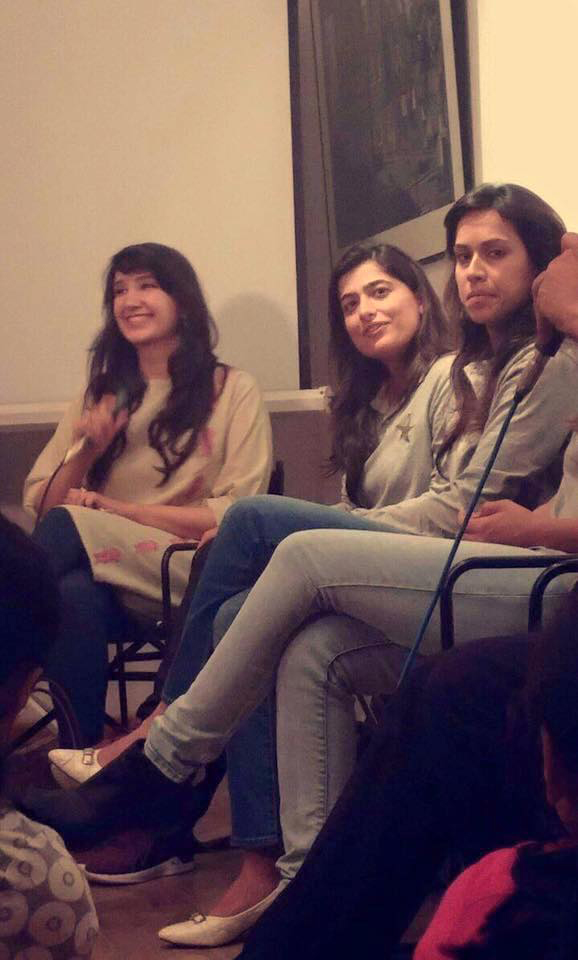 Just a year ago, T2F owner Sabeen Mahmud was gunned down. Almost synonymous with the space that she so diligently created, which virtually reintroduced the old tea-house culture of fostering intelligent discourse, an exchange of ideas and a liberal, rational mindset — and in the process engendered hope for generation next — T2F afficionados were crestfallen: they believed it could not survive without its creator and life blood. Yet, in the same month of Mahmud's first death anniversary, there was T2F, jam-packed with people of all ages, professions and denominations, to meet and engage with the Pakistan women's cricket team. Mahmud would have been proud.
In a talk moderated by the ever-so-pleasant singer Zeb Bangash, the team members — clad in matching ensembles of grey polos and jeans — engaged in humorous, smart and insightful conversation with the audience, which was hooked on every word. The ladies, who gave an impressive performance in the recent World T20 tournament, shared personal anecdotes, spoke of their education, voiced their opinions about the current state of women's cricket in Pakistan, and made suggestions about how the sport could improve, and engaged in inside jokes demonstrating the closeness between them ("Javeria has saved my number under the name 'Hitler Mir' on her phone," shared Sana Mir).
The team selector, Arooj was even more forthright in her views. "I'm sorry to say this to the men, but women's cricket is women's cricket, so if we can have the men support us and not rule us, I think things will improve!" Arooj demonstrates, through example, how literally anything is possible. A Masters graduate, practicing dentist, and the mother of a six-month-old child, this lady is also a vital part of the national cricket team. This has to be multitasking at its best.
Arooj concedes there have been some positive changes. "Following the recognition the team has received, the board has started taking the team more seriously. In fact, the girls are taking themselves more seriously," she said.
Other players also exhibited a new-found self-confidence. But it is the captain of the team, Sana Mir, who sets the tone. She is confident, smart and witty, has a solid understanding of the sport, is the epitome of sportsmanship, and supports the girls in every way possible.
One girl is, however, clearly still a little unsure of herself. The youngest member of the team, 18-year-old Muneeba, went straight into international cricket before even playing domestically. It was endearing to watch her struggle to speak to the crowd: she was visibly overwhelmed and could barely get a word in. Speaking about her experience of engaging with the Indian media, Mir said, "The Indian media was very well prepared; they were up to date with our records — more so than even the people in Pakistan. They posed interesting and intelligent questions, so it was fun to speak to them."
Recently, Australia introduced the policy of equal pay for men and women. Is it different in Pakistan? Mir was asked. "I think we make a ninth of what the men make here," Mir said. "It has improved for sure, but generally, in terms of administration, facilities and infrastructure, we are about 50 years behind our counterparts worldwide."
And responding to a tongue-in-cheek question about her captaining the men's team, Mir said, "I'm inspired by the women in my team." No argument there: when she has the best, why settle for second best — or worse? Mir continued, "I want to make and leave a team that does not need me any longer. I plan on leaving the captaincy of the T20 team so that I am able to give the team a chance to grow."
Rare wisdom from a young woman, who could have allowed the adulation her team has received go to her head. Clearly, as in the way she plays the game she loves, and as with the team she leads, Mir is a leader in more ways than one.
Raisa Vayani is an Editorial Assistant at Newsline
Next