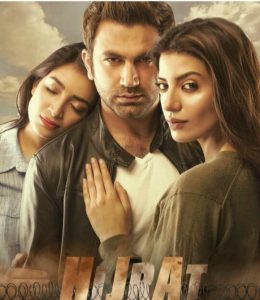 Conceived during his incarceration in Karachi Central Jail on suspicion of his wife's murder, Hijrat was a leap of faith for the well-established and controversial TV director/producer Farooq Mengal.
Riding high on a string of successful television drama serials, there were great expectations from the silver screen début of the veteran storyteller. The production of the film, which was first announced in 2013, was delayed by a few years amid rumours of his rifts with the cast as well as the fact that it was being shot in 35mm, instead of the digital medium.
Finally, it was released on April 22, but unfortunately fell flat on its face. In fact, Mengal's discomfort at his hijrat from television to the big screen is glaringly obvious. The tagline, "a love story against the backdrop of mass migration of Afghan refugees," was a bit misleading as it gave the impression of a romance blossoming between the protagonist and one of the refugees at the time of the Afghan migrations to Pakistan during the Cold War.
But it turns out that the female protagonist, Jia (Rabia Butt), is a doctor working at an Afghan refugee camp and the hero, Murad (Asad Zaman), is a brattish playboy based in Turkey with his parents, who is sent to the refugee camp by his mother who heads an NGO, to prepare a report on the status of the camps and the refugees.
Murad's parents are separated and unknown to him, his mother (Zaib Rehman) has been diagnosed with cancer. She plans to undergo surgery while he is away at the refugee camp and regardless of the outcome, she hopes Murad gains a sense of responsibility there, so that he can step into her shoes after her death. Along with her estranged husband (Jamal Shah), she also plans to get Murad to settle down with his childhood friend (Rubab Ali), who has been in love with him since childhood. However, Murad feels disinclined to marry after experiencing his parents' separation and his mother's bitterness.
But once he arrives at the refugee camp in Quetta, it is love at first sight for our hero. Tears well up in his eyes whenever the object of his affections, Jia, retorts with barbs to his overtures. The film's weak storyline is stretched beyond limits and, combined with the hackneyed dialogue, it is reminiscent of a love triangle from yesteryears.
Moreover, while Mengal's forte is television drama serials that are spread over 20 to 25 episodes, applying the same approach to cinema just does not work. Stories for the big screen require a substantive and compact plot that will grab the audience's attention for at least a couple of hours. Mengal has written, directed and produced the film under his own FM productions banner. Perhaps he should have enlisted the help of a skilled scriptwriter for his first major motion picture.
The cinematography and the songs are the film's only saving grace. Shots of a makeshift refugee camp in the barren wasteland beautifully capture the lives of a war-torn people, who are forced to endure hardships, away from their homeland. Turkey too, is shot in all its picturesque glory.
The songs by Ali Azmat, Rahat Fateh Ali Khan, Omar Nadeem and Sara Raza Khan, with music composed by Sahir Ali Bagga, sound good to the ears. There is even a hip-gyrating item number by actress Sana Nawaz to the song, 'Chali Re Dilli Se Lahore' that will elicit whistles from the audience.
Mengal chose to cast newcomers, mostly models-turned-actors for his big screen début, instead of the more established names. Unfortunately, they all turn in wooden performances. In fact, it is the veterans, Nadeem Baig and Jamal Shah, who shine in their supporting roles, as does Ayub Khoso in a guest appearance.
At the end of the day, I'm not sure what was more painful — watching a two-hour film devoid of substance or seeing moviegoers walk out of the cinema hall when the film was not even halfway through.
The writer is working with the Newsline as Assistant Editor, she is a documentary filmmaker and activist.
Next