Book Review: Over My Shoulder, Writings by Alys Faiz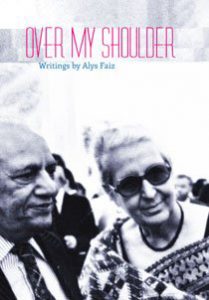 Though totally devoted to Faiz Ahmed Faiz, it cannot be said of Alys Faiz that she lived in the shadow of her famous husband. She was a teacher, writer and activist in her own right. And also a poet. Alys shared Faiz's ideals and commitment to causes even before she met and married him. It would be hard even for the more adventurous of young women today to imagine the spirit of freedom that drew her to India in 1938, sailing from Venice to Bombay with two friends. It was the freedom struggle in India that had caught young Alys's imagination and it was the idea of freedom that was behind many of her own life-long pursuits and commitments. Her sister was already married to M. D. Taseer and settled in Lahore.
Readers will be fascinated by Alys Faiz's account of her arrival in Pakistan, her marriage to Faiz Ahmed Faiz (solemnised by the Kashmiri leader Shaikh Abdullah in Srinagar) and her struggle to integrate with a family culturally alien for a young angrez woman. Yet, with good sense and perseverance, she continued to make efforts to learn the language, accept the customs and be as supportive of the extended family as Faiz felt it his duty to be.
Over My Shoulder begins with memories of a rather conventional childhood in England, amidst Victorian furniture and a loving grandmother. Towards the end of the book, she includes details of her mother's life. However, the narrative is not in any chronological order. It drifts back and forth quite easily — from Lahore to London and to Beirut and back — much like a good conversation with friends, in which disruptions in sequence do not matter.
In Alys Faiz's collection of writings, one can discern an omnipresent political or social backdrop against which she sets her narrative, whether it is about the Palestinians, Faiz's various trials and tribulations under military regimes or simply the relationship between employers and domestic help in households. In her life, as in her writings, the political and the personal overlapped and intermingled seamlessly. It was her political awakening that brought her to this part of the world and her deep involvement in causes kept Alys closely committed to democracy and human rights. Her sensitivity to the human and political condition of those denied their rights come across most strongly in her writings from Beirut. Living in exile with Faiz, who had become editor of the Palestinian magazine, Lotus, Alys Faiz was an eyewitness to the daily demonstration of Israeli brutality towards the Palestinians seeking refuge in Lebanon.
In the foreword to Over My Shoulder, the late journalist and Alys Faiz's friend and colleague, Aziz Siddiqui, succinctly describes her writing:
"It is in the nature of sensitive minds to suffer more than they ever rest in harmony with their surroundings. But Alys also had to live through some extraordinary times. These have ranged from a life with a hounded husband held for various spells in distant captivity to days in a flat in Beirut that became a prime target of Israeli bombing. Others would tend to be expansive about such traumatic experiences. Alys takes them in her stride. She writes of them matter-of-factly. The loneliness and the pain are not flaunted; they are fought back, and they come across as more devastatingly for that. She is true not only to her English upbringing, but also to the literary tradition. Her restraint and avoidance are often more eloquent than other people's elaborations."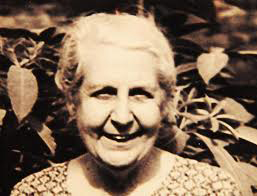 Her English upbringing is clear in her fierce sense of independence, even as she adjusted to the expectations of a new and different family and country. With Faiz frequently in prison, she went to work cycling to the office of The Pakistan Times, where she edited various sections of the newspaper under conditions which were not all conducive to a woman. The family's monetary difficulties get a fair deal of mention in her writings; yet she managed not only to contribute to the support of her two daughters but help out the extended family when needed. Adversity brought her close friends as well — and included in this circle are Begum Majeed Malik and Major Ishaq to whom the book is dedicated.
Alys Faiz appears to love Lahore and Beirut with equal passion. She adored the natural beauty of Lahore with trees all along the canal and discovered the city much before the Sharifs with their ideas of development. She recalls a Lahore that was little more than a large village with areas where even tongas refused to go at night (the Faizs lived in one such area). Naturally, the city with its wayward development, where concrete and the chaos of traffic replaced the calm greenery, distressed Alys immensely. One can sense a feeling of loss, though perhaps her sense of loss at leaving Beirut for the last time is greater.
Beirut was the Faizs' home away from home. Although their little apartment, overlooking the Mediterranean, was hit by an Israeli bomb, the love of their Palestinian friends, particularly the poet Moeen Bsieo, sustained and strengthened them. It must be remembered that Hamas was yet to enter the conflict and the Palestinian Liberation Organisation and its leader, Yasser Arafat, enjoyed undivided and unquestioned support. She describes Arafat as: "This man is short, even stocky, clad in his battledress and headscarf or fur cap as the weather dictates; he is at one with his people. Unobtrusive, simple, humble, self-effacing — where does his strength lie? Afterwards, one remembers the smile, the directness of his look, the undivided attention he gives to the words of those who address him — his typical Arab gestures and words."
Over My Shoulder has a small selection of Alys Faiz's poems as well, covering subjects as varied as her childhood and Beirut. This is an important book and should have been edited and proofread more professionally. Also, an index at the end of the book would have helped.