Movie Review: Hindi Medium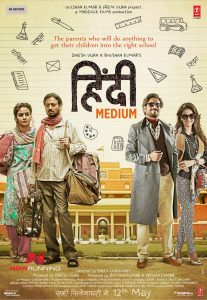 The premise of Saket Chaudhary's Hindi Medium — that the petit bourgeoisie will go to ridiculous lengths and stop at nothing to secure better futures for themselves and their children — merits a tight comedy sketch; five minutes in duration, perhaps a little more. The makers of Hindi Medium, lamentably, drag it across a tedious 150 minutes, adding romance, pathos, morality, intrigue, social commentary, ethics, and a plethora of other themes to a film that could have been kept afloat just with intelligence, wit and humour. This is incredibly unfair to the cast of Hindi Medium which is at the top of its game in the film. Theirs are better performances than Bollywood has seen in years, and are totally wasted in the loud, awkward and uneven Hindi Medium.
Raj Batra (Irrfan Khan) owns and operates a successful apparel store in Delhi. His wife Mita (Saba Qamar) is an over-protective mother, who is determined to secure admission for her daughter, Pia Batra (Dishita Sehgal), in one of Delhi's top schools. The discontented but happily married couple lives in Delhi's Chandni Chowk but move to the posh Vasant Vihar in order to increase Pia's chances of entering an elite school. This, the couple soon find out, is not enough to gain acceptance for their daughter in a leading school. Determined to succeed, they enlist the services of a counsellor (Tillotama Shome) who takes on the challenging task of grooming both the couple and their child so that they can secure a place for Pia in a school of their choice. The incredibly earnest efforts of the counsellor and her very compliant students fail, and soon the couple is left with no choice but to apply under the Right to Education school quota for underprivileged children. This requires a move to the shanty town, Bharat Nagar, where they befriend a couple, Shyam (Deepak Dobriyal) and Tulsi Prakash (Swati Das), who have no money but hearts of gold. They soon discover that unlike Vasant Vihar, where every single person is shallow, fake and deceitful, everyone in Bharat Nagar is genuine, sincere and caring. Pia soon gains admission to the prestigious Delhi Grammar School run by the formidable Ms. Singhania (Amrita Singh), but the prize brings no happiness to Mita and Raj who learn some vaguely-defined moral lessons while living in the slums. A troubled Raj eventually makes a long, uninterrupted speech, which is as clichéd as it is inane, at the annual function of the school, and withdraws Pia from the institution, to find redemption and happiness for himself and his family in the most unlikely way.
Hindi Medium has several problems, but the biggest one is its desire to be more than it is, or needs to be. The film wants to be a poignant social commentary, a romantic love story, an insightful tale of a hopelessly rigged social system, an indictment of the privileged, a lesson on conspicuous consumption, an examination of the Indian education system, a story about the benefits of philanthropy, a hilarious comedy, and a lot else. Unfortunately, it falls flat on its face everywhere and is a dismal failure in all of the many avenues it half-heartedly explores.
The most spectacular failure of Hindi Medium is in the area of comedy. As a comedy, the film is bland and insipid. Written by Zeenat Lakhani and Saket Chaudhary, with dialogues by Amitosh Nagpal, Hindi Medium does not have a single funny joke, hilarious situation or even an amusing moment. This is a film that uses its garish background score to give audiences a cue to laugh. Raj, dressing up in a shimmery wedding lehnga with two dupattas and a skimpy blouse, a computer-generated rat interrupting a married couple's lovemaking, and several other listless attempts at humour, elicit pity and no laughs in Hindi Medium.
The film's screenplay lacks insight and nuance. The characters of Hindi Medium are unrealistic and unconvincing. Raj Batra has a lot of money, but he does not seem to know that dancing like an idiot at his first party in his new Vasant Vihar home is unlikely to impress his new neighbours and friends. Meantime, Shyam has a huge ethical issue stealing money from an ATM machine but, minutes later, has no qualms about defrauding a car driver out of 20,700 rupees. The film, in fact, celebrates his grift which facilitates its contrived narrative.
Irrfan Khan is wonderful as a man who does not fully understand his wife's aspirations, but loves her enough to do whatever it takes to make her happy and realise her goals. Saba Qamar is luminous as an ambitious young woman who wants to secure a dream life for her daughter. Tillotama Shome plays the role of a pretentious but competent counsellor with remarkable finesse, keeping her portrayal on the right side of caricature. Amrita Singh dazzles as the imperious and sanctimonious principal of Delhi's top school. Deepak Dobriyal and Swati Das use remarkable histrionic skills to bring poorly written characters to life.
The fine actors of Hindi Medium deserved a better film, as did the viewers who wasted two-and-a-half hours of their time watching it.                                                               —
Next