Movie Review: Chalay Thay Saath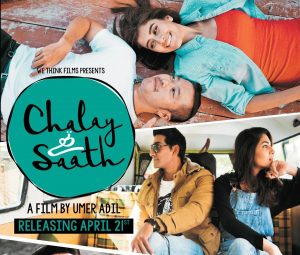 Walk before you run; take small steps before you step things up, and break out into full dance when you're ready. This is how Pakistan's fledgling film industry is evolving and it is both unfair and unreasonable to expect it to break dance when it's barely taken its first few steps.
Baby steps is what Chalay Thay Saath takes; this incredibly sweet and endearing film shoulders the mantle of portraying Pakistan in a panoramic view and that view is beautiful. It's a film that you can watch again, partly because of its soft and youthful vibe and partly because of its characters. This is the story of Resham (Syra Shahroze), who is on a trip to her hometown in Hunza, where her father lives and breeds silkworms in memory of his wife.
Resham is accompanied by her friend, Tanya (Mansha Pasha), and her husband, Zain (Osama Tahir), and the inexplicable loner Faraz, portrayed by Faris Khalid. They also take on board a Chinese tourist, Adam (Kent Leung), who has crossed the border on a journey of self-discovery. Adam is visiting the resting place of his father, who lost his heart and life to the mighty mountains. By this time in the film, you too are likely to have lost your heart to Gilgit.
It's an extremely basic story, with a fairy-tale like naiveté. For Resham and Adam to fall in love within a matter of hours is unbelievable, but then it is a story that proposes the unbelievable. The forever squabbling Tanya and Zain eventually reconcile in an equally unconvincing manner, as do Faraz and a resident carpenter (the beautiful Zhalay Sarhadi), who fall in love after the initial terse exchanges. It is all very simple and this is where the screenplay falters. There is not enough content to carry the grandness of the film's visual premise.
However, one tends to forgive Chalay Thay Saath's story-telling and character-building flaws for several reasons. First, the performances are all very mature. Syra Shahroze holds her own as the sweet and emotional Resham; Leung is equally effective, despite the fact that Siri speaks most of his dialogues. Mansha Pasha and Faris Khalid serve their characters well. However, it is Osama Tahir who emerges as the breakthrough artist in this film. He will prove to be a serious contender for more films in the future.
Also, veterans Shamim Hilaly and Behroze Sabzwari both do more than justice to their roles. Second, the soundtrack is stellar. The film's songs weave themselves through the narrative, as gently as wisps of silken ribbons. They envelop the characters and hold the story together. Kudos to Abbas Ali Khan for bringing together the unconventional ensemble of Mooroo, Sikander Ka Mandar, Bell and East Side Story, among others. Behroze Sabzwari adds a unique element to the OST, with his fun rendition of the campfire-side performance, 'Jinn.'
Third, and bringing the film full circle, is the cinematography that truly is spectacular and credit goes to Umer Adil and his wife Beenish for bringing Gilgit and Hunza to the screen so sincerely. In fact the locales have been portrayed as the main characters — characters that you hopelessly fall in love with. The fact that you want to jump into every frame is perhaps Chalay Thay Saath's biggest success. And as the name suggests, it does urge you to walk into it hand in hand, in love.
Aamna Haider Isani is a leading fashion writer and an editor at Instep, the fashion and entertainment section of The News.
Next