Movie Review: City of Tiny Lights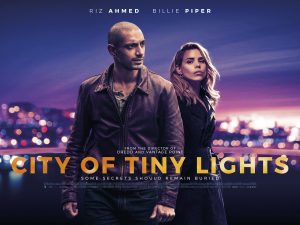 "I deal in the lies people tell me — and the truths they don't. I deal in secrets," says the voiceover of Riz Ahmed playing the part of Tommy Akhtar — a brooding, British-Pakistani private detective, as he strides through the dark back streets of multi-ethnic London in the BBC Film, City of Tiny Lights.
British actor of Pakistani extraction, Riz or Rizwan Ahmed, superbly delivers — and smoulders — as the tough but sensitive anti-hero in this gritty British film noir that has a contemporary feel. Despite the clichéd beginning of a glamorous damsel in distress arriving at his office to retain his services, Melody Chase (Cush Jumbo), a high-class escort, doesn't just agree to Akhtar's £300 plus expenses fee, but mocks that she earns that much by the hour. A small-time private eye, Akhtar consents to investigate the whereabouts of Chase's missing Russian friend and flatmate, Natasha — another lady of the night.
Retracing Natasha's last steps leads Akhtar to a hotel room at the Paddington Basin Holiday Inn. What seems to be a straightforward missing person's case evolves into something darker when he finds the missing woman's last client lying dead on a bloodstained bed. Caught in a situation that would make him appear suspicious, Akhtar leaves after pocketing the dead man's cell phone, and then makes an anonymous call to the police about the murder.
From then on the investigation branches out into several sub-plots. To decrypt the victim's mobile phone, Akhtar enlists the help of Avid, a Moroccan Muslim teenage delinquent whom he tries to mentor. Decryption reveals the identity of the murder victim — a high profile Pakistani businessman named Usman Rana — who is coincidentally the business partner of Akhtar's childhood friend, "Lovely" Hafiz Ansari, a property mogul.
Already conflicted by memories of his first love, Shelley (Billie Piper) who has sashayed back into his life, Akhtar is haunted by flashbacks linked to her and Ansari of episodes from their teenage years that ended in a harrowing tragedy. The plot thickens even further with links to Islamic fundamentalists, drug dealing, community tensions, property scams, murder and a mysterious American deep-throat warning Akhtar to back off, especially after Natasha turns up dead.
An evenly paced movie with the right twists and turns, director Pete Travis's City of Tiny Lights is also a highly stylised film that achieves its aim of attaining the noir effect. An adaptation from Patrick Neate's 2005 novel by the same name, Neate has written the screenplay for the film as well.
The critics' reviews of City of Tiny Lights meanwhile, have been mystifying, to say the least, mainly because of their undue focus on Akhtar's drinking and chain-smoking character. Akhtar's alcohol consumption is not any more than that of non-Muslim characters in other movies.
Cited as one of the most interesting actors to emerge in recent years, Riz Ahmed has appeared in The Road to Guantanamo, The Reluctant Fundamentalist, Jason Bourne and Star Wars: Rogue One. But he has received the most nominations and awards for his roles in the Nightcrawler, III Manors, Four Lions and Shifty since his acting career began in earnest in 2006.
City of Tiny Lights is another feather in Riz Ahmed's cap as the street-wise sympathetic sleuth, Tommy Akhtar, who still loves and cares for his cricket-obsessed, cancer-suffering father (Roshan Seth), in multi-ethnic, dreary West London. City of Tiny Lights was released in UK on 7 April 2017, after being shown late last year at the Toronto International Film Festival and BFI London Film Festival and earlier this year at the Belgrade Film Festival.
The writer is working with the Newsline as Assistant Editor, she is a documentary filmmaker and activist.
Next