Water: Nature's Miracle Cure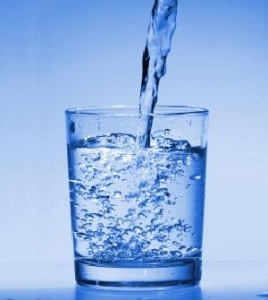 You may not be aware of this, but we are faced with a pandemic that's already afflicting an estimated 33% of active and healthy members of the global population. While it's rarely going to kill anyone, it seriously compromises physical and mental performance. In fact, you could already be showing symptoms without even knowing it. The plague? Dehydration.
Health experts often estimate that the amount of fit, physically active men and women who are in an under-hydrated state is close to one-third of the population. With so many sports drinks, sodas, juices and fancy beverages on the market, you'd figure we would have tanks brimming with liquids. But it's similar to the obesity problem, in that, despite all the available nutritional information and healthy eating alternatives, people still ignore them.
Water is a vital macro nutrient (alongside carbohydrates, fats and proteins) that contributes to several key body processes:  it helps carry fuel and oxygen to cells, it flushes waste products from the body, it helps keep the skin moist, it regulates body temperature and blood pressure and it is key in cushioning joints. Often, when an underperforming athlete comes to me for help, a series of questions and tests singles out dehydration as the main culprit holding the athlete back. Dehydration is a common condition that hinders performance on the track, weight room and daily life.
Can you imagine what we could become by making this one small change to our lifestyles? We'd be closer than ever to our full potential and maybe, just maybe, hit the brakes on aging — or at least take the foot of the accelerator. Simply drinking the recommended amount of healthy fluid every day can help do that.
It's time to leave behind vitamins and supplements prescribed by pharmaceutical worshipping doctors and swallow more water. Water is the miracle cure we all need the most.
The time to make this one small change is now, this very moment. If you are diligent about filling up on water regularly, I can guarantee more energy, less fatigue, less joint pain, faster muscle recovery, increased alertness and an overall higher quality of life.
You may be wondering about all the extra time spent in the bathroom as a result of downing at least 8-10 glasses of water a day. (And please note, there is no magic number for all people in all climates; body mass and the length and intensity of exercise routines are just two factors that affect how much water you should drink every day). But allow me to remind you of something: that extra time you spend attending to nature's call is time spent flushing and cleansing your body. So enjoy the break as often as you can.
Here's to your health!
Next