Editor's Note: October 2011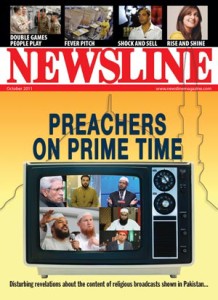 death penalty on Qadri.
What's more, the Sunni Tehreek has offered 200 million rupees to Taseer's heirs as diyat. Alongside, extremist religious groups are holding violent demonstrations across the length and breadth of the country and, if rumours are to be believed, are linking the release of Salmaan Taseer's son Shahbaz, who was kidnapped on August 26, to Qadri's release.
The audacity of it all!
But where does the government, more specifically the Punjab government, figure in all of this?
Its own law minister has been hobnobbing with the likes of Malik Mohammad Ishaq, a founding member of the banned Lashkar-e-Jhangvi (LeJ), allegedly with a hundred or so murders to his "credit." Ishaq was accorded a hero's welcome when he was released on bail recently, reviving memories of the time when Qadri was hailed as a hero, shockingly by some lawyers, for assassinating Taseer.
Should one then be surprised when the same LeJ brazenly claims responsibility for pulling the trigger on 36 Hazara Shias who were headed from Quetta to Iran on a pilgrimage. And yet this organisation that terms the Shias "infidels" and hence wajib-ul-qatl (deserving death) have been allowed to go about the business of collecting donations in the Punjab — to produce some more assassins, one presumes.
The PPP government is so totally obsessed with the army's obsession of seeing a Pakistan-friendly government in Afghanistan — and securing its own throne in the process — that it is not paying any heed to what is happening in its own backyard — bloodshed and more bloodshed — and what may happen as the Afghan endgame draws to a close. The Americans will hopefully leave, but the Arabs, Chechens, Uzbeks, Somalians, and even the Chinese from Uighur are here to stay — all armed to the teeth, under the Al-Qaeda banner.
The All-Parties Conference held in Islamabad to discuss the situation arising out of the American accusations against the ISI was high on patriotic sentiment, but mum on the grim realities of Pakistan: 30,000 innocent civilians and 3,000 security personnel dead, and still counting; hundreds of schools, offices, shops, shrines and mosques across the country blown up; and the economy in tatters.
A Pakistan-friendly government in Afghanistan? Yes, but how about a people-friendly government in Pakistan first that can provide a sense of security to 180 million people, many of whom have lost hope in Pakistan and want to pack bag and baggage and move to safe and tranquil pastures…
Look for the October 2011 issue of Newsline on newsstands across Pakistan.
Rehana Hakim is one of the core team of journalists that helped start Newsline. She has been the editor-in-chief since 1996.
Next