Shock and Sell: Shoaib Akhtar and his Autobiography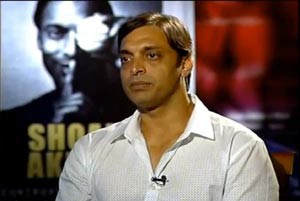 As an international fast bowler, Shoaib Akhtar believed in shock-and-awe tactics. Using his lightning pace, he bowled lethal bouncers and toe-crushing Yorkers and went on to become the scourge of batsmen all over the world. Even in retirement, the man who was once the fastest bowler in world cricket hasn't changed his game plan.
Almost six months after quitting international cricket, controversy's first child has chucked again by delivering Controversially Yours, his ghost-written autobiography that takes a dig at almost everybody who's anybody in the world of cricket.
Shoaib, 36, has accused his former captain Wasim Akram of trying to ruin his career. He has labelled his former teammate Shoaib Malik as a stooge of a former Pakistan cricket chief. He has confessed to ball-tampering and has claimed that everybody in international cricket does it.
That's not all. He has also accused former Indian Premier League (IPL) chairman Lalit Modi of cheating and has levelled similar charges against Bollywood icon Shahrukh Khan in his book.
But from a cricketing perspective, his swipe at legendary Indian batsmen Sachin Tendulkar and Rahul Dravid has really ruffled feathers, especially in India where the duo is revered by millions of die-hard fans.
In Controversially Yours, which was launched in India in September, Shoaib has claimed that Tendulkar and Dravid rarely won matches for their country as they mostly played for their personal records. "I can't recall a series from Tendulkar's earlier playing days when he helped win matches. He might have had more runs and records, but he lacked the ability to finish a game," he writes in the book. "We managed to psychologically browbeat him," he adds. "We bounced the ball at him and were able to unnerve him."
It was hardly surprising that Shoaib's remarks stirred anger in cricket-mad India. Just days after the New Delhi launch of his book, organisers called off launches in Mumbai (Tendulkar's home town) and later in Bangalore.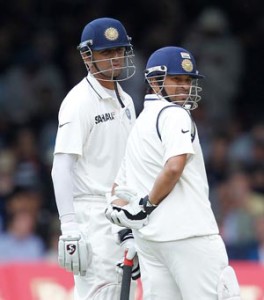 Even though his comments have created quite an uproar, the Rawalpindi Express has made it clear that he won't be saying sorry to anyone. Just days after his book launches were cancelled, Shoaib told an Indian television that "Tendulkar may be bhagwan for the Indian public, but not for me."
Another controversial subject that is prominently featured in the book is ball-tampering. Shoaib has tried to make it look like an act that is aimed at bringing some parity between the bat and ball. "The game has become very unequal and only favours the batsman," he writes.
"If you bowl a no-ball, the batsman gets a free-hit; bouncers have been curtailed," he adds. "They have restricted us so mercilessly that I find it very difficult to feel entirely guilty about ball tampering."
Shoaib has revealed that he used to use his boot nails and the "zip of my back pocket" to tamper with the cricket ball. "There are so many ways to prepare the ball, it's not just a matter of scratching it," he says. "I have used my boot nails and the zip of my back pocket. Many bowlers use vaseline or gum on the ball. The only way to stop this is for the International Cricket Council (ICC) to ensure that at least some pitches are prepared in favour of bowlers," suggests Shoaib, who became the second player in the history of cricket to be banned for tampering with the ball during a series against Sri Lanka in 2003. "Perhaps some manipulation of the ball, like scratching it with your nails, could be legally allowed."
Shoaib has also claimed that many of Pakistan's cricketers were themselves responsible for the ills dogging the game in the country. "Barring a few like Rashid Latif and Moin Khan, the rest indulged in activities that certainly did not help the game, yet most of them were let off with fines," he writes.
Controversially Yours is likely to put Shoaib on a confrontational path with Pakistan's cricket authorities once again. A senior lawyer serving as PCB's legal advisor has already declared that the Board will use the player's confessions in court to justify the disciplinary actions it took against Shoaib in the past.
Taffazul Rizvi, PCB's legal advisor, must be a happy man as he is the one who is representing the Board in its legal tussle with Shoaib, whose appeal against a record Rs7 million fine imposed three years ago is still pending in the Lahore High Court. Controversially Yours is set to make his job easy. "In a writ case it is important for someone to have clean conduct, and in his autobiography, Akhtar has confessed to breach of discipline and has not come out clean, so we will use these confessions in the court case," Rizvi was quoted as saying in an interview.
In a nutshell, Shoaib has opened up new fronts in his autobiography. But many have refused to take Shoaib's allegations seriously. Shahrukh Khan, whom Shoaib befriended when he represented SRK's Kolkata Knight Riders at the inaugural IPL, has laughed off the player's allegations against him. Shoaib Malik followed suit by advising cricket fans and officials not to take the book seriously. "Even his (Shoaib's) own family members don't take him seriously, so why are you guys taking his remarks seriously," Malik said in a recent TV programme.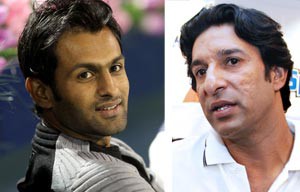 Malik has a point. For the most part of his chequered international career, Shoaib proved to be the bad boy of international cricket. His career is full of controversies, scandals, fines and bans for disciplinary breaches that ranged from doping to dressing room fistfights. In October 2006, Shoaib along with teammate Mohammed Asif tested positive for a performance-enhancing steroid, nandrolone. The two were banned but many twists and turns later, they were cleared to play international cricket
In the lead-up to the inaugural T20 World Cup in 2007 in South Africa, Shoaib was recalled for hitting Asif with a bat in a dressing room brawl. Subsequently, he was banned for five years after he criticised the PCB for axing him from its central contracts in 2008. His suspension was later reduced to 18 months, but a fine of Rs7 million was imposed.
For a while, it appeared as if Shoaib had finally learnt from his mistakes. At a packed press conference held during the 2011 World Cup in Colombo, a sombre-looking Shoaib announced his retirement. He made an emotional speech and came across as a man who was ready to change his way of life. But some people never change and the Rawalpindi Express is certainly one of them. He loves the limelight and will continue to rake up controversies to be in it.
The writer is ranked among the battle-hardened journalists covering sports. As sports editor for The News, he covers sporting action extensively in Pakistan and abroad.
Next