Classic Movie Review: Charade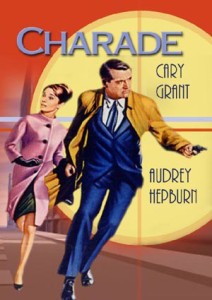 Stanley Donen's stylishly elegant, charming comedy-romance-thriller Charade teams Cary Grant and Audrey Hepburn, for the first and only time in their careers — a shame since both of them had the most wonderful chemistry. For some, the movie, intelligently scripted by Peter Stone, is Donen's homage to Alfred Hitchcock. But it also represents Hollywood at its most entertaining – and it is the last great movie that Cary Grant made before retiring three years later.
Regina Lampert aka Reggie (Audrey Hepburn) returns to Paris after a ski trip to the Alps, to find her house ransacked and her husband Charles murdered. His funeral is attended by three curious oddballs — played by James Coburn, George Kennedy and Ned Glass — each of whom makes sure that the corpse is indeed dead. A mysterious stranger, originally going by the name Peter Joshua (Cary Grant), who she had met earlier on her skiing holiday, offers his assistance to Reggie, as does CIA man Hamilton Bartholomew (Walter Matthau), who informs her that her husband was part of a gang that, during WW2, stole and stashed a quarter of a million dollars. Naturally, everyone mistakenly assumes that Reggie knows the whereabouts of the money.
What ensues is a riotous take on the spy thriller. Peter Joshua develops a romantic attraction to Regina, but he is a figure whose job and intentions shift on the hour. He may also have an unknown stake in the $250,000. The three thugs from the funeral may be her 'dead' husband's accomplices; they too demand that Reggie give them the missing money since she must know where it is. The five figures run rings around each other and lie endlessly to determine where Charles has hid the stash, while they attempt to appease and dodge CIA big-shot Hamilton.
Shot by Charles Lan, one of Hollywood's greatest cinematographers, Charade is wonderful entertainment, a glittering and witty feature with a '60s sensibility. Decked out in a Givenchy wardrobe, Hepburn is a treat, and the film is given a deeper shade of humour by Henry Mancini's playful score. The radiant Hepburn's romance with the suave Grant is delightfully handled; the Oscar-nominated theme song by Henry Mancini and Johnny Mercer is breathtaking; the location photography is exquisite and the rooftop fight scene between Grant and Kennedy is truly nail-biting. The director's outstanding style, smart use of French locations, and sure sense of tone can be indicted for the fact that Charade is sometimes mistaken as part of Hitchcock's body of work.
This movie review originally appeared in the October 2011 issue of Newsline under the headline "A Parisian Treat."
Next