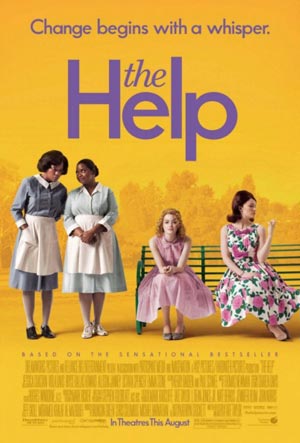 Based on Kathryn Stockett's bestselling novel of the same name, The Help is a showcase for its actors while telling the story of a young white girl who returns home from college, determined to be a writer, and finds a story to tell in the lives of the African American maids working in the 1960s for privileged southern families. Writer and director Tate Taylor foregoes some emotional impact by never becoming too explicit with the material, and instead, choosing to make a safer film. To his credit, though, the measured balance of drama, comedy and compassion allows viewers to become part of this world, connect with the characters and share in their desire to have their story told.
At the heart of The Help you find the movie's two leads: Eugenia 'Skeeter' Phelan (Emma Stone), the impassioned recently-returned-home college graduate, and Aibileen Clark (Viola Davis), a black maid working for Elizabeth Leefolt (Ahna O'Reilly). During a weekly bridge club get-together, Skeeter becomes aware of the treatment meted out to the maid, primarily by Mississippi's most evil housewife, Hilly Holbrook (Bryce Dallas Howard). It is here she sees an opportunity to intervene, but to convince Aibileen to spill the beans on her employer is a risky venture for both women and could land them in prison.
Viola Davis' heart-wrenching performance as Aibileen Clark is bound to be praised by many. And as Skeeter, the ever-likeable Stone is someone the audience can easily connect with. She is able to tap into the emotional core of her characters and give them life. Not to be overlooked is Bryce Dallas Howard as Hilly, who embodies the epitome of evil as a racist housewife, ignorant of the Civil Rights Movement going on in other parts of the United States. However, the film's standout performances come from Octavia Spencer as Aibileen's closest friend Minny Jackson and Jessica Chastain as Celia Foote, the effervescent out-of-towner who is looked down upon by the uptight ladies of Jacksonville after having married one of their Southern men.
The Help isn't some kind of hard-hitting social message feature film. It proves to be at its weakest in its conclusion, primarily because it never tried to be much more than a character piece. It's a safe movie for actors to strut their stuff (which they certainly do). The performances from the large female ensemble are exceptional. The Help may be safe, with little risk, but it's still quality filmmaking.
This movie review originally appeared in the October 2011 issue of Newsline under the headline "A Delicate Balance."
Next