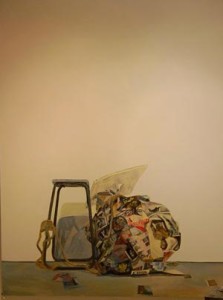 'Intense Quest,' a show featuring the work of three artists from Lahore's National College of Arts — Wajid Ali, Saadia Hussain, and Naqsh Raj — at the VM Art Gallery last month, depicts their journey to discover their oeuvre and define it within the perimeters of theoretical and contemporary art.
Naqsh Raj's experimentation with mixed media portrays his struggle to arrive at a destination — his canvases display a raw, modern sensibility. His search for an identity leads him to explore ideas in other people's artwork, but he arrives at the realisation that copying the masters is a form of servitude that could make his own canvases uninspiring. Raj's large canvases represent his loud rebellion against the norm and his confidence in his own art. An example is a painting depicting a plastic bag filled with scraps of other people's artwork and an abandoned canvas, ready to be disposed of. Regardless of the artist's rejection of theory, he finds himself bound to it by his profession, which he represents in another canvas portraying a rope tied around a plastic bag attached to the artist's seat.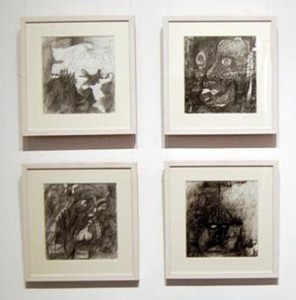 Saadia Hussain's canvases show dark, confusing, enveloping lashes of distressed graphite. This work introduces nameless forms and veiled anguish in weaves of disorderly strokes.
Her work hides more than it intends to reveal, or attempts to reveal nothing when it actually does. Hussain claims her work is about the feelings of brotherhood felt by army personnel, and the unmatched patriotism that goes with it. Her video titled 'Green' is reminiscent of Warhol paintings, and claims to represent Pakistan because of its choice of colours — yellow and blue. 'A Lady with a Box,' probably Hussain's best work at this exhibition, is a photograph of a woman cradling a box. The painted halo on the lady's head likens her to the classic image of Madonna with child. The lady gazes serenely at her beaten antiqued box, suggesting that its contents are highly treasured.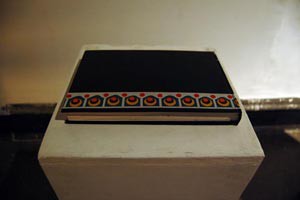 Wajid Ali's works, titled 'In the Line of Journey,' are an innovative selection of travelogues that transmit the feeling of movement and progression. On display are two large sketch books filled with coloured scribbles, drawings, poetry and quotes from buses and walls expressing the artist's thoughts during a journey. The third is an album of tracing paper continually decorated with stickers forming kaleidoscopic shapes and other patterns. 'Travelogue I' is a blank sketch book that works as a screen projecting the view from a moving vehicle. 'Travelogue II' is a beauty; Ali sketches a progressing line which pulses like the results of an electro cardiogram (ECG). The line grows to form horizons, different terrain, skylines and landscapes depicted in the artist's unique style.
This show brings together three ambitious portfolios that hit the mark in some areas, but remain underdeveloped in others. The artists still have a long journey ahead if they wish to realise their potential.
Next