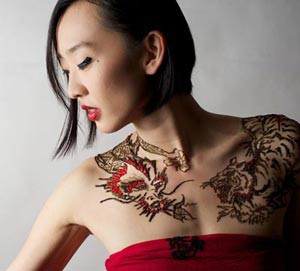 Chakras, peacocks and paisleys embellished with silver and gold glitter — at least one Pakistani girl residing in Hong Kong has managed to take the traditional art form of mehndi to another level altogether.
Young, peppy Sara Mushtaq has been applying henna since she was seven years old. She watched her mother apply it at weddings and on festive occasions like Eid, and picked up the technique of creating intricate designs that henna art requires, and has been practicing and refining her skills ever since. As a university student in Loughborough (Britain), Sara would apply henna tattoos on students attending music concerts and cultural festivals and got a tremendous response. "People went crazy, they loved it. They even encouraged me to make a career out of it, but I never really gave it any thought," she recalls. "It's more of a hobby, but I'm quite passionate about it. I can lose myself in it."
Sara's first sneak peek into what her life could potentially turn out to be was at an arts and crafts fair in Hong Kong, where local art was being promoted. "I saw the flyer for the fair just two days prior to it, I called up the organisers to see if a stall was available because participants generally book stalls six months in advance. Luckily, there was a cancellation at the last minute and I was asked to step in," Sara recalls with glee. She went to the fair along with her family, two cones of henna, no patterns and completely unprepared. But after the first hour of the fair, potential clients started to roll in and she got so busy, doing back-to-back applications for curious fair-goers that she did not even have time for a break. The carnival was mostly for the locals and the expatriate community in Hong Kong, who were very intrigued by this semi-permanent form of body art. "They loved the tattoo aspect of it. People kept asking me if I could do this for them at parties and whether I could be booked for events." After the overwhelming response at the fair, Sara went home and designed a logo for herself — Sara's Henna, which has become hugely popular in Hong Kong — and created a website and Facebook page for her new endeavour.
She began to take her vocation more seriously since and has now even started giving lessons in henna art at her friend's studio, RAW (Random Art Workshop). Around the same time, she decided to do a photo shoot of her work and roped in friends to model her brand new line of original patterns created with henna. With the shoot, Sara brought out the fashion element of henna. "One day my friend's husband half-jokingly called me a 'henna warrior.' That name stuck in my mind and within 10 minutes we came up with a concept for a photo shoot where women, painted on with henna, were represented as warriors due to their individualistic nature," Sara excitedly explains.
The concept of 'Henna Warriors' was a portrayal of culture, but with a different twist to it — the personalities of the women shone through the henna designs. Their bodies were like Sara's canvases. Since she knew her friends well enough, so coming up with designs for them was relatively easy. "These women are not portrayed as provocative pieces of art — they weren't sensual in any way. It was mostly about portraying their personalities," she clarifies. The 'Henna Warriors' project took about six months and a local Hong Kong magazine Lifestyle gave out a sneak preview of a photograph from the shoot every month. The photo exhibition held subsequently had a huge turnout and was so popular that it had to be extended from two weeks to two months.
After the success of 'Henna Warriors,' an endless list of opportunities came Sara's way. She received several offers to do henna art at high-end events for big companies. "I was invited to do corporate events, and I got calls from big companies in Hong Kong as well, because I was catering to a unique market," she says.
Her biggest clients so far have been Dolce and Gabbana (D&G) and The Venetian Hotel in Macau. When Sara first got a call for the D&G show, the name of her client was kept a secret from her. All she knew was that she would be catering to a fashion designer and was immediately interested — as any girl would be. "I was told that the client loved the idea of henna art so I took a look at their designs, really got into the core of their brand and incorporated it in my henna designs for their show. And that's what I do for all my clients," says the young artist. The Venetian wanted to promote a new Indian-themed menu and asked Sara to apply henna on the customers, to give them a feel of Indian culture.
Sara's overwhelming success has not gone to her head — she is still very down-to-earth, bubbly and easy to converse with. Besides her popularity with the locals in Hong Kong, she is a fast rising star in the Indian and Pakistani market. Once word spread about Sara's Henna, her website and Facebook page were visited frequently. Soon after, she received an email asking her to be the henna artist for the wedding of an Indian girl that was taking place in Thailand. The family flew her out, paid for her hotel stay and even arranged to pick her up from the airport — luxury at its finest. Sara has since been flown out to Thailand, Malaysia and China for weddings. Even though she mostly caters to Indian weddings, Sara has done a few Pakistani weddings, a Chinese wedding and applied henna to a western bride getting married to a Muslim man. The dedicated henna artist makes sure she gives special attention to every client. For instance, if her client happens to be a bride, "I first get to know her and custom design a pattern for her. It has to be completely personalised for them, that way they know whatever I'm doing for them is unique. I meet up with them, do a trial run and if they like the feel and look of my design, then it's a go," says Sara.
"As soon as I started doing events, the demand kept increasing and I realised that the novelty wasn't going to wear off any time soon," explains a confident Sara. And it hasn't.
Sara has taken henna art to a level nobody could have dreamed of. Only recently, she introduced the concept of henna art to cupcakes and cakes (with icing obviously), t-shirts, handbags and jewellery boxes. And her clients are loving it.
Raisa Vayani is an Editorial Assistant at Newsline
Next