The Meticulous Contemporary Miniature of Talha Rathore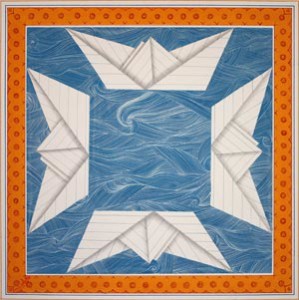 Myriad Minutiae
Talha Rathore's first solo exhibition in Karachi's Chawkandi Art Gallery opened on September 13 and ran till September 20. But the artist, who lives in New York, wasn't present as she didn't think it was safe to come to Karachi — a city where recent ethnic tensions have compromised the security of its citizens. A series of four small gouache-on-wasli works displayed at the exhibition, entitled 'My Heart Too Will Find Its Shore,' with images of paper boats, betrayed a similar fear, explained in the artist's statement as the anxious lingering uncertainty of living suspended between two countries, in her case the US and Pakistan.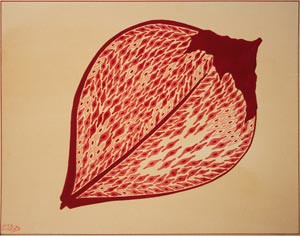 Talha Rathore, a graduate of Lahore's National College of Arts, has exhibited abundantly at group shows nationally and internationally, from the early '90s to date. Belonging to an elite cadre of contemporary Pakistani miniaturists, including Imran Qureshi and Ayesha Khalid, Rathore's distinctive focus is unicellular bacteria, which she illustrates in minute and delicate details, as if it were being observed under a microscope. "My work evolves mainly from organic forms," says Rathore, "in the shape of trees, plants, flowers, seeds, and sometimes bacteria and viruses, which represent life, growth and change." A series of 32 gouache on wasli pieces entitled 'Sowing Seeds' presenting the contemporary miniature aesthetic, form the highlight of the exhibit. In earthy tones of rust, beige and ochre, the works show seeds, pods and microscopic bacteria in singular, dual, triple and quadruple formations. Each piece stands on its own, but as part of a series it contributes to the larger theme of what the artist describes as the importance and beauty of life, also depicted in another three pieces on display entitled 'Celebrating Life.'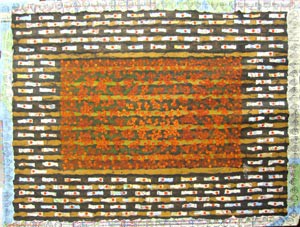 Rathore's oeuvre is best described as fine and detailed: it speaks to the viewer of evolution in life, nature and art. Each work is a metaphor for reality : a microcosm of beliefs, hopes and fears, aptly described in the titles of the artwork. Rathore puts life under the microscope, in its minutest detail, in multi-hued organic formations delineated with scrupulous artistry.
This art review was originally published in the October 2011 issue of Newsline under the headline "Myriad Minutiae."
The writer is a former assistant editor at Newsline
Next