Hanif Launches New Novel and Mesmerises Fans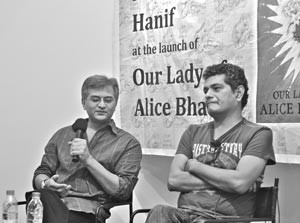 Mohammed Hanif's Our Lady of Alice Bhatti made its Pakistan debut in Karachi, the dysfunctional and violence-afflicted city where the novel is set. Launched by The Last Word at T2F (The Second Floor), on Sunday, September 11, 2011, the evening was abuzz with curiosity about the perilous world of Our Lady of Alice Bhatti, and the process that brought its characters to life. People sat glued to their chairs, bagged places on the floor, and if seatless, stood vigil at the back of the room to hear their favourite author.
Moderating the evening's event, Hassan Zaidi of Kara Film Festival fame, called Mohammed Hanif a true bilingual, someone who didn't necessarily have to think in the language he writes; and as a reader he could effortlessly hear the original dialogue in Urdu or Punjabi. He described him as 'a great summariser' whose choice of focus in his second novel about a minority woman betrayed his intent.
Hanif, in his opening comments, refuted the statement, saying he took strong exception to the word 'minority,' and that as a storyteller did not have to write about a cultural or social phenomenon or describe a social milieu, and that he had no ambition to write about a social sub-class. His was a love story, his protagonist inspired by a nurse in a Pakistani hospital, where he had to spend a month-and-a half when his mother was admitted for cancer. Reading an excerpt from the book, Hanif described the blossoming of the love-affair between his protagonist, Sister Alice Bhatti, and her love-interest, Teddy Butt, whose feelings emerge in the following line, "Love, he concludes, is a runaway charya."
At the end of the reading, Hanif fielded several questions effortlessly, with a touch of self-deprecating humour. "My muse is boredom," he said, "I don't enjoy writing fiction; I'm addicted to it, but not in a nice way." About the choice of his novel's unique name, Hanif said he chose Bhatti, because it's a common Christian last name in the Punjab, and Alice because of his fondness for Alice in Wonderland. Asked whether he was torn between being a writer or a journalist, Hanif said both complemented each other, and the writing process, he said, was like running a marathon: half a mile or so into it you want to stop, but you forge ahead with all the other runners, painfully, hurting, but eventually arriving at the finish line.
The writer is a former assistant editor at Newsline
Next