New Tack: Putting Religion into Advertising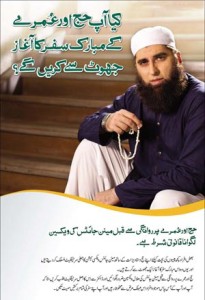 Some gurus of the airwaves have private businesses that they market with the same religiosity that they espouse on TV. The model or mannequin for Junaid Jamshed's prêt line displays a full-sleeved outfit, but he/she is always headless. In the same way, cricketer Shahid Afridi's clothing line for women, Widyaan, shows the models wrapped in silk and chiffon, but their heads and faces are covered in such a manner that only their eyes are visible. Afridi hasn't yet acquired preacher status, unlike his senior Javed Miandad who has taken to praising God in devotional songs for television.
Jamshed is a favourite of ad men: the 'halal' chips campaign and the halal meningitis vaccine being pitched to the Hajis are his two main campaigns. Marketing pundits in collaboration with their multinational clients probably make millions by producing religion-inspired campaigns to market healthcare or shampoo products. A recent shampoo ad campaign for women who wear the hijab also uses a religious pitch to attract a new clientele.
Halal chips… halal vaccines … shampoos for hijabis… welcome to a brand new world of advertising.
Read the cover story from our October 2011 issue about "Preachers on Prime Time" where Newsline analyses a study by anthropologist and development practitioner Sahar Gul that carries some shocking revelations about the content of religious broadcasts shown in Pakistan.
This post was originally published as a sidebar to the cover story in the October 2011 issue of Newsline under the headline "New Tack."
The writer is a former assistant editor at Newsline
Next