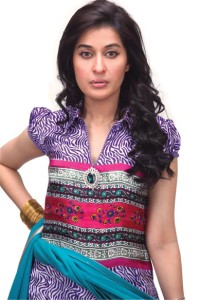 Rise and Shine
I saw Shaista Wahidy a couple of weeks ago, walking down my street with her three children, Shafay, Faiz and Eeman. Slim and petite, she looked young and fresh-faced. As she passed by my gate, I stepped out of my car and paused to say hello. Immediately friendly and forthcoming, we started to chat. She told me she had recently moved into our neighbourhood, and when I suggested a formal interview with Newsline, she agreed.
A recently returned expatriate, I realised I would tune in more often to Geo TV in the morning while abroad, to catch bits and pieces of Shaista's Utho Jaago Pakistan, and marvel at her ability to reach out to women across society with her friendly attitude and positive persona. Usually, there are mixed reactions from Pakistani women here and abroad when one mentions Geo's morning show. Some berate it for its corny content selected only to boost ratings, but many non-resident Pakistanis love it — it's their lifeline to celebrities, fashion and general gup-shup. Some even admit that simply hearing people speak in Urdu on television makes them feel less homesick.
As one of the leading pioneers in the Pakistani morning show business, Shaista has evolved with this popular genre in the entertainment industry and is now ranked as the top morning show host in the country. With women calling in from Sindhi towns to the Punjabi hinterland and Rawalpindi suburbs, she is one of the few hosts who has the knack of giving a patient hearing to a desi housewife, a female fan and a male admirer, with equal grace.
At home in her comfort zone, where we meet for the interview casually over a morning cup of tea, Shaista is relaxed and laid back — no diva attitude, no artificial effervescence. Talking to her is easy; she is not self-conscious and dispels of formality immediately. In a white, collared kameez, tung pyjama and flat chappals, she looks simple in contrast to her daily professional fashion statement: the heavily embroidered outfits designed to augment the show.
One thing's for sure, she has the gift of the gab. What strikes one right away is that she is not someone who minces her words, nor is she diplomatic just for the sake of it. She is incredibly candid about herself and the world around her. "Being bold makes you lonely," she says, "But I have been this way to take action, empower myself and seize opportunities; power has not been given to me, I have taken daring steps to get it."
Shaista began her television career more than six years ago with Indus Television where she auditioned as a news anchor, and then moved to host her own show within weeks. "I got my first lucky break with Indus TV's Mr Ghazanfar Ali, who we call Baba. He is a man who knows how to direct people's energies and give opportunities. Unlike so many others in the industry who prefer to pull you down, he reposed a lot of trust in me. I believe more than 60% of the fledgling actors, directors and anchors in Pakistan's media took their first steps at the Indus network; it's like a television institute."
Her tour of duty as a morning anchor began with ARY — first Bakhabar Savera focusing on socio-political themes and then Good Morning Pakistan, where she repositioned herself as an entertainment host and made her mark competing with Geo's then morning diva, Nadia Khan.
Shaista made, what she defines as 'the move of the millennium,' when the broadcast powerhouse, Geo Entertainment, offered her the morning slot. "I didn't take Nadia Khan's naukri as people accused me of doing. I'm a fan of her spontaneity, even though some of things she said on TV were quite objectionable." Apparently, Nadia had issues with her employers and her popularity graph was on the downturn, which prompted Geo in early 2010 to approach Shaista. By September last year, she was the new face for Geo mornings with the newly created Utho Jaago Pakistan.
But the real Shaista is rather different from the Shaista you see on TV — the TV host is a professional showbiz personality, the one at home is someone down-to-earth, with no delusions of grandeur. She makes no qualms about being a self-made success story, is vocal about things that matter, and has her feet firmly planted on the ground.
"I come from a middle-class home where both parents worked and we didn't have servants 24 hours. We would leave a spotless, locked house in the morning, to return to take care of our chores in the evening." Shaista praises her father for his consistent support of his only daughter and the liberty that he provided her to be vocal and expressive at home. "I was an Urdu debater in college, hence my inclination towards the arts and communication," she says. "My mother is conservative, always concerned about my whereabouts. She would have preferred to keep me on a tight leash. It is she who suggested I study medicine, even though I believe that was not my aptitude."
After her marriage, Shaista says the protective role then transferred to her in-laws. "I married very young, into a family financially better-off than mine, and I wasn't really expected to pursue a career, even though everyone was thrilled that I had studied medicine and would be a respectable doctor." But Shaista rebelled against the life that was chosen for her and, instead, spread her own wings to join the media. After successfully passing her MBBS exams and taking several courses in ultrasound sonography, Shaista was offered the post of lecturer at a government college which, to her family's chagrin, she refused.
In a resilient bid to stay on top of her choices, Shaista commuted daily from Hyderi, Nazimabad, where she lived with her in-laws, to her work at leading television channels, and continues to muster energy and time to juggle work and manage three children among other family duties. "I believe that you have to work it out for yourself, that there are no set rules, and that perseverance can only come from you."
Shaista's story is not new, nor uncommon. The tenacity she has shown in changing her circumstances is incredible and has catapulted her from her life in Karachi's middle class haven in Nazimabad, Karachi, to celebrity status in Pakistan.
But she is not terribly enthusiastic about this high-flying world and says candidly, "I'm not impressed by showbiz; I was invited to the Lux Style Awards last month, but wearing gowns is not my scene, and I wasn't really motivated enough to be there."
Admitting to being radical in her personal relations with family and society, Shaista is very clear about her preferences. "I am not very social, I don't attend events arranged by my extended family members, I rarely ever attend a wedding — it's a waste of my precious time. I would rather spend quality time with my children at home. Often what I do and say gets misconstrued by the extended family of aunts, uncles, cousins. I live outside of that, it's much healthier," she says.
Shaista is especially perplexed with the state of women she comes in contact with, personally and professionally. "Besides the exceptions, I find that, by and large, Pakistani women don't know what they want. Why don't they get out of the protection of their fathers, husbands and brothers and dare to dream and achieve?" she asks. Shaista has no delusions about being politically correct when she says this, and believes that Pakistani women are in a sorry state because of their own limitations and preconceived ideas. "I wish young girls would stop imagining that a rich seth will come and save them and carry them away to a better life. Why don't they become that person to change their lives themselves? All Pakistanis can think of is shadi," she remarks.
But, surprisingly Shaista's morning show, more often than not, depicts the opposite of what she admits to believe about marriage, social interaction and personal image. Her morning slot is dedicated to weeks and weeks of programming pertaining to wedding events, the rasms that go with them, in-law relationships, friendships, personal grooming including plastic surgery, designer clothing, and much more of similar substance.
"When I want to do a show on the dengue virus or the floods, the show gets very poor feedback. To sell a bridal suit we get one lakh SMSes; to raise funds for flood affectees we get about 1,300 SMSes. This shows the double standards of society when people don't come forward to help others," she says. "Also, I have seen some anchors being incredibly two-faced — showing compassion while on TV, but then becoming thick-skinned and disinterested off-screen. I remember the 2005 earthquake."
Shaista admits that she is tired of being artificial, and doesn't want to be around people who drag her down. She rounds off her thoughts quite succinctly: "I am first a good human being, then a good Pakistani and then a good Muslim."
This profile was originally published in the October 2011 issue of Newsline under the headline "Rise and Shine."
The writer is a former assistant editor at Newsline
Next