Dengue Fever in Pakistan: Time to Implement a Prevention Strategy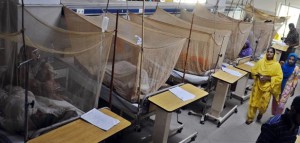 The first case of dengue fever in Pakistan was reported in 1994 in Karachi. Now, nearly two decades later, the disease is rapidly assuming the proportions of an epidemic, specifically in the central province of Punjab and its capital Lahore where, in September, more than 131 people were reported dead and, according to the Punjab Health Department, over 12,000 people have been infected since January this year. However, this season, nearly 500 new dengue cases were reported across the Punjab, with over 300 in Lahore alone. Sindh, too, was hit by the dengue virus. According to the Sindh Provincial Dengue Surveillance Cell, nearly 400 people were infected with the virus in the past few months — with over 300 people in Karachi alone — and the death toll stood at five at the end of September.
Experts attribute the spread of the virus to poor hygiene, the recent monsoon rains, and a choked sewerage system that provides vast and effective breeding grounds for the contagion.
Dengue is a mosquito-borne infection that in recent decades has become a major international public health concern. The incidence of the disease has grown dramatically around the world, so that nearly 2.5 billion people — two fifths of the world's population — are now at risk from this deadly virus. The World Health Organisation (WHO) currently estimates that there may be 50 million dengue infections worldwide every year.
According to the WHO, the dengue virus is transmitted to humans by the bite of an infected female Aedes mosquito. Mosquitoes generally acquire the virus while feeding on the blood of an infected person. After an incubation period of eight to 10 days, an infected mosquito is capable of transmitting the virus for the rest of its life (i.e. two weeks). Symptoms of the disease include fever, a severe headache, muscular and joint pains and a rash. The infection causes a severe flu-like illness, and sometimes a potentially lethal complication called dengue haemorrhagic fever. (Read about Pakistan's dengue scare in 2006 here).
Dr Saleem Rana, Professor of Medical Epidemiology and Vector Control at the Health Services Academy in Islamabad, reveals that there are four distinct, but closely related viruses, that cause dengue. Recovery from infection by one provides lifelong immunity against that virus, but confers only partial and transient protection against subsequent infection from the other three viruses. He believes that there is ample evidence to prove that sequential infection increases the risk of developing dengue haemorrhagic fever.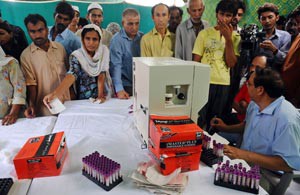 "With a single serotype there is no haemorrhaging. We call it simple dengue fever. If there is a double infection such as DEN 1, DEN 2 or DEN 3, then there is an increased internal tendency to haemorrhage; the bleeding leads to severe complications," informs Dr Rana.
Dr Rana adds that the third stage is the Dengue Shock Syndrome (DSS). He believes this is dangerous as vital organs get damaged. A person bitten with one dengue strain becomes immune to it, but if bitten by another strain, the chances of him contracting a fatal infection increases, he elaborates.
The severity of the infection in an individual is determined by the platelet count, depending on the viral load (per micro litre) in a mosquito that injects the person. "There is no specific treatment, but with good case management and with experienced doctors and nurses, who are aware of the effects and progression of the complicating haemorrhagic fever, lives can be saved — bringing down the mortality rates from more than 20% to less than 2%," Rana adds.
He recommends, "a maximum fluid intake along with paracetamol of 60mg three times a day, the patient's circulating fluid volume, which is the central feature of dengue haemorrhagic fever care." If an adult takes eight glasses of water in 24 hours, he needs to increase it to an additional one-and-a-half litres to combat complications.
Rana identifies the various factors that are responsible for this year's emergency: unprecedented rains and the use of unbranded insecticide sprays, which he terms "technical" reasons; a delay in the prevention campaign against dengue, which was supposed to start from mid-February; and the lack of skilled staff to deal with a contagion of this proportion and intensity. "The impact of the work therefore is not 100%, but has been diluted to 60-80% as the wrong techniques are being used," Rana states. On an even more serious note, Dr Rana warns that with Eid-ul-Azha around the corner, authorities may well face an outbreak of the Crimean-Congo Haemorrhagic Fever (CCHF), known as Congo fever.
Dr Guido Sabatinelli, a WHO representative, emphasises the need to implement the Strategy for Prevention and Control of Dengue (developed and endorsed in 2007) which identifies all necessary actions to prevent and reduce the spread of dengue and dengue haemorrhagic fever. He reiterates that it is essential that measures for the control of malaria and other vector-borne diseases are taken at the provincial level for programme implementation and at the federal level for capacity-building and technical support. "It is important to understand that vector control (anti-mosquito measures) should not be limited only to the spray of insecticides; its impact on the Aedes mosquito population is scarcely effective and often palliative," he warns. "It is necessary, through the involvement of the community, to eliminate all mosquito-breeding places for the Aedes, which is usually water — often peridomestic (in the neighbourhood of houses) or domestic (inside houses)," says Dr Sabatinelli.
That means individuals must be active in cleaning their environments. "The hospital is the curative stage; for prevention of the disease, we need to adopt standard procedures. Until you control the environment, you can't prevent the infection," says Dr Anjum Javed, deputy executive director at the Pakistan Institute of Medical Sciences, Islamabad (PIMS).
Dr Javed believes it is the responsibility of civic agencies to work in coordination with citizens and communities, to ensure that water does not accumulate in open places, rooftops and lawns, since stagnant water is the birthplace of these killer mosquitoes. He also emphasises the importance of circulating awareness via the media, through information leaflets and manuals, because once an epidemic starts to wean off, people tend to forget.
However, Dr Javed maintains that the problem should be seen in its true context: "Around 99% of the dengue cases are silent cases — which means it is just a simple strain of dengue fever. Its treatment is ordinary Panadol or paracetamol. The result of the hype created by the media is often counter-productive. People tend to panic and anyone with even a slight fever reports to a hospital and demands to be tested, even if the affliction is not dengue but simply a respiratory track infection or gastroenteritis. There have been far more deaths from the recent floods than the dengue virus, but the media is failing to provide the comparison," he adds.
Dr Ijaz A. Sheikh, scientific officer at the National Institute of Health (NIH), Islamabad, also believes that the media's projection of this issue has magnified the workload, especially for health staff in hospitals and laboratories. "The Institute's laboratory receives an extraordinary amount of cases from different public and private hospitals in and around Islamabad. Even doctors do not hesitate to avail our facility and want all their patients to be tested for dengue serology," explains Dr Sheikh.
Interestingly, Dr Hamid Ilyas Masood, who has practiced homeopathy for more than 25 years, believes that homeopathic medicine can provide both prevention and cure, and it was used in Brazil and India to combat dengue in recent years. "Unfortunately, our MBBS lobby is very strong and does not allow homeopathic medicine to be used for treatment and prevention," he states.
At Masood Homeopathic Hospital, in Ghari Shahu, Lahore, Dr Masood has treated dengue cases since 2008. In the last two weeks alone, he has treated more than 500 patients with symptoms of dengue. "Although the basic rule of homeopathy is a single remedy, in the case of dengue we have launched a combination of medicines." The medicines, he says, are available in the market. "There is no need to stop using Panadol during the treatment since it only reduces fever; homeopathic medicine can be used alongside," he says.
Quoting from the 9th edition of Materia Medica, a homeopathic manual published in 1927, Dr Masood believes homeopathic medicine has been used in the treatment of dengue for nearly a century. "If the infection of dengue was listed in that manual," he argues, "I am sure there is a specific homeopathic cure to increase platelet count, combat fever and reduce rashes. We are giving out this medication and can already see the results. A person suspected of a dengue infection needs to get a blood test every 48 hours to find out their platelet count; if they are infected, it drops to a critical level," he says.
Says Dr Farhana Musheer, deputy medical director of the Fatimid Foundation, Lahore, "In the absence of "cell separators,"  machines that collect either only blood plasma or plasma and platelets from a donor, we perform the test manually through a kit. We request patients to identify and bring the donor and we separate platelets, white cells and red cells."
"The platelets are given to the infected person, while the rest is kept by the blood bank to be used for other patients. We do it manually with a kit and it takes six hours and costs 12,000 rupees per kit," she says. Dr Musheer urges people to donate blood more generously, and appeals to the government to increase the number of blood banks in infected areas.
Health Expert United Nations Children Fund (UNICEF) and a member of the Dengue Task Force, Dr Nashmia Mahmood believes there is no end to raising awareness to combat the infection and UNICEF has provided Information Education and Communication (IEC) material on the dengue virus for the school-going population in the Punjab and also trained lady health supervisors to share this information with women and children in their target communities. "It is important to tell people to cover their water containers, storage tanks, bottles and get rid of refuse like plastic bags, cans and tyres dumped outside homes," says Mahmood. "Due to the recent rains, water may have collected in such areas, making these places perfect breeding sites."
According to the WHO, there is no vaccine to protect the population against the strains of the dengue virus. Although progress is underway, developing a vaccine against the disease, in either its mild or severe form, is challenging. With four closely related viruses that can cause the disease, the vaccine must immunise against all four types to be effective.
In response to a request from the Pakistan government, a team of 12 experts from Sri Lanka comprising epidemiologists, public health professionals and pathologists arrived in Pakistan to share their experiences in combating this disease and also to provide technical facilities to the Punjab health officials.
After a 10-year peak of dengue cases in 2009, the Sri Lankan government declared the control of the vector-borne disease a national priority in their country. With a catastrophic situation on their hands in mid-2010, the authorities formed a task force to combat the virus. They set up an enormous community-based campaign to clean up breeding grounds and spread awareness through TV channels, billboards and schools. Other measures included fines and jail terms for those neglecting mosquito-breeding areas and stationing police officers near unauthorised garbage dumping areas to apprehend anyone disposing garbage illegally. Those arrested were fined as much as $45 for each offence.
In October 2010, just months after the task force was formed, only a single fatality was recorded and infections fell to the lowest levels recorded in that year. The country not only overcame the epidemic but also developed the expertise to handle the situation in case of a similar outbreak.
In Pakistan, the number of casualties due to the dengue virus this year has broken all previous records and has not shown any sign of abating. While this deadly outbreak reaches disastrous proportions in the country, Pakistan's lackadaisical government is unable to combat and manage the rising emergency by creating adequate awareness or installing effective preventative measures.
In late June this year, the Cabinet Division announced the devolution of the Ministry of Health, whereby the vertical programmes of the ministry were devolved to the provinces. Consequently, the Directorate of Malaria Control was wound up. Dr Mohammad Aslam, a former director of Pakistan's Malaria Control Programme, maintains that when the Directorate of Malaria Control was disbanded, the funding from the Global Fund for TB, AIDS and Malaria (GFATM), amounting to 400 million dollars and appropriated to this defunct directorate, could not be usefully administered for malaria and dengue prevention, and it could be diverted to some other country like Afghanistan.
Drastic measures need to be taken to confront this deadly contagion, for Pakistan can't afford an epidemic. The government and civil society can join hands and apply this tried-and-tested model. All it requires is commitment.
Next